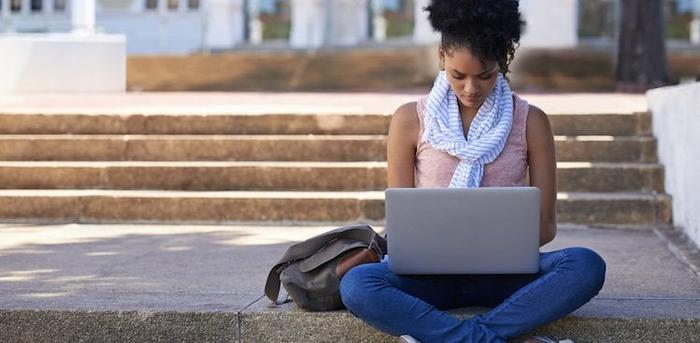 Graduation is an incredibly exciting time, but we don't have to tell you that it's also incredibly scary—especially for the many grads who don't yet know what they're going to do once they have that diploma in hand.
If you have a big question mark on your calendar after May (or if someone you know does), don't fret. While there is, unfortunately, no magic bullet for getting hired, there are plenty of little things you can do to boost your chances of becoming gainfully employed in the next few months.
Check out the list below for tons of ideas on how to bolster your network, find great job opportunities, and make yourself the perfect candidate. If you can make time for one or two every week, you'll be much more likely to have a job come summer.
Sharpen Your Job Search Tools
Take time this week to really get your job search off the ground by checking out everything The Muse has to offer besides our advice: awesome companies, career coaches, and open positions.
If you're interested in a certain company, try to get in touch with its current interns. They typically have advice on what the company is looking for and the best person to get in touch with (so that you're not cold calling or emailing the wrong person).
If there's a particular company you like, see if you can find senior level people at the company giving interviews about the business or their roles on YouTube. They'll talk about a lot of things that aren't on the website that would be killer talking points in interviews.
Seek out students who have worked or interned at the companies you have in mind, and see if they'd be willing to forward your resume to an actual person before you apply online.
Ask for informational interviews from your employed friends to ask their advice on how they got their foot in the door. They'll likely have some good insights—and might be able to introduce you to somebody who was helpful in their career search.
Many university career centers hold mock interviews where you get a chance to practice your interviewing skills—and get feedback on them!—before you head in for your actual interviews. Take advantage of this! If there's no formalized program at your school, ask a career counselor, advisor, or professor if he or she would be willing to help you practice.
Similarly, it's worth taking your resume to the career center to get feedback on it.
Have a resume or cover letter party with your friends. Buy delicious snacks, put on fun music, and spend a couple hours working on refining your resumes or actually getting those cover letters written. You'll be able to give each other feedback or help when you're stuck on something—plus it will make the whole process way more fun.
Get some simple business cards printed. They're not that expensive (or you can start with 50 free ones from moo.com—they'll just have a small moo logo in the corner) and you'll look way more put-together when you meet potential employers or other contacts.
Send a few business cards to your mom or dad. If they meet anyone interesting who they think could help you out, it's an easy way for them to connect you.
Network, Network, and Network Some More
The student card can get you far, so play it while you have it. Don't hesitate to reach out to people asking for informational interviews, get in touch with companies you love to see if you can meet with employees or shadow someone for the day, and the like. People are surprisingly willing to help someone looking to learn, and remember: The worst they can say is "no."
Reach out to your previous bosses, internship supervisors, and professors with a catching up email or to ask for a coffee chat. See what's been going on in their professional lives, talk about your career goals, and see if they know of any opportunities on the horizon (or know of other people you could talk to).
Hit up your alumni database. Many colleges have some sort of website where you can find contact information for alumni in pretty much any industry imaginable. A lot of these sites also tell you where a particular alum is working, his or her position, how long he or she has been there, and the like, so you can send a more targeted email. Reach out to any who have been successful doing what you want to do and see if they'd be willing to hop on the phone, meet up for coffee, or let you shadow them for a day.
Talk to college administrators in addition to professors. Many of them have tons of connections to people in different industries!
If you're considering moving to another city, find alums or acquaintances familiar with the area and ask to chat to learn more about the place. Use it as an opportunity to talk about what industry you're interested in, and see if they have friends living there who you might be able to connect with.
At the end of any informational interviews you go on, make sure to ask if there's anyone else you could talk to to learn more about the industry or something interesting you talked about. This creates new leads.
Find an excuse to work with people at the company you want to work for by creating an opportunity yourself. For example, bring somebody onto campus for a workshop session or panel event for your club, or reach out to an executive for an interview for your school paper. It's the perfect excuse to let people see you operate in a professional setting—a great way to start a relationship with potential contacts.
You don't have to be in the professional world to go to real networking events: Keep an eye out for events going on in your city, and then actually show up! If you're nervous, grab a friend to go with you (and check out our guide to navigating your first networking event).
Follow up with organizers after events and give them positive feedback—they'll be glad to hear you loved the event and might be happy to put you in touch with more people.
Chat with the speakers at a panel, and ask to see if they're willing to answer more questions over a quick phone chat or coffee.
Host a "mini networking event" for you and your college friends. Being in a networking mindset makes people really think about their connections—and you might find some of your friends (or their friends) are able to help you out in ways you never would have expected.
Get your friends' parents involved by hosting a dinner at your place or getting an email chain going. Their parents are likely to have a more established professional network and are most likely willing to help you if they realize you need it and know what you're looking for.
Find opportunities to make introductions for people, especially when the connection doesn't cost you anything but could be extremely valuable for them. It's a great way to stay in touch with people—by introducing them to others—and the contacts you help out are likely to pay you back down the road.
Gain More Marketable Skills
Do a part-time or virtual internship, especially one at a growing company that might be able to turn the temporary offer into a full-time one. It's your chance to prove how valuable you are and show the company that it can't survive without you!
If you don't have time for an internship—or really need the money—consider a campus job instead. Even if it's not related to what you want to do, you can gain a surprising number of transferrable skills in most student jobs (customer service, organizational skills, and the like). Just make sure you know how to make those jobs shine on your resume.
Consider doing pro bono work in an area that you're especially good at or want to grow. Pitch an idea to a small company or local business that you think could help the organization, and offer to volunteer your time to take it on. It could turn into a full-time gig for you, but even if it doesn't, you'll have impressive proof of your abilities to show off to other potential employers (and great references!).
Have final projects coming up for your classes? See if you can find a way to spin them to learn new skills in the process. For example, you could start a blog instead of writing a paper, create a faux media campaign for a company, or create a website or short video related to the theme of the project. (Obviously, though, talk to your professor before doing anything too out of the ordinary.)
When possible, try to attend conferences related to your field. Not only will you learn a lot from the speakers and be able to show you know your stuff in an interview, you might meet great connections that can help you out along the way. (Bonus: Many conferences have special student rates or sponsor a certain number of student attendees—a great perk to take advantage of while you can!)
Many schools offer panels, lectures, and workshops that are fantastic opportunities to learn a little more. Make it a goal to attend several of these by the end of the year.
Feel like you aren't getting enough from your final semester of classes? Consider signing up for one of these free online classes that will bolster your professional abilities.
Look at the LinkedIn profiles of people a step ahead of you in your field, or look closely at job listings you're interested in. Are there any skills they have or are looking for that you lack? See if there's any way you can start to gain at least one of them by the end of the year.
If you don't know what skills to add to your repertoire, tech skills can never hurt. You should think about taking a few classes or signing up for a coding bootcamp.
Have time for some outside reading? Pick up a few books written by leaders in your field, or even just read general business books. Even if it's not something you can necessarily put on your resume, it will give you great talking points to impress with during your interviews.
Find the Coolest Opportunities
Follow Twitter job boards for your industries of interest. A lot of these accounts tweet dozens—even hundreds—of jobs per day, and you never know what you may find!
Check out the top websites and blogs in your industry daily. Like Twitter job boards, they post tons of jobs in your particular field, and a lot of these sites also have articles with great industry-specific job search advice.
Find out where people at the companies you want to work for have worked in the past—in other words, the "gateways" to your dream company. Check out those places and see if they're hiring for any positions you'd be interested in.
If a company you love doesn't have any opportunities available that you'd be a fit for, still consider sending the hiring manager an email expressing your interest in the company, explaining your background, and attaching a copy of your resume. There might something available that isn't listed—and even if there isn't, the hiring manager will have your resume on file in case something does open up.
Ask your friends to forward you opportunities they see through club newsletters or listserv blurbs—or start a listserv where friends and classmates can share cool opportunities they stumble across.
Go to LinkedIn and browse "related companies" to find organizations similar to the company you're interested in. See if they're hiring.
Former students aren't your only resources! Ask where younger students at your school are interning or working for the summer. They might know about cool companies that you've never even heard of (and might be able to put you in touch with someone from the organization if it sounds interesting).
If you've received a scholarship or fellowship, reach out to other or previous recipients of the program with similar career aspirations. Have a specific area of interest that you can mention, and see if they might know anyone you should connect with.
If you were focusing on jobs in one city, consider looking into others. The same company may be looking for different things or have more opportunities in different offices.
If you're interested in working at a startup, search portfolio pages on venture capital websites to see a long list of companies they've invested in. It's a ready-to-go list of startups that have potential (and money).
See if your school's athletic department has a separate career center. Many universities have strong athletics alumni relations department. Even if you're not an athlete, it's worth a shot to try and get in touch with them and ask for resources or advice. (Or ask your athlete friends to do this for you.)
Browse the awesome entry-level positions and internships available on The Muse!
Build Up Your (Professional) Online Presence
Make sure you have a (professional) Twitter account set up, and use it to tweet great articles related to the industry or job function you're hoping to break into.
Similarly, get your LinkedIn profile set up (if it's not already!) and make sure it's complete and polished. (Check out our ultimate guide to LinkedIn for job seekers if you need some guidance.)
Build a blog or online portfolio that people can browse through to get to know you more. They'll learn enough about you to be intrigued, and you'll increase the likelihood you'll be called in for an interview.
First impressions can make a big difference, so consider getting a professional headshot taken that you can use on your email and across your social media profiles. Here is how you can take it yourself for free.
Check your Facebook privacy settings to make sure those pictures from last Halloween are restricted to you and your friends' eyes only.
Switch your browser to incognito mode and Google yourself. Are the search, image, and video results what you want employers to see? If not, see how you can clean it up.
Start reading more, and follow people who are active in the space or industry you're interested in. Tweet at them with ideas and start discussions. You might hear of opportunities that you hadn't thought of before.
See if you can do a guest post for your school newspaper or another publication you love. Being published in any capacity can be a great way to show off your writing in a job application and get your name out there to people who might be interested in hiring you.