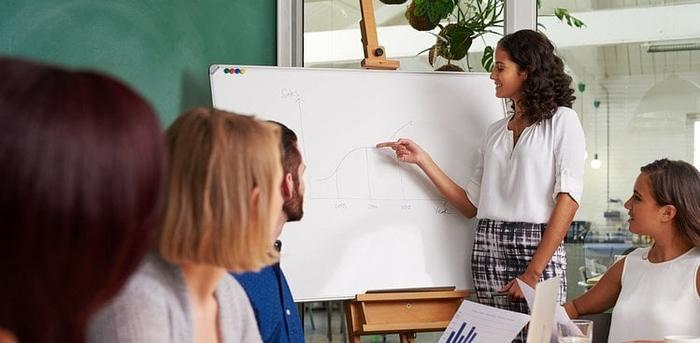 Seriously?
Well, considering that an interview is a chance for your potential employer to fully assess your abilities, it's no surprise. Giving a presentation allows you to share your public speaking skills, knowledge of a specific topic, ability to stay calm under pressure, and more. And this is a good thing! After all, a well-developed and delivered presentation can let you shine like nothing else.
The flip side, though, is that a poor presentation can have a tremendously damaging effect on your chances of landing the job. So, how do you make sure that your presentation is flawless?
Try these steps for interview presentation success.
1. Know What You're Working With
As soon as you're asked to give a presentation, start by asking the hiring manager a few questions. Learn more about the topics you should present on, see how much time you'll have, and ask what technology, if any, you'll have access to.
It's particularly important to ask to whom you'll be presenting. What is the knowledge or expertise level of the audience? Will they be your colleagues, your bosses, or your potential clients? Knowing this will help you determine how to pitch your presentation, what focus you should take, and what tone would be most appropriate.
2. Start With a Structure
Once you've identified the purpose and key message of your presentation, you can start to structure it. Developing a clear structure will help you stay on point and help your audience follow you.
Of course, you'll want to make sure you have the basic components of a well-structured presentation, including a captivating introduction, a compelling argument in the body, and a memorable conclusion. But this is an interview, and you want to impress your audience. No matter what you're talking about, weave in examples of your skills and abilities, recommendations of how you would tackle a project for the company, or some other way of connecting your experience with what the employer needs.
One of the best presentations I've seen tied all the above together. The candidate's presentation was so well-organized that it felt like a story, and the hiring committee was along for the ride. The story included how she got started in her line of work and what her interest in the company was. It ended with the candidate sharing her vision for the department she was hoping to lead, complete with ideas for new programs and innovative ways to reach new clients.
3. Prepare Aids
No matter how exceptional a public speaker you are, most presentations benefit from a little help. Use a presentation tool (PowerPoint or Prezi are great tools to familiarize yourself with) to highlight the key points you want to get across. But don't rely on these—it's called "Death by PowerPoint" for a reason. Besides, you want your audience to be focusing on you and what you're saying, not your PowerPoint design.
A good rule of thumb is to treat each slide as you would a sign on the highway—just enough information to catch someone's attention, but not so much that you distract people.
Also consider preparing handouts for the audience to keep—they can serve as a reminder of you and your presentation. Similar to slides, your handouts should call back to your key concepts and points, giving audience members exactly the information you want them to remember.
4. Practice, Practice, Practice
Once your presentation is structured and written, rehearse it. Practice it often, in front of other people if you can, or record yourself practicing. Ask for feedback, and incorporate that feedback into your edits.
You'll especially want to look out for nervous habits—saying "like" and "um," for example, or fidgeting, which makes your audience nervous for you. While you don't have to memorize your presentation, you should run through it enough times so that you're comfortable with it and can consciously avoid these habits.
Another presentation that really sticks out in my mind was from a young woman who was so nervous she could barely get a full sentence out. She kept her eyes down, looking at her notes the entire time. And even then, she stumbled over her words and got lost in her presentation. It was uncomfortable, and it was clear that she had not spent much time becoming familiar with her presentation. She was certainly memorable—but for all the wrong reasons.
5. Ace the Delivery
A solid delivery of your presentation begins before you even walk in the room. In other words, don't forget the interview basics: dressing professionally, carrying yourself with confidence, and wearing a smile on your face.
Also pay attention to your body language when giving your presentation. You should be standing, not sitting down, as you speak. A great way to stand out from other candidates is to step out from behind the podium or a desk, bringing yourself out in front of the audience so they can see you, your gestures, and your stance.


As you're giving your presentation, speak with confidence and authority. Make eye contact with different members of the audience to draw them in and engage them in what you're saying. Remind yourself to take a few deep breaths at various points—this will help you stay calm, and will also naturally slow your speech a bit (most people tend to speak quickly when giving a presentation).
Presentations are always nerve-wracking, but remember that the audience wants you to succeed. The hiring committee invited you in because they probably think you have something to offer, and they want to see more. Follow the steps above, and show them exactly what that is.