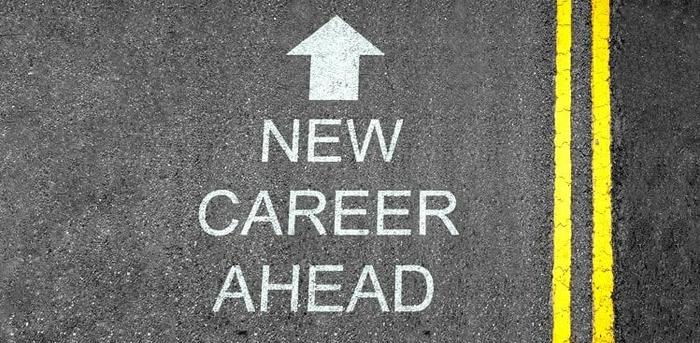 Some people know exactly what they want to do with their lives from an early age. They say, for example, that they want to be doctors when they grow up—and, as promised, they'll excel in science, get accepted into med school, and become physicians.
But there are equally successful people whose paths aren't so straight. Their varied interests drive them to try out different classes, degrees, and careers in a search for what they really love.
At first, a winding career path can seem like it puts you at a disadvantage (like when your interviewer asks you point-blank why in the world you transitioned from sales to engineering to baking cupcakes). But from where we stand, it's not a bad thing at all. Taking the time to try out your options and rule out the duds can actually lead you to a career you love—and maybe never expected.
Take it from these five professionals, who all had a bit of a difficult time figuring out exactly what they wanted to do. Their paths may not be similar, but the end result is: They absolutely love their jobs.
Christine Auten
Producer, SXSW
"I have three degrees, none of which have anything to do with what I'm doing now," Christine Auten shares, naming off her education in theater, sound engineering, and anthropology of religion.
While one of those degrees did influence a large chunk of her career—she worked as a voice actor for Japanese anime for about 15 years—when family responsibilities brought her back to Austin, Texas, she took a different path. She volunteered at SXSW Interactive festival for a season, and quickly realized that it was the place she wanted to be. So when she got an offer to come on full time, she jumped at the chance.
In a nutshell, Auten oversees every aspect of SXSW Interactive and V2V, including location, speaker selection, and logistics, and manages the support staff that help her prepare for the events. "There's a lot of opportunity and encouragement here to really create creative and innovative things," she explains. Which is perfect for someone with so many diverse interests.
Kofi Barnes
Warehouse Manager, onefinestay
"When I was growing up, I wanted to be a dentist," shares Kofi Barnes. "I was desperate to look inside people's mouths. At some point at the age of 17, I realized that was a terrible, terrible decision."
From there, things didn't get much clearer. Barnes went on to study law (as a hopeful future Inspector Morse), get a master's in finance (until he realized banking didn't actually equate to fast cars and loads of money), join the Royal Air Force (until his job suddenly no longer existed), and clear landmines in Somalia.
"So it was a bit of a leap from Somalia to onefinestay," he laughs. But when he found the growing travel website and a position that matched his skills in organization and making things happen, he went for it. Now, he manages the team that runs onefinestay's warehouse and oversees the packages of linens, bedding, and other business necessities that go out each day.
Megan Mahoney
Director of the Northern Tier Anti-Trafficking Consortium, Heartland Alliance
Originally, Megan Mahoney had plans of becoming an interior designer. Soon, however, she switched gears and began studying Spanish, teaching ESL in Argentina, and working in an early childhood education nonprofit. That propelled her to set off to New York, where she earned a master's in social work.
It was only through that last experience, where she worked with victims of human trafficking and those seeking asylum, that she finally found her true passion for human rights and discovered Heartland Alliance, the leading anti-poverty organization in the Midwest. A majority of her role there is supporting the remote members of her team, who are spread out across several states, writing reports to get recognition for the work the organization does, and reaching out to other companies and potential partners who want to get involved with Heartland Alliance's mission. "Working with people at their most vulnerable stage, and partnering with them as they go on this journey of empowerment, you are a part of that process," she explains. "It's the biggest privilege and the most beautiful thing to see."
Marc Stillman
Assistant Marketing Manager for Beauty, Giorgio Armani
With every intention to go to law school and become an attorney, Marc Stillman studied political science and economics at the University of Utah. In the process of filling out law school applications, however, he suddenly had the realization that a legal career might not be the right fit for him. While law focuses on precedent and the past, Stillman wanted a forward-thinking role.
After taking a couple years off to work and figure out a plan, Stillman decided to pursue an MBA—which can be a great path when you're looking to switch gears. With his new business strategy skills, he snagged an internship at L'Oreal and was then offered a full time gig at Giorgio Armani Beauty.
His role now entails figuring out what will sell, how to sell it, and when to change strategies. Best of all, he also gets to use his creative mind to design marketing materials and in-store displays.
Of course, he still puts the analytical skills that attracted him to the legal field in the first place to good use: "What surprises a lot of people about marketing is it's very analytical," he explains.
Arti Doshi
Affiliate Marketing Manager, SoFi
Arti Doshi joined SoFi knowing that she had no idea what she wanted to do with her life. "One of the perks—or downsides—of being at a startup is that you don't have a defined role," she explains. "For me, it was a perk."
The great thing about SoFi was that as Doshi developed new skills and grew in her career, the company was right there with her, realizing exactly what new positions she could fall into and allowing her to do just that.
She started with building the ambassador program, then jumped over to sales, and has now landed in management over the affiliate program and investor relations. In both areas, she directly influences the relationships that fuel the company and gets to work with various groups of people to help students free themselves from debt.
Which is a great lesson for anyone who's unsure what the future holds: Gaining transferrable skills in a work environment that lets you try new things? It's probably the best step you can take.