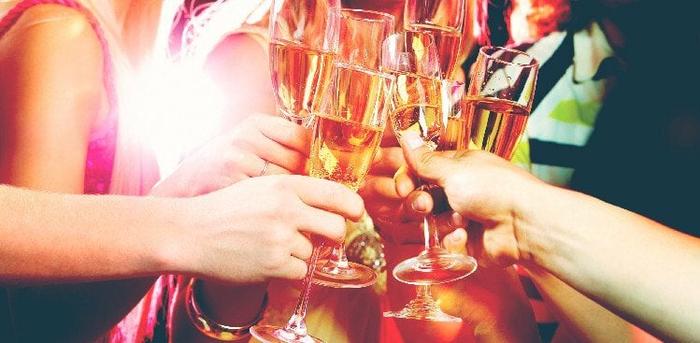 It's all anyone can talk about these days: the impending company holiday party. Conversations abound and run the gamut: what the dress code is, how long the open bar will last, who'll go out afterward, whether so-and-so will bring a date, and—of course—who will get stupid-drunk.
This, as you probably already know, is a label you want to avoid. But it's still all too common to look at your company's annual office party as an opportunity to get wasted.
Yes, a holiday party is supposed to be fun. It's a much-deserved opportunity to kick back and relax with the people you work hard with every day. It's a thank-you from your bosses, and the very nature of it spells good time for all. But it's also a chance to connect with the people who have taken over your inbox and spend some non-work time with the higher-ups—something that'll be pretty hard to do if you're plastered.
Last year, at my company's holiday party, I came dangerously close to drinking too much punch and waking up the next morning not only with a pounding headache, but an awful pit in my stomach, wondering what inappropriate things I might have said—and to whom. Fortunately, before it was too late, I put the punch down and alternated it with cups of seltzer, pacing myself for the hours of celebrating ahead.
And I'm happy to say that I did the party right. So, take it from me: Before you don your most festive attire and start lining up shots at the bar, think about five opportunities you can kiss goodbye if you have one too many.
1. Escaping the Reputation of Being That Guy or Girl
You knew this was coming—so might as well get it out of the way first. Nobody wants to be known as the drunk idiot who couldn't hold his or her liquor. Sure, your over-tequilaed brain might think that getting up on the bar and inviting your co-workers to do shots off of your bare stomach makes you the life of the party, but really, it's a move that will label you the drunkest one of all.
Don't be that person. If it's got to be someone, it's in your best interest to let another member of the team take it on.
2. Getting to Know the Higher-ups
Depending on the size of your company, you may or may not get an opportunity to get a one-on-one with a member of the senior management team, but that doesn't mean you shouldn't make an effort to finagle your way into a group conversation at least.
When you do manage to insert yourself into a circle of higher-ups (and you're not a complete mess), you'll be at an advantage to introduce (or re-introduce) yourself, give your spiel about what you do (and how awesome you are), and then change the topic to something non-work related in an effort to make a real connection.
3. Making New Work Friends
The company holiday party is a terrific way to get to know co-workers you mostly make small talk with day in and day out. Even if you're a regular at the monthly happy hours, there's a good chance that far more of your colleagues will be in attendance at the holiday party. And hey, you could end up with a new friend by night's end, or even a mentor. Having a trusted confidant is huge and can make the daily grind that much more bearable.


(Oh, but, a word of caution here: Getting trashed and, consequently, too cozy with your co-workers may make you look creepy and probably won't result in the kind of bonding you were seeking.)
4. Having Fun
You've been there, I've been there: Get too drunk, and you're no longer having a good time. You're just a sloppy mess who can't stand up straight and has a spinning head and an inevitable feeling of dread to look forward to in the morning.


And, OK, even if in your drunken state of euphoria you believed you (and everyone around you) was having a blast, remember you were probably just fodder for gossip about "that drunk guy/girl over there."
Worse though is the next morning when you have no memory of what happened the night before. How much fun is that?
5. Letting People Get to Know Your Best Self
Your co-workers know you give a mean presentation. Your group speaking skills are enviable around the office, and your GIFs on company-wide emails are the best. Maybe a handful even know how you like your coffee or that you keep a little jar of sea salt on your desk.
But most of what they see of you is work-related. The company holiday party is your chance to show off your best you—and for you to get to know their best them.
How will you ever know if you and Jocelyn from the creative department both share a love of snowboarding if you're stuck vomiting in the bathroom? Consider the party as a way to not only show off your fun-loving self outside the boardroom, but also as a way to see your colleagues in the same, unfamiliar light. In the long run, it could actually make you like your job more.


Obviously, you should enjoy yourself and kick back with a cocktail or two. But, know your limits, and remember the importance of pacing when it's an open-bar situation.
Yes, there's a lot of bad stuff that can happen if you overdo it, but there's also all that good stuff you'll never know if you're out of control.