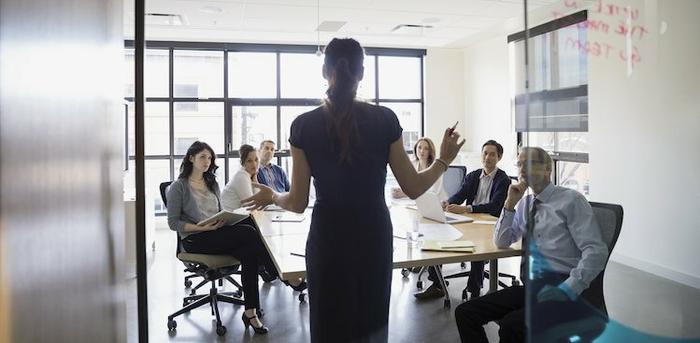 Women in tech have an uphill battle. A mere 26 percent of computing jobs were held by women in 2016, and only 20 percent of Fortune 100 CIO positions were held by women. So the ones who thrive in this notoriously competitive and predominately male industry always bring their A game.
They also know first hand what it takes to build a successful career, from breaking into new fields, building relationships, and being a master problem solver. We asked five women with seriously impressive careers for their best tips on how to make the grade in any field.


1. To Break Into a New Field, Network Like Crazy
Personal connections are key when it comes to getting a great job, especially when you're trying to enter a new industry. So tell everyone you know that you're looking to break into a new field and ask for introductions. Then, go to events to meet people in real life.
"There are tons of amazing groups that host dozens of events each month in almost every city," says Diana Murakhovskaya, co-founder of the women's incubator Monarq. "Sign up and make a plan to meet at least one new person at each event. Your world will expand quickly."
When Elissa Shevinsky, editor of Lean Out: The Struggle for Gender Equality in Tech and Start-Up Culture, started out in technology, she didn't know anyone. She would go to early-morning events with the hope of talking to the speaker and asking for a meeting.
Networking is all about relationship development, says Shevinsky. Don't just exchange business cards: Be sincere about wanting to get to know someone. When people care about you, they'll support you.
"Having someone to champion you can make all the difference," she says. "They will put in the work to help you get where you're trying to go."
Warm introductions are invaluable when you're trying to land a great job or get funding for a startup. The marketplace has just become too crowded to succeed without them.


2. Focus on Having Great Skills
Even if you have an impressive network, you won't get a job without the chops to succeed. There's no substitute for skill.
"A job should help you build skills and knowledge," says advises venture advisor and investor Carmen Feliciano, founder of Startup Southeast Asia. "Don't be afraid to ask a lot of questions. It shows you're engaged and interested. Plus, there's nothing worse than a know-it-all who is clearly bluffing her way."
Its smart to read up on all aspects of your industry and build skills outside of your niche. In the tech industry, for instance, everyone should have at least some programming knowledge.
"Learn to code," advises Irene Ryabaya, Monarq's other co-founder. "Even if you never plan on being a developer, understanding how developers think will make you a far more valuable and productive member of any team in any technology company."
Not sure what you'd like to learn? Browse websites like Udemy, Coursera, and Codeacademy which all have online courses in a variety of topic areas.
"Or you can be a great generalist. Whatever it is, you have to be really good at it.", adds Shevinsky. "Do something you love. If you love it, you'll be one of the best."


3. Speak Up
The only way to impact the course of a conversation is by speaking up. Yet many people, especially women, can be reserved in meetings. To make an impact on your company, and grow within it, you have to raise your hand.
"It's not enough to be in the room," says Regina Manzana-Sawhney, engineering program manager at Google. "Listen, digest and react. Your perspective matters. Your thoughts shape the direction of a project or decision. Staying silent stunts progress."
Different viewpoints strengthen the business outcome of a discussion, Murakhovskaya points out. "Too many critical decisions today are made by the same homogenous group of people without input from diverse voices and this, unsurprisingly, leads to less than ideal results."


4. Trust Your Gut in Job Interviews
An interview is an opportunity for both the hiring manager and the candidate to see if they're a good fit. For job seekers, that means sniffing out the company culture.
"Before an interview, do a self assessment," says Shevinsky. "Say 'Who am I? What do I want, and what will make me happy and satisfied at work?' Ask what you need to feel comfortable, then look for signs that it will be okay."
For some people, that means considering a company's ethics or political leanings. Maybe you're concerned about discrimination or attitude toward work-life balance.
In an interview, ask your potential hiring manager to describe the team and day-to-day activities, suggests Manzana-Sawhney. It gives you a feel for how the management treats employees.
"The interviewer should respect and welcome all your questions," she adds. "If not, run."


5. Don't Be Afraid to Fail
Failure is critical to success.
"You achieve great success when you push past your limits," says Ryabaya. "That's where you start to learn, grow and expose yourself to opportunities for greatness. When you leave the safety of your comfort zone you also expose yourself to risks and a much higher potential for failure. That is not a bad thing."
Some people won't even invest in a founder who hasn't failed at least once because they recognize how valuable it is. The more you fail, Ryabaya adds, the more you learn the more likely you are to succeed next time.


Whether you're part of the 26 percent of women already in the tech industry or are looking to break into it, take these tips to heart. The advice of these successful women can help you grow personally and professionally, and may just help you land your dream job or in your next career move.