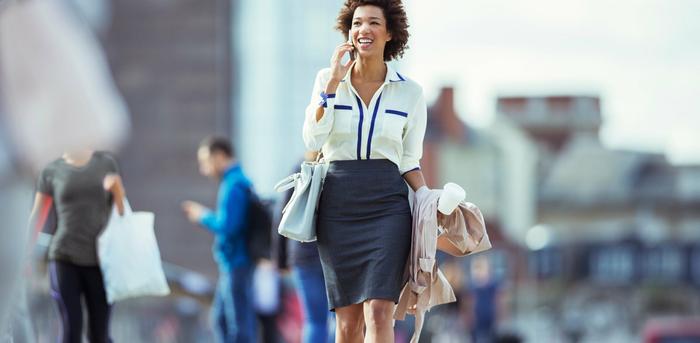 I'm a firm believer that everyone can find five minutes in their workday to take a break. (And by break, I usually mean a dessert break—ice cream anyone?)
But as nice as that sounds, there are very few people in my life who would agree with me. In fact, most of my colleagues are convinced that taking a break will derail them for the rest of the day. And even though studies say otherwise, it's hard to pull them away from their desks.
That's crazy! Five minutes not only won't derail your day, it'll actually help you get it moving in the right direction. I'm so convinced of this that I've rounded up four flashing signs that you'd be better off taking a walk right now than trying to get any work done.


1. You Keep Getting Distracted by the Internet
I'm as guilty of this as anyone else on the planet. As motivated as I am to be productive, I just can't help myself from indulging in short clips of puppies running around, or my favorite chefs cooking steaks, or the latest news. For me, this is just a fact of life—and also a good sign that I that I've gone from "just checking one thing" to being completely distracted.
So, even though I'm all for the occasional viral video break, get away from your desk if you notice you can't stop clicking on things completely unrelated to work. It might not feel like a good use of your time to get up right now, but a few minutes to reset your brain with something other than YouTube's latest and greatest will help you attack your to-do list with a much clearer mind.


2. You Keep Getting Interrupted by Your Co-workers
The reality of many work situations is that it's easy for people to saunter over to your desk for a "quick" conversation that could easily last for three hours. There's nothing wrong with a short chat, but you deserve a little breather if your workspace suddenly has a line of people waiting to "pick your brain" about something.
If you feel guilty asking someone to wait, think about all the times you've gone over to someone's desk to ask a question. In many of those cases, you probably did it because you had a sudden jolt of inspiration or a reminder that you needed some information.
These conversations usually happen on a spur-of-the-moment basis. So, while they might be important, they can also almost always wait.
(And if you get back to your desk and still need help fighting distractions, check out these tips on doing so without being a jerk.)


3. You've Been Staring at a Blank Document All Afternoon
Whether it's a report you're trying to finish or even a simple email you're nervous to send, sometimes the most intimidating part of completing something is starting it. And no matter how sure you are of what you want to say, it's not always as easy as taking those thoughts and putting them down on paper.
In the event that a blinking line is taunting you on a document, don't be afraid to minimize it and take that short walk. Odds are taking that break could be just what you need to come back and get started.


4. You Keep Telling Yourself You Wish You Could Take a Break
Hey, I get how dedicated you are to your work. That's commendable and you shouldn't get too down on yourself for wanting to be the very best. But at the same time, if you're shaking your fist in the air because you "can't" step away for a while, you probably need a break.
This might sound counterproductive, especially if you're in the middle of something with an urgent deadline. But if all you're thinking about is the break you wish you could take, your effort will reflect this mindset. Seriously, if you're only half present, your project will only be half as good as it could've been.
The easy solution is to grab a snack, take a lap around the block, and return to whatever it is you're doing with a fresh mind.


It's important to use your judgment whenever you think of taking a quick breather at work. If you have something that's due in the next few minutes, you're obviously better off waiting until that task is completed before you step away.
But if you notice any signs that you could use a quick walk around the block, don't be afraid to just do it. You'll not only give brain a much-needed cat nap, but you'll set yourself up to crush the rest of your day.