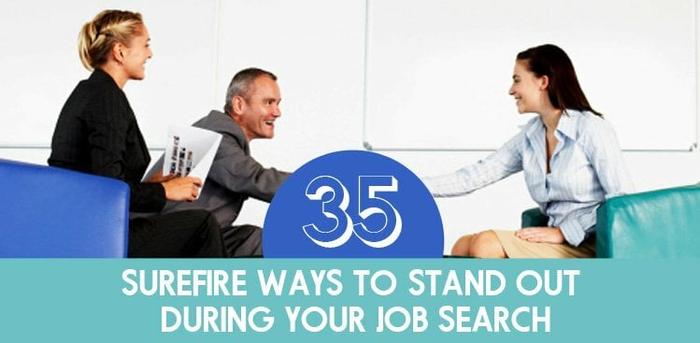 When you're applying for a job, you don't just want to get noticed: You want to stand out as the best applicant the hiring committee has ever seen. You know you're the perfect person for the job—and you want them to know that, too.
But how, exactly, do you do that? We pulled together a roundup of our all-time best job search advice, from getting noticed before you apply to acing the interview, plus tips from our favorite career experts—to bring you 35 ways to put yourself ahead of the pack.
Get Noticed (Before You Even Apply!)
1. "The fastest way to an interview is when someone I know makes a referral or recommendation," says Raj Aggarwal, founder and CEO of Localytics. So, if you have contacts who can refer you to a job or introduce you to a hiring manager, by all means, spend your time and energy there—it will have the greatest payoff! Marie Burns, @marieburns
2. Recruiters spend countless hours scouring LinkedIn in search of the high performers. Knowing this, you'll serve yourself well to market yourself as a high performer, through your verbiage (think action words, accomplishments) and by having multiple endorsements. Want some? Start endorsing others—they're bound to return the favor. Jenny Foss, @jobjenny
3. Create a winning online portfolio, showcasing samples of your work. Better yet, if you're applying for a specific position, pay particular attention to the skills advertised in the job description, then use that information to help guide you on what to put front and center on your portfolio. For instance, if you're applying to a healthcare company, make sure the work you've done for other healthcare clients is easily accessible—more so than, say, your fashion, sports, and media work. Danny Groner, @dannygroner
4. Ask a few key people to write a LinkedIn recommendation for you, and be specific: Tell the person precisely what you'd love showcased and offer specific examples. Recruiters often send their own clients (the companies doing the hiring) right to a job seeker's LinkedIn page if the recommendations look good, so taking the time to solicit a few great ones can pay serious dividends. Jenny Foss, @jobjenny
5. A very unique way to get the time and attention of startup leaders is to offer a suggestion for the company or present an interesting perspective of the business that they hadn't thought of before. As Aaron White, CTO and co-founder of Boundless told me, "Coffee is cheap. Ask to meet with me over coffee, and then provide value to me by offering some sort of valuable feedback on my product. I'll gladly give you my time." Marie Burns, @marieburns
6. I've had a candidate come in for an informational interview (not even a proper job interview) and have a printed, bound, 15-page presentation on ideas for my company. That sort of initiative is hard to ignore, especially when the ideas are spot on. Alex Cavoulacos, @acavoulacos
Craft a Winning Resume and Cover Letter
7. Use as many facts, figures, and numbers as you can in your resume bullet points. How many people were impacted by your work? By what percentage did you exceed your goals? By quantifying your accomplishments, you really allow the hiring manager to picture the level of work or responsibility you needed to achieve this accomplishment. Amy Michalenko
8. When you're writing your cover letter, remember that the hiring manager is likely going to be reading a lot of them (and she probably doesn't really enjoy reading them much more than you like writing them). So, while you want to make the letter professional, you also want to put some of your own personality in it. Crafting an engaging letter with some color will catch people's eyes and make them think, "Wow, this would be a fun person to work with." Erin Greenawald, @erinaceously
9. Recruiters appreciate candidates who prepare and can demonstrate that they've read up on the company and understand the organization's problems and concerns—also known as "pain points." Make a clear connection between with the company needs and your specific skills and accomplishments, and you'll be a head above the other candidates. Miriam Salpeter, @keppie_careers
10. One of the most important ways to show you're the right person for the job is to spell out how you would fit in to the position and the company's goals. Giving a few examples of how your past experience is transferrable shows that you've thought through how you would fit in to the organization—and makes things crystal clear for the hiring manager, too. Kristin Flink Kranias, @flinkranias
11. I've seen graphic designers turn their resumes into beautifully designed, infographic-style works of art, and marketing and communications professionals create ad campaigns with a tagline on how their skills match the open position. Check out these stunningly creative resumes from 1st Web Desiger or Alyson Shontell's "23 Cool Resumes We Found on Instagram" for everything from graphic art to word clouds to even origami. Ashley Faus, @ashleyfaus
12. Doing extra credit like a video (even if it's an unedited webcam clip) can go a long way in distinguishing yourself from other candidates. Steffi Wu, @steffiwu
13. For a high-level marketing position I had my eye on, I managed to land an interview by sending in three campaign ideas, complete with ad mock-ups, target segments, and a financial forecast. My interviewer told me the company was impressed with my research, attention to detail, and willingness to start solving problems for the organization—before they'd even called me back! Ashley Faus, @ashleyfaus
14. It's better to address a cover letter or pitch email to a specific person rather than just saying "Dear hiring manager." And not just any person, but the right person—the person who could choose you for the job. (Need help finding that email address? We've got you covered.) Alexis Grant, @alexisgrant
15. Apply on Monday. A new study by Bright.com, a job search site, finds that applicants were most likely to advance in the hiring process—as in, to be called in for an interview—if they sent in their resume on a Monday, as opposed to any other day. LearnVest, @LearnVest
Make a Killer First Impression
16. The person at the front desk may not be the hiring manager—but that doesn't mean his or her impression of you doesn't matter. In fact, some companies specifically ask their front desk attendants to report back on the demeanor of interviewees who come through the door. Katie Douthwaite, @kdouth
17. A Fortune 500 CEO once said that when he had to choose between two candidates with similar qualifications, he gave the position to the candidate with the better handshake. Extreme? Perhaps, but he's actually not alone in his judgment. Check out these video instructions for the perfect handshake. Olivia Fox Cabone
18. Dress for success—but that doesn't always mean a suit. Find out how company regulars dress on a daily basis, and then step it up just a notch for that first meeting (e.g., if everyone wears jeans, don a pair of pressed khakis). You'll easily prove that you can fit right in. Katie Douthwaite, @kdouth
19. Introduce yourself by making eye contact, smiling, stating your first and last name, and giving a firm but brief handshake. Then, listen for the other person's name (believe me, it's easy to miss when you're nervous), then use it two times while you're speaking. This will not only help you remember his ir her name, but also appear sincere and interested in the conversation. Laura Katen, @katenconsulting
20. Imitating certain behaviors and attitudes of your interviewer can help make a fast connection between you and the stranger on the other side of the table (it's called mirroring, and it works). For example, if your interviewer has high energy and gestures while he or she talks, strive to express that high level of liveliness. And vice versa: If your questioner is calm and serious, tame your energy down a bit. Katie Douthwaite, @kdouth
21. Pay attention to what your body language is communicating. "Once you've done this for a while, you have an ability to read people by their behavior," says Deb Niezer, COO of AALCO Distributing. "You look at body language, the way they speak, and the way they present themselves to show the whole picture. If they say, 'I'm open to new ideas,' but then sit with their arms and legs crossed, it's questionable. If they say they have management skills but don't carry themselves like leaders, it's hard to trust that assertion. The details make the difference." LearnVest, @LearnVest
Ace the Interview
22. Overall, the most impressive candidates are those who genuinely care about the company and job they are interviewing for, have done their research, and are able to sell themselves based on that information. For someone interviewing for my team personally, one particular candidate read all my blogs, followed me on Twitter, and came in fully prepared based on my online advice and killed the interview. Marie Burns, @marieburns
23. Take your portfolio to a job interview, and refer to the items inside while discussing your work experience. Saying "I planned a fundraising event from beginning to end" is one thing—showing the event invitation, program, budget, and volunteer guidelines you put together is completely another. Chrissy Scivicque, @EatYourCareer
24. Don't forget about the numbers! Finding some numbers, percentages, increases, or quotas you can use when talking about your responsibilities and accomplishments really sweetens the deal and helps you tell a hiring manager why you're so awesome without feeling like you're bragging. Don't just say, "I increased sales"—try "I boosted our sales numbers 75%," and you're sure to be remembered. Ryan Kahn, @hired
25. Be ready with ideas for how you'd like to improve the company in your role. What new features would you be most excited to build? How would you engage users (or re-engage existing ones)? How could the company increase conversions? How could customer service be improved? You don't need to have the company's four-year strategy figured out, but you can share your thoughts, and more importantly, show how your interests and expertise would lend themselves to the job. Alison Johnston Rue, @ajalison
26. When responding to interview questions, use the S-T-A-R method. Set up the situation and the task that you were required to complete to provide the interviewer with background context, but spend the bulk of your time describing what you actually did (the action) and what you achieved (the result). For example, "In one month, I streamlined the process, which saved my group 10 man-hours each month and reduced errors on invoices by 5%." Nicole Lindsay, @MBAminority
27. When you're presented with a complicated question, don't be afraid to answer it with more questions. What the interviewer is really looking for is that you can think through the information you'll need to reach a solution, and then ask for it—or explain how you'd seek it out—in a structured, logical way. Suki Shah, @SukiShah
28. Show them that you've made your mark in your past positions and didn't just follow your predecessor's checklist, whether it was at an internship, your last job, a college club, or a team-building event you organized to boost company morale. Earned your division more money than the person before you? Share that monetary difference. Reeled in more vendors than your peers did to participate in a fundraiser? Show that outstanding work with something no one can argue with—math. Megan Broussard, @ProfessionGal
29. When you start listening to your interviewer's responses, you can determine what kind of of answers he or she is looking for. Does your interviewer go into a lot of elaboration? Does he or she use data sources as examples? Model your responses the same way: If your interviewer consistently mentions percentages and numbers, make sure to weave those into your answers, clearly indicating that you decreased your department's case backlog by 65%, or that you exceeded your fundraising goal by $1,500 last quarter. Katie Douthwaite, @kdouth
30. If you know someone in the company, find ways to bring it up naturally during the course of the interview. Think: "John told me about your yearly company BBQs with a dodgeball tournament—that sounds like my kind of fun." Erin Greenawald, @erinaceously
31. It's awesome when people skip the typical, broad "day-in-the-life" and "company culture" questions and dig much deeper into what we do, how we do it, and what we're looking for." Steffi Wu, @steffiwu
32. Studies show that the highest rated interviewees are those who seem positive, interested, and engaged (P-I-E) in the conversation. But it's hard to pull off this trifecta when you're obsessing over what question might be coming next and then scrambling to recall how you're supposed to answer it. Focus more on being a thoughtful participant in the conversation than on trying to predict what's coming next and how you're going to respond. Jenny Foss, @jobjenny
Follow Up the Right Way
33. Besides providing thoughtful and succinct answers to the questions asked, I think personal thank-you notes (referencing specific parts of the conversation we had) really nailed home that this person was interested and amazing. Christie Mims, @revolutionsclub
34. After the director of a marketing agency told me I didn't have enough experience for the gig, I sent over a thank-you note, plus some ready-to-use language for their soon-to-be-re-launched website, as if I was already part of the team. By keeping my follow-up note short and sweet—and by including a surprising burst of generosity—I caught the director's attention, big time. It was a simple a-ha! that forever changed the way I ask for favors, pitch ideas, and tease out opportunities. Alexandra Franzen, @alex_franzen
35. I've met with a number of great candidates, but one who stood out was a designer who came in and blew everyone away. She did so much research on the company, the role, and the gaps she could see filling, and she asked really smart questions. She also did her research on the interviewers so she knew her audience and connected with each of them in a personal way. It was almost like she was already part of the team. And if that wasn't enough, she followed up with a handwritten note attached to a dozen amazing cupcakes! Amy Knapp, @amoodyknapp
Tell us! What are your best tips for standing out as a job applicant?
Photo courtesy of Fuse / Thinkstock.