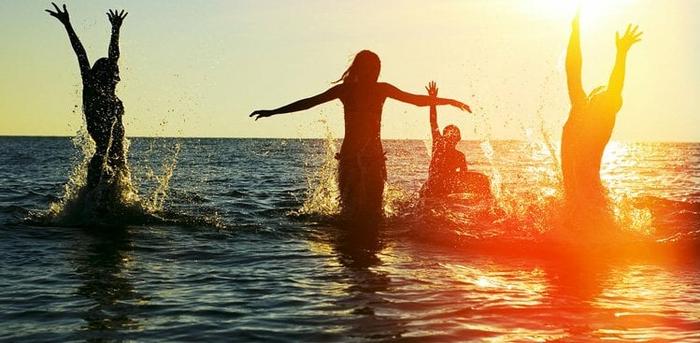 Ah, spring break. The sun and the sand, the sights and the sounds, the flirty dresses and freckled faces. No cares except whether to order a piña colada or a Pinot Noir.
It's a nice idea, but one that, for many of us, is more of a distant memory, a regrettable piercing, or the title of a bad movie than a reality this year.
Wallow not! There are plenty of (research-backed) ways to bring home the sunshine—without the sand. (And unlike that dream vacation, they won't cost a penny.) Here's how.
1. Go Green
When you think about your last vacation, you might picture a seaside, a mountaintop, or perhaps a California vineyard—not the inside of a hotel room.
There's a reason why we want to be outside on vacation—being surrounded by nature has physical and mental benefits. In one study, for example, researchers found that people who moved to cities with more green spaces enjoyed an immediate boost in mental health that lasted three years. People who moved to urban areas with fewer parks and gardens, on the other hand, suffered a decline in mental health. That was the case regardless of income, employment, education, and personality.
The great outdoors might even have healing power. One study found hospital patients in a room with a view of a natural setting recovered faster from surgery and took fewer painkillers than those whose windows faced a brick wall.
But you don't have to move cities or carve out a window to reap the benefits of the environment. Instead, take the running path that goes through the park instead of your usual city sidewalk jog, replace your fluorescent office lighting with softer lamps, or simply bring in fresh flowers. It's no substitute for vacation, but that doesn't mean you can't treat yourself to a souvenir.
2. Celebrate Daily
I knew I loved Hawaii when I asked a new friend there if he would be celebrating Taco Tuesday, a weekly excuse to eat discounted Mexican food and wash it down with margaritas. His response? "Every day is a celebration."
That attitude is easy to adopt when you're surrounded by palm trees and surfside. But it's also worth pursuing when even when you're not. One way to do that is by keeping a "gratitude journal," or a daily log of what you're thankful for.
In his research, psychologist Robert Emmons of the University of California, Davis, has found that the diaries can bring on remarkable physical, emotional, and social benefits. People have lower blood pressure and stronger immune systems, they feel more alert and happy, and they are more generous and outgoing, his studies have found. "Gratitude works," Emmons told me in 2012. "It has the power to heal, to energize, and to change lives."
So, celebrate the little things in life by taking note of what you're grateful for every day—be it a compassionate co-worker, a pretty sunset, or, of course, Taco Tuesdays.
3. Try New Things
If you've ever said "when in Rome" (or maybe it was "when in Vegas"), you know that seeing and doing new things is a lot of what makes vacation rock. Surfing lessons? Exotic foods? A steep hike with a rewarding view? Sign me up!
But "real life" can get dull because newness isn't the norm. In psychology speak, it's called hedonic adaptation—the idea that we become accustomed to changes, both positive and negative, over time. New relationships, jobs, and possessions give us only a temporary happiness boost before we return to our humdrum baseline. But by chasing newness, variety, and surprise, psychologists say we can increase happiness in our daily lives.
In a series of studies in the Journal of Happiness Studies, for instance, researchers found positive intentional changes in activities—think learning a new language or cultivating friendships—helped students stave off hedonic adaptation more than circumstantial changes, like moving to a better dorm room. In other words, "change your actions, not your circumstances," the article's title prescribes. That might mean checking out a new restaurant, joining that new bocce league, or going after a new responsibility at work.


But no matter how you interpret it, try to cultivate a little "spring break" in your everyday life. After all, you only live once—and most of that life won't be lived on vacation.