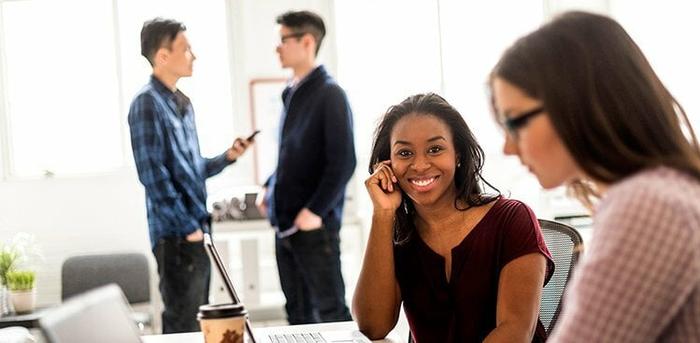 Deciding whether to join an established company or a startup can be tough. On one hand, bigger organizations offer in-house expertise, name recognition, and scale—all of which can hugely benefit your career. On the other hand, startups are fast-paced, exciting, and collaborative—plus, they give you the chance to shape a product, company, and even industry.
But what if you didn't have to choose? There's a sweet spot: high-growth companies. These combine the resources and support of larger companies with the innovation, opportunities, and dynamic atmosphere of early-stage ones.
We chatted with employees at CARFAX—a 720-employee company that's still growing fast with 75 new projected team members in the next year, a new expanded office space in Fairfax County, VA, new products, and more—to learn the top three reasons to join a fast-growing company. And, just as important, how to know one when you see it.
1. You'll Have the Ability to Seriously Learn and Grow
Working at a rapidly expanding company typically means you'll have plenty of exposure to challenging assignments. After all, businesses can't move into new product lines, services, territories, or markets without talented people to help lead the charge—and often, the first place they look is within their own ranks.
"If you work hard, and you want more responsibility, they want to give it to you," says Mary Bartlett, Field Services Director for CARFAX. "I've been promoted three times in the past six years."
According to Bartlett, her experience isn't out of the ordinary within the company. "Our business unit gets together three times a year, so I get to check in with the other people who also started five or six years ago," she explains. "Most of them are doing new things as well. It's really cool to see other people grow, not just professionally but personally."
How to Gauge It
While you're understandably eager to learn more about the company's internal advancement, don't just come right out and ask your interviewer, "How soon do you think I'll be promoted?" It'll seem like you're more interested in scaling the ladder than succeeding in your current role. Plus, some companies like CARFAX are intentionally flat to promote a culture of innovation and collaboration across the business, so your focus on getting a better title may make you seem like not a great culture fit.
Here's a much better way to frame the same question: "Would you say there's a lot of opportunity for growth within the company?"
Since employers want to hire people who are ambitious and self-motivated, asking about growth opportunities won't ruffle any feathers—in fact, it can make you a more attractive candidate.
"What did the person who last held this role go on to do?" is another option. Ideally, the interviewer will tell you the position is open because this person was promoted out of it.
You can get even more insight by talking to your potential co-workers. Ask them to describe their history with the company, paying attention to how often they've taken on new challenges or changed roles. In general, a change every one to three years is a good sign. Checking out employee profiles on LinkedIn is a good alternative (especially if you don't get the chance to talk to anyone in person). Watch for title changes or two separate positions within the same company.
Lastly, look into the organization's professional development policies—companies that provide leadership training or other opportunities clearly care about investing in their current employees. Note if there's the option to mix with other departments, since this proves the company encourages development and a deeper understanding of how the business functions. For example, the "Customer Connections" program at CARFAX exposes employees to various areas of the business where they have an opportunity to learn about goals, challenges, and opportunities. The program encourages every team member to develop a broader perspective, promotes innovation, and keeps people grounded in doing what's best for customers. "You get an understanding of what other teams do, as well as the chance explore your interests," says Betty Fonseca, Director of Operations.
2. You'll Get Access to Company Leaders
You could spend seven years at a large corporation without ever speaking to your CEO. At a high-growth company, on the other hand, you're likely to get plenty of face time with the executive team. As you might guess, these interactions are an invaluable way to learn from the best, pick up advice and insights, and make an impression.
That's why every single CARFAX employee talks to the CEO. "At CARFAX, we believe in the wisdom of crowds," Bartlett explains. "Every year, our CEO Dick Raines holds small conference calls with our team members and asks us to rank our priorities for the next fiscal year."
The CARFAX "game plan" is formulated from those conference calls. "For example, the team might decide that we want to work on a specific product, or focus on an internal culture policy," she says.
How to Gauge It
When the company has established practices like the game plan-priority voting CARFAX does, you can be pretty darn confident you'll have access to the top people. Some organizations, for instance, have weekly or monthly all-hands meetings where employees can ask the leadership team any questions they'd like. Others host "CEO lunches," giving one to five people some quality time with their boss' boss' boss.
To figure out if the place you're interviewing has a similar setup, ask your interviewer, "Do you encourage interactions between employees and the leadership team?"
But even if your company doesn't do something like this, that doesn't automatically mean you won't get a chance to mingle with the top brass. You should also ask, "How often do people at my level typically meet with the head of [the department you'll be in]?"
Browsing the company's blog and social media accounts can also give you an idea. Look for pictures or posts that show the leadership interacting with employees; you might see a snapshot of the COO eating pizza with some people from finance, or the marketing director volunteering with a group from HR.
---
Ready to join a fast-growing company? Check out CARFAX!
---
3. You'll Have the Opportunity to Leave Your Mark
If you're hoping to make an impact at your next job, a fast-moving company is definitely a strong choice. CARFAX, for example, has rolled out a large number of new products in the past several years, giving its team members the chance to build things from the ground up.
Product Services Manager Jay Smith—who has been at CARFAX since 2007—says he's had the privilege to work on multiple products and services during his tenure. "Moving from team to team, and even to different departments, has been a wonderful experience," Smith says. "I've gotten to meet different people, share ideas, and ultimately build products that help people."
Not only is the process rewarding, but the results are great for your career. Future hiring managers love candidates who can prove they're capable of contributing to a brand-new project. Plus, if you ever decide to go out on your own or work at a startup, you'll have lots of relevant experience.
How to Gauge It
To figure out how many opportunities you'll get to work on new projects, ask the people you're interviewing with, "Why are you excited to hire someone for this role?" If they respond with something along the lines of, "This person fulfills these key functions that're essential to keeping our team going," you'll probably be spending your time on existing projects. If, on the other hand, they say, "I think the right person will find opportunities to innovate how we do things and really take our results to the next level," you're going to be encouraged to experiment and develop fresh ideas.
You can also ask, "Are side projects or cross-departmental collaboration a big part of your company culture?" Hearing that employees are encouraged to take on projects outside their wheelhouse so they can broaden their skill set and exercise their creativity is a great sign.
Another good question: "Would you say the company values innovation? If so, how do you promote or encourage out-of-the-box thinking?" Your interviewer's reply will tell you how focused the team is on inventing new things, rather than refining the old ones.
Finally, do a little digging into the company's press releases from the past year or so. Innovative companies usually will have multiple announcements for new products or updates.
There's an unexpected bonus to posing these questions and doing your own research: It tells your interviewers that you're thoughtful, well-prepared, and engaged. Even better, when the interviewer asks, "Why do you want to work here?" or "What makes you a good fit?", you'll have plenty of material for your response.
Photo of team working courtesy of Getty/JGI/Tom Grill.