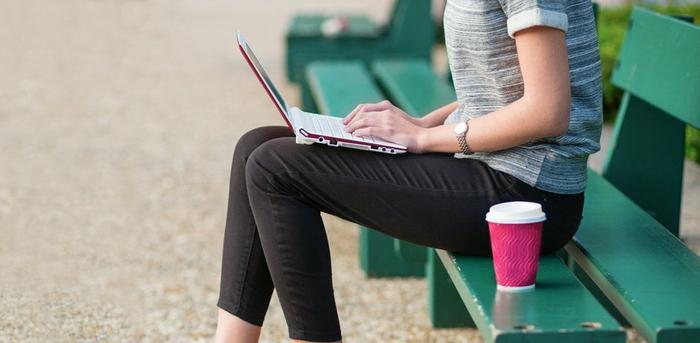 Before those who read this title think I've abandoned everything I stand for: Don't worry, I still love coffee. I am the stereotypical remote worker who seeks refuge from writer's block in a coffee shop. I drink nearly as much as Lorelai Gilmore, and whenever I want to catch up with a friend I suggest we meet for coffee.
However, I'll admit that this isn't always an effective networking strategy. As the writer Deborah Copaken Kogan includes on her contact page "but please refrain from asking her to…go on a coffee date…it's hard enough to find an hour to have coffee with a friend."
Therein lies the problem in asking networking contacts to meet for coffee: There's a good chance they'll respond that they're "too pressed for time." And, it's no doubt true. (Seriously, look no further than here, here, and here). So, if you're hoping to connect with someone new or particularly busy, try moving your requests online. You'll get the same results (new connections!) without all those the back-and-forth "when and where" emails.
1. Use Twitter to Share Your Work
As the resident Twitter evangelist on The Daily Muse team Lily Herman writes, "…Twitter is one of the best networking tools (if not the best) out there…Without exerting too much energy, you can put a plan in place and start to see your networking connections—and professional opportunities—rack up."
Herman goes on to explain how you can use hashtags, questions, and your current network to foster connections over Twitter. The idea here is that while someone may be hard-pressed to find 30 minutes (or more!) to meet for coffee, he or she probably has time to tweet you back. And, if you tweet with someone more regularly—and she's responding—you'll start to build a relationship. Once someone follows you, you can then DM him or her to continue the conversation over email.
Need proof this approach works? Just last week, someone tweeted me that he scored a 100% on the Grammar Quiz I shared. He then asked if that was worth me reviewing his infographic. I was impressed—with the score and the tweet—and asked him to DM me a link to it. If he'd asked me for coffee to discuss the possibility of collaborating, I would've said no—but this 10-second request was easy to say yes to.
2. Use LinkedIn to Share Your Resume
Some people just aren't into Twitter, so no matter how strategically you tweet at them, they won't respond because they rarely log in. Next stop: LinkedIn.
Before you say, "Duh, everyone's resume is on LinkedIn," remember that there's a difference between a person clicking on your page just to see if you share a past employer or alma mater, and someone actually reading your professional history.
I still remember when Muse career expert Lily Zhang reached out to me over LinkedIn. Not only did she send me a personal note, but as soon as I accepted her request, she went to my profile and endorsed me for some of the skills she had mentioned in the message. This demonstrated to me that she really had read my articles, and naturally, I immediately went to her profile to endorse the skills I knew she had. And while I was there, I read her profile.
This method could work for anyone, and it's a much more strategic—and likely—way to get a contact to view your summary and resume than asking to meet for coffee so that you may discuss your career aspirations.
3. Use Instagram to Be in Touch
One of the secrets to really connecting over social media is to figure out your contact's preferred platform. While you may think that Instagram is just for personal photos, people now use it in all sorts of ways. From sharing industry-related quotes to using it as another profile to share their work, many people do utilize it for professional purposes—making it a great way to reach them.
As with Twitter, just following someone isn't enough to build a connection. You'll want to interact with the person you'd like to be in touch with. Of course, there are a few things to keep in mind. I shy away from requesting private Instagram profiles unless it's someone I already know. (Because if someone's account is private, odds are this is not a platform he uses to network with new people.)
Also, it's important not to act like you know someone you've never met. Sure if someone posts a photo of a beautiful place or of themselves all dressed up or of a cute child, it's pretty standard for followers to like and comment accordingly. But if you tell a stranger that you notice her husband always poses on her right side or that she has worn her hair the same way to every fancy event lately (a.k.a., things only a BFF or her aunt would say), you're crossing over into creepy territory.
Instead, comment on professional posts—pictures of the office, of that person traveling for work, or of events he or she has attended. A comment that you "also loved the keynote at [ABC event] especially when she mentioned [this cool thing]" is a much better way to go than the comment above. While an influencer might not have time to meet with you for coffee to discuss a recent speaking engagement, through Instagram, you can get on her radar.


You still can ask to meet people for coffee (I know I do). But if you find that you're having trouble getting a "yes" to your networking request, try one of the strategies above. Then, buy yourself that cup of coffee for victory's sake when you hear back from someone you've been dying to connect with.