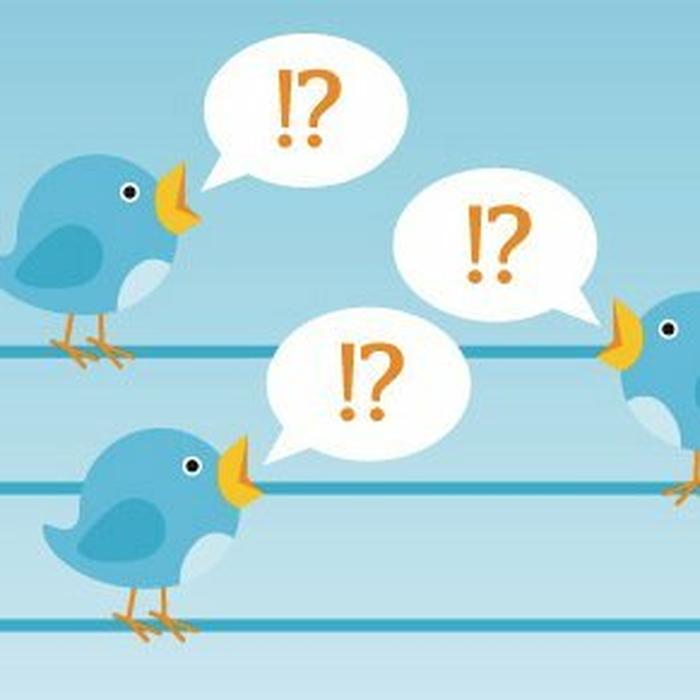 Sure, you know Twitter is a great medium for promoting your brand, following those you admire, and keeping in touch. But you should also know it's a virtual hub for some of the funniest voices on the web. It's sort of like a never-ending, multi-person comedy show.
Ready to join in on the fun? Check out this compilation of Tweeters who have truly mastered the art of compact comedy.
Time Magazine recently ranked snarky satirist Andy Borowitz as the #1 Twitter feed to follow in politics. (Yes, he outranked @BarackObama.) He also averages around 10 tweets a day, which means he's usually commenting on the news story of the hour—and providing you with great daytime distractions.
Recent Favorite: Romney: I love Mississippi and Alabama. I'm good friends with the owners of both states.
A writer for Late Night with Jimmy Fallon, Jen has gained notoriety of her own for her funny, irreverent messages. Her tweets don't have any particular theme, but her puns and silly humor are always entertaining.
Recent Favorite: I need to lose 11 pounds by the end of this tweet.
Rob Kutner is a former Daily Show writer who currently writes for Conan (fun fact: he also went to my high school!). Despite his crazy schedule, he manages to stay active in the Twitterverse with smart, sassy jokes about pop culture and politics.
Recent Favorite: Antioxidants are the key to longevity, which is why I have no fewer than 19 blueberry crullers a day.
Comedian Joe Mande is awesome to see live, but if you can't make it to a show, his Twitter feed will suffice. He's particularly adept at the sarcastic re-tweet—look for condescending (and amazing) snaps at celebrities like Perez Hilton and Ryan Seacrest.
Recent Favorite: you're 37 years old. RT @RyanSeacrest: where's everyone going for spring break?
A comedian and frequent contributor to The Howard Stern Show, Braden's Twitter jokes range from smart and political to completely random. But when he hits, he hits hard—and will leave you cracking up.
Recent Favorite: hate to brag but looks like now i have a friend in the diamond business
Before Twitter, you probably hadn't heard of Pauly Casillas. He's a regular guy who lives in Tuscon—but his sharp wit and sarcastic observation has amassed him a Twitter following of over 80,000. That doesn't even include his parody accounts, which are devoted to mocking Jay Cutler and Gary Busey.
Recent Favorite: So what do Crips bleed?
Named one of the top Twitter feeds of 2011 by Paste Magazine, @Disalmanac is the brainchild of animator Scott Bateman. Packed with fake, random trivia, this feed's unique angle is a guaranteed laugh.
Recent Favorite: Today in 1959, Perry Farrell was born. He started Lollapalooza, so Candlebox was his fault.
He's not a professional comedian (he actually works as a research fellow for Media Matters), but his Twitter feed is sharp, insightful, and hilarious. Most of his tweets are political in nature (naturally), but it's his critical eye toward the media's handling of news stories that makes him a particularly good follow.
Recent Favorite: You guys, Bill Kristol is feeling a little down. Whaddaya say we all chip in and invade something to cheer him up? http://bit.ly/GCW8IZ
Freelance writer Steve Huff created this parody account, which doles out terrible life advice that no one should follow. Follow for quotes that start out somewhat promising before taking a turn for the hilariously absurd.
Recent Favorite: New affirmation day! Go look at yourself in a mirror and repeat this for 10 minutes: "I am alive and no one likes me."
TV writer Alec Sulkin has written for Family Guy, The Cleveland Show, and The Late Late Show with Craig Kilborn. His self-deprecating sense of humor has gained him a sizable Twitter following, but he also frequently tweets hilarious, random observations.
Recent Favorite: I wonder if Fonzie watches the NCAAAAAAAAAAA tournament.
Who are your favorite funny tweeters to follow? Let us know in the comments!