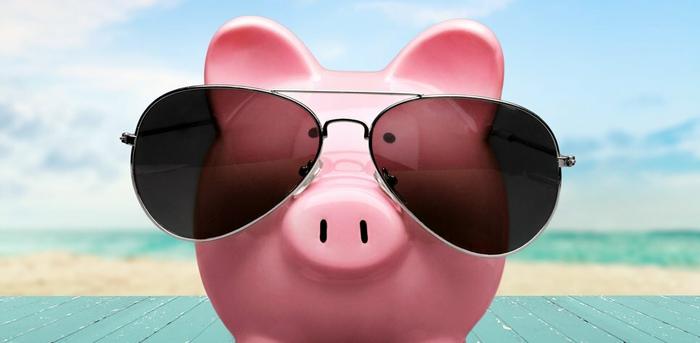 When you're in your 20s and managing expenses on a tight budget, major life changes (moves, new jobs, dating, maybe even marriage), and professional instability, it's easy to get overwhelmed by personal finances. But a careless approach will only set you back.
Developing good habits now can set you up for a stable future. Get on the right track by using these 10 milestones to check your progress as you journey toward 30. Keep in mind—the earlier you hit them, the more you'll reap the benefits.


1. You're Financially Independent of Your Parents
Help from parents is always appreciated, especially when you find yourself in a tight spot financially or need a hand easing into the real world. But there comes a time when this assistance is more harmful than helpful. The best way to educate yourself in your finances is to become self-sufficient and navigate them firsthand. If you don't make mistakes yourself, you won't learn. Besides, nothing says, "I made it," like paying your own way, and that satisfaction is priceless.


2. You've Paid Off Your Credit Cards
Guilty of having a little too much fun with your credit card? Don't spend your 30s paying off the mistakes you made in your 20s. Work hard to pay off your credit debt, and enter 30 with a clean slate so you can afford higher priority payments such as your mortgage or retirement fund. Ideally, it would also be great to eradicate those student loans, but it's more important to tackle credit card debt first because it's considered bad debt. Just make sure you're making minimum payments on your student loans.
3. You Know Exactly What Your Credit Score Is and—It's Great
Your credit score dictates whether you can get a loan and the interest on it, which comes in handy when buying your first house or starting a business. Good credit considers several factors, but here are the basics:
Always pay your bill on time
Your outstanding balance should be no more than 30% of your credit limit on each card
Don't know your score? You can check your FICO score for free and without penalties once a year at annualcreditreport.com.


4. You've Started an IRA or 401(k) (Even if Your Work Doesn't Offer One)
The world of IRAs and 401(k)s can be confusing (I'm still figuring it out myself), but the sooner you start one, the better—money has much more time to grow when you're in your 20s. Determining which one you need depends on what you want to get out of it, so do some research. Both allow you to invest money for retirement—a 401(k) invests money from your pre-tax paycheck and an IRA has tax advantages. Some employers match your contributions to your 401(k), which will make your retirement savings grow even faster.


5. You've Established an Emergency Fund
Emergencies are unexpected, but that doesn't mean you shouldn't anticipate them. They happen to the best of us, whether you need a new transmission for the car, a flight home for a family crisis, or get laid off. Prepare for the worst by tucking at least three but ideally six months of your living expenses away in a savings account.


6. You're Properly Insured
Paying insurance is never fun. I almost fell out of my seat when I saw how much my car insurance was, but I was also thankful for it when I got into a car accident. Create a list and check it off—health and dental insurance, car insurance, homeowners or rental insurance, and life insurance. Knowing the difference between insurance and proper insurance is instrumental—while it's tempting, don't take the cheap route. You don't have to shell out for the premium plan, but make sure you pick the plan that best benefits you and makes you feel most secure.


7. You Have "Me" Money Account
Don't forget about your own personal milestones. Whether it's a new car, trip to Europe, graduate degree, or your first piece of property, make sure you have an account dedicated to your fun adventures in life. You work hard—reward yourself. It'll be that much better knowing you diligently saved for it.
8. You've Started an Investment Portfolio
Don't let your money gather dust in one account, but rather give it a chance to grow. Diversifying your money beyond the basic savings account lays the foundation for building wealth and security long-term. While it may seem daunting to get started, you'll be thankful down the road that you did. Opt for something simple like a mutual fund, or to really get your toes wet, go for the stock market.


9. Sometimes You Treat Yourself, But You Do it Smartly
Say goodbye to Forever 21 and Ikea. Really. While they're both great for trendy pieces you can toss when they break, rip, or just go out of style, your 30s are about embracing quality. Not every item needs to be—and shouldn't be—a splurge, but invest in pieces when you know they're worth it. You'll get more bang for your buck in the long run, and if you start now, you'll celebrate 30 in a home filled with a nice array of quality items, no Lack coffee table in sight.


10. You've Got a Clear Goal for Your Finances
Most importantly, decide what you want your wealth goals to be, which will help determine how you invest. Do you want to retire at 50? Own a vacation home? Write it down or post a visual of it on your fridge as a reminder, and create a strategy. It will keep you on track and motivated to achieving the lifestyle you want. Once you reach one goal, set another.


This article was originally published on Career Contessa. It has been republished here with permission.