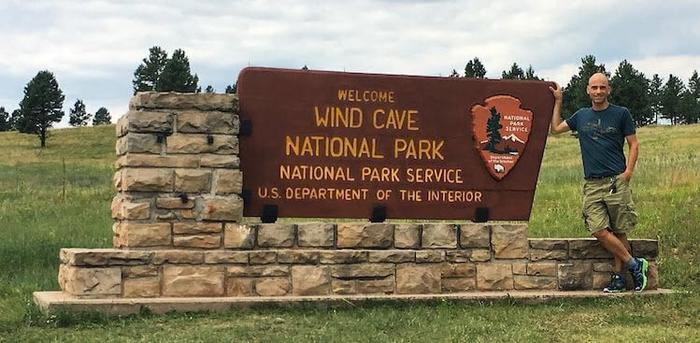 Bill Sycalik was ready for a change. A big one.
After spending years as a management consultant, leading large-scale tech implementations in New York and Washington, DC, he was burnt out and craving a bit of a different lifestyle.
His first thought was to make the move to Denver—with a more relaxed pace and ample access to the outdoors, it'd be a welcome change from his current surroundings. And with a bit of savings, he could afford to take a few months off and travel before heading west.
His second thought was, well, a bit more extreme.
After reading that his transition coincided with the 100-year anniversary of America's National Park Service, he decided it was the perfect opportunity to reconnect with nature in a way he was personally passionate about: He'd spend a year, maybe more, running his own designed marathon in each of the 59 national parks.
That's right: A journey of 1,545.8 miles by foot, zig-zagging tens of thousands more by car across the country.
Why did it need to be a marathon in every place? "Being a runner and this logical, goal-oriented kind of person," he tells me, "I didn't want to make it open ended—I wanted to have something to do in every park." So far, he's completed 25 marathons, chronicling his progress and adventures at runningtheparks.com.
Even with so much strenuous activity, the break from work's been "really nice," he says. "I'm away from the computer, not on conference calls, not responding at all hours to email. You feel lighter when you're not burdened with a lot of that." While he manages a blog and social media accounts to stay connected to friends and followers, "it doesn't feel as stifling as corporate life." Plus, he says, "nature just relaxes you. You don't go to nature to relax, it just happens."
And the logistics of a long-term break? While he realized his time off would span more than his planned few months, he figured out how he could manage by living off of his savings and trying to be as frugal as possible. (Not as easy as it sounds when you're living out of a car-top tent and trying to keep your body at peak marathon-running performance—for anyone who's interested, he outlines his expenses on his website.) At some point, he may take a part-time job along the way.
But his experience (or some version of it—hiking! Cycling! Simply traveling!) is absolutely possible for anyone, he says, with advance planning and savings. "Figure out where you want to go and what you want to do, determine the budget, and save for it," he recommends, cautioning against the temptation to quit your job on a whim. "If you don't have the savings, you don't have it all planned out, you'll be stressed over money and the next step. You'll have traded one stress for another."
Once he's hit his goal, Bill probably will head to Denver, though his career will look much different than it did before. His current thinking is something that combines his former skill set with his current adventures, such as product management for a sports gear or outdoor equipment company. Taking his job search in that direction makes his time off less of a gap that needs to be explained and more of a natural transition into his next role.
His message for anyone considering a similar move: Take a chance, even if you're afraid, because the benefits are more than you could possibly imagine. "Getting away from your job makes you think of ideas you wouldn't have otherwise because you're 'in it' all the time. You just come back with a different perspective," he explains. "Getting out and taking that break might lead to something greater physically, spiritually, even professionally."


This article is the first piece in our "Stepping Off the Path" series about people who've taken time off to do something wildly different. Have a story we should know about? Hit us up at editor@themuse.com with subject line "Stepping Off the Path."
Photos courtesy of the author.