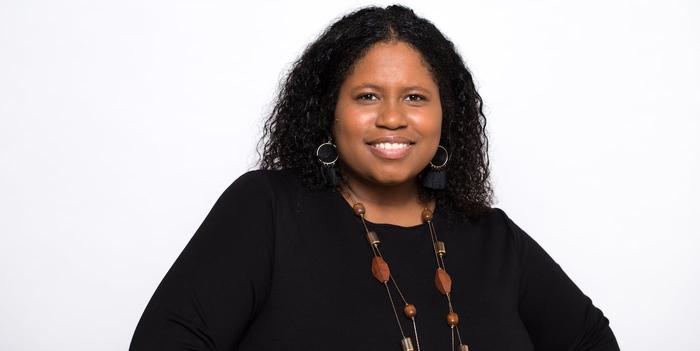 When Veronica Appleton was a public relations major at Purdue University, she imagined someday making her mark as a lobbyist, attorney, or public relations professional. But an internship at an advertising agency changed everything. "This was quite a pivotal moment in my career because it was the first time I saw a unique and mission-driven set of people who looked just like me: Black men and women with a passion for brands," she says. "This is also where advertising found me, and where I found the industry."
Fast forward to today, and Appleton is making the advertising industry more inclusive as the VP of Talent Management and Diversity, Equity & Inclusion at The Marketing Arm (TMA). Here, Appleton talks about how TMA fosters inclusion through employee-led programs and mentorship, and what she's working on as the agency's DEI leader.
What attracted you to work at The Marketing Arm?
There's two reasons I decided to come to TMA. First was the recruiting process, which created a seamless and careful experience that I still remember today. Even now, we have candidates who share similar feedback, which gives me comfort in the work we're doing to develop belonging across the agency. Second was my interview with CEO Andrew Robinson: He was the first executive within the industry I heard say, "giving gratitude is part of my leadership style." This was confirmation for me, as someone who's been told not to smile too much or to lead more confidently with my voice, that TMA was the agency for me to grow and develop. It was an easy decision to join the team.
What are you responsible for in this dual position as the VP of Talent Management and Diversity, Equity & Inclusion?
I serve as champion, change agent, and subject-matter expert for The Marketing Arm's workforce of 700-plus people spread across 10 locations to advance the DEI vision for the future. I'm responsible for helping shape an inclusive and equitable culture by partnering with all agency teams to live out the TMA DEI promise by fostering representation that will strengthen retention, maintain high energy, and develop great leaders.
How does The Marketing Arm approach DEI? What are your priorities?
TMA is committed to building an even more diverse and inclusive workplace, guided by equity. In 2020, we developed Belonging 2023, a plan to foster positive impact, measurable tactics, and strategies across five core pillar priorities to track sustainability of systems and practices and monitor disparities within compensation, recruiting, retention, advancement, and the business.
Across the agency, we've championed 25 of our senior leaders and functional team members to serve as accountability members for each pillar focus. These leaders' carry out our vision in developing a world-class agency that can be a destination employer for all BIPOC and women professionals within TMA offices. Our goal is to always foster unity and creativity within our work.
How does The Marketing Arm approach recruiting with diversity in mind?
Simply put, human capital is one of our greatest assets as an agency. We're not interested in "workplace fit" or operating along the status quo. Our approach for recruiting talent is to identify professionals who will change the chemistry of our teams and add value to the work we do.
Our recruiting partnerships include Hire Heroes, HBCU Connect, The Mom Project, AAF Most Promising, the Marcus Graham Project, and other programs to facilitate not only a pipeline, but matriculation of diverse talent into our agency. From our process to how we show up in the industry, we want talent to know we're a place where they can belong.
In what ways is The Marketing Arm committed to fostering a more inclusive environment?
There are three core areas where we foster inclusivity within TMA: Our employee-led initiative groups, learning and education, and our in-house mentorship program.
1. Employee-Led Initiative Groups: We have five groups that provide an acceptance of voices, cultures, perspectives, and differences within the agency, including Discover_TMA, our all-agency diversity group; Women's Initiative, which is focused on professional development opportunities for women; and TMA Cares, which is our community relations group. Two groups that were developed as a result of the global pandemic are Wellness, to build space for overall wellness, and TMA Family, to support for all parents and caregivers. All of these groups contribute to the positive impact and intersectionality of our people.
2. Learning and Education Options: We launched anti-racism and cultural intelligence training for our executive-, senior-, and mid-level managers to establish deeper cultural competency, a high-level understanding for cultural intelligence, and drive them to lead with cultural insight first.
3. Mentorship Program: We further the investment in our people via a long-standing agency mentorship program. We monitor the participation of our BIPOC talent in the nine-month mentorship program as well.
What's the greatest challenge you've experienced in your career, especially as a woman of color, and how did you overcome it?
There are many challenges, but I believe the most alarming encounter I have experienced is not having a supportive manager. One moment I recall is asking for a promotion many years ago, which I believed I was well prepared for. My manager at the time not only laughed but stated it would take years before I could earn the title and salary bump I was looking for. As a woman of color, I left the conversation feeling inadequate about my expertise and skill sets, and slightly unaware of what the next step would be in my career. To mitigate this experience, I kept working toward my goal and began a search for a new role. I felt empowered after having a conversation with my mentor and my career sponsor at the time.
What is the hardest part about being a woman in a leadership role and what has helped you succeed?
Self-bias is one of the most challenging experiences within assuming a leadership position. For example, there are moments where you can doubt yourself, create changing narratives mentally, and/or develop environments where you are unable to thrive. To reduce the bias, you must identify it, recognize when it's happening, and acknowledge when it's time to believe in yourself. It's important that we create positivity within so that there's a direct benefit to the communities we are members of such as our homes and the workplace.
What advice do you have for other women who are striving to achieve leadership roles?
Do what you love. Be who you want to be. Keep your head above the water. Keep a smile. Continue growing. Be the best version of yourself.
What's the best career advice you've ever received?
Always take criticism and make it constructive.