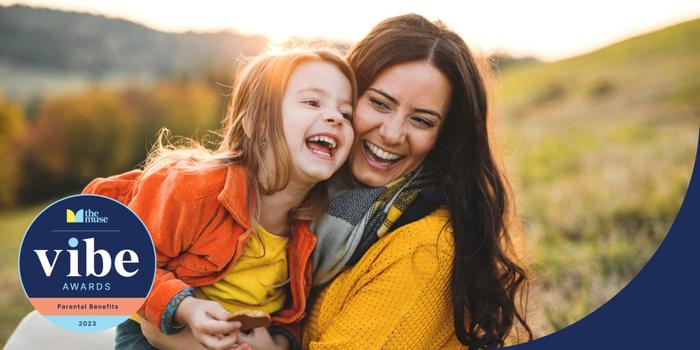 Good news for working parents out there: Paid maternity and paternity leave each saw a 5% jump from last year and are now offered by 40% and 32% of employers, respectively, according to a 2023 study by the Society for Human Resource Management. What's more, paid adoption leave went up by 6%, with 34% of the companies surveyed now providing it. Generous leave policies are just the start for the businesses on this list, which stand out for additional family-friendly perks like on-site or backup childcare, flexible schedules, and fertility benefits.
Parental benefits is just one of the categories we spotlight in the 2023 VIBE Awards, which we created to showcase companies on The Muse with the strongest employee benefits programs. "VIBE" stands for "voted in by employees" because our methodology combines proprietary data about our partners and votes from their employees, who are asked to rank the strength of their company's perks and benefits. For each of the seven VIBE Awards categories—which also include office life and perks and professional development—we feature winners from small, medium, and large businesses.
One way companies can support parents is by offering considerable paid leave policies for both birthing and non-birthing parents. That's the approach taken by Airbase, a winner in the small-size company category. "Twelve weeks of parental leave that can be used in any way during the first year of your new child's life is an amazing benefit that greatly helped me bond with my daughter and assist my wife during this change," says one employee.
Biogen, one of the medium- and large-size winners, provides a wide range of benefits, from adoption support to college counselors for teenagers. Says an employee: "Biogen's parental benefits are unmatched! The on-site daycare is an amazing perk for working parents. We also have flexible work-from-home options. I've used both of these benefits, which has allowed me to be an engaged and productive employee while balancing my personal and professional life."
Read on for the full list of winners in the parental benefits category.
Small Companies
Mast-Jägermeister US
Who they are: This spirits brand imports and distributes premium liquors and spirits in the U.S. and is known for its namesake herbal liqueur.
What employees are saying: "I have just returned from 20 weeks of paid maternity leave! Having 20 weeks helped me feel ready to return to work without fretting over my baby. The office has a private mothering room for me to pump in, a private refrigerator, a desk with a monitor and keyboard, and even cozy decor. All of this, as well as the hybrid work schedule, have made my return to work much easier."
Read more about Mast-Jägermeister US's award-winning perks and benefits.
Airbase
Who they are: This spend management platform helps companies handle accounts payable, corporate credit card programs, and employee expense reimbursements in one system.
What employees are saying: "The most important aspect to me is how parental leaves are handled culturally. Some companies have generous policies, but their culture keeps people from taking the time off or normalizes doing work while they are 'on leave.' Airbase, however, truly respects the needs of parents not only at a policy level, but also at a corporate cultural level."
Read more about Airbase's award-winning perks and benefits.
GameChanger
Who they are: This tech company and app helps youth sports teams stay connected, live stream games, keep score, and more.
What employees are saying: "After having my first child this year, I was able to spend 16 weeks on leave and enjoy the time learning to be a mom. My teammates were more than willing to take on some of my tasks to ensure that things went smoothly in my absence. In my return to work, both my manager and our company president have stressed that I can do what I need to ensure a smooth transition for me and my son. Hearing that from senior members of my team took so much pressure off and shows how much GameChanger truly does value and support a work-life balance."
Read more about GameChanger's award-winning perks and benefits.
Good Apple
Who they are: This independent ad agency works with clients in a range of industries, from fashion to healthcare.
What employees are saying: "We have an incredible maternity/paternity leave policy of four months paid leave. There is also general flexibility with work hours for morning drop offs and afternoon pick ups if needed."
Read more about Good Apple's award-winning perks and benefits.
Small Girls PR
Who they are: Small Girls PR is a communications and events marketing agency with clients ranging from Kendra Scott to Olay.
What employees are saying:
"As a working parent, I am so grateful to Small Girls PR for all of the incredible flexibility they show to all caretakers, whether it's their generous PTO and flex schedules or the incredibly generous Snoos for new parents (a perk that all of my non-SGPR friends are jealous of)."
Read more about Small Girls PR's award-winning perks and benefits.
Medium & Large Companies
Opendoor
Who they are: This real estate company has built a digital, end-to-end customer experience that simplifies the process of buying and selling a home.
What employees are saying:
"At Opendoor, it is very easy to take time off to bring my kids to the doctor, dentist, etc. Last year my son fractured his back, and I had to take him to many medical appointments over a six-month period. With Opendoor's flexible approach to work, I could stagger my schedule to accommodate his appointments."
Read more about their award-winning perks and benefits.
Kinaxis
Who they are: This software company provides supply chain planning solutions to industries ranging from aerospace to consumer products.
What employees are saying: "My children are older but I really appreciate the flexibility I have to take time off to accommodate their needs—the parental responsibilities are just as tough with teenagers. I also appreciate that I was able to approve an extended parental leave for one of my team members. It's so great to see that fathers can take meaningful time off to be with their families."
Read more about Kinaxis' award-winning perks and benefits.
Autodesk
Who they are: This design software company provides CAD and 3D modeling programs to businesses in a variety of industries.
What employees are saying: "At the same time I was dealing with increasing childcare costs for my youngest child, Autodesk added a dependent care flexible spending account, which meant I could set aside pre-tax dollars and put it towards childcare costs. This was a massive help. Additionally, flexibility around hybrid working is the best I've seen."
Read more about Autodesk's award-winning perks and benefits.
TransUnion
Who they are: TransUnion is a global information and insights company and credit reporting agency.
What employees are saying:
"When daycare is closed during the week, it can be challenging to find care and get any work done. TU pays for 10 days of backup care, including summer camps, which has been so great and alleviates the stress of finding a last-minute caretaker."
Read more about TransUnion's award-winning perks and benefits.
Biogen
Who they are: This biotech company researches, develops, and distributes therapies for neurological and neurodegenerative diseases.
What employees are saying: "Biogen's college coach benefit helped me support my daughters in choosing and being accepted to the colleges of their choice. It was such a time saver and provided so much peace of mind!"
Read more about Biogen's award-winning perks and benefits.
Warner Bros. Discovery
Who they are: This global media and entertainment company brings TV, film, sports, news, and gaming to millions of people around the world.
What employees are saying: "Having a fully paid parental leave is such a blessing! There are so many stressors with becoming a new parent—breastfeeding, diapers, baths, and wondering, 'Is baby sick? Why is baby crying? WHAT AM I DOING?' All these are top concerns and not having to list financial stress among them is a relief."
Read more about Warner Bros. Discovery's award-winning perks and benefits.