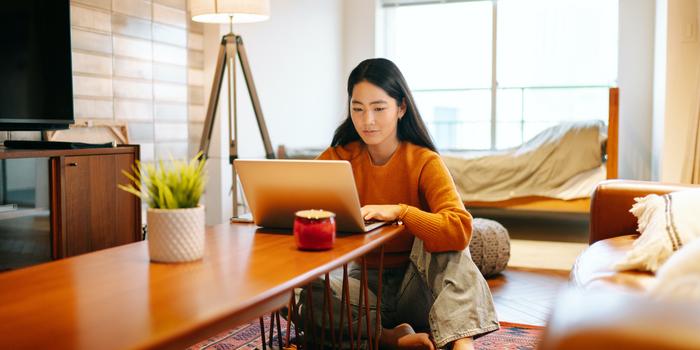 Creating a resume falls somewhere in the shared space between exhausting, necessary, and tricky. It takes careful consideration to select a format that is easy to use, makes sense for the amount of experience you have, and clearly presents all the information you need to include.
Fortunately, there's no shortage of resume templates online to help you get started—and many of them are free! Templates do the bulk of the design work for you, so all you have to do is plug in the right information in the right places. Even better, some templates are geared toward specific industries and career stages, making it even easier to understand what the most relevant information to include is and helping you stand out.
SEARCH OPEN JOBS ON THE MUSE! See who's hiring here, and you can even filter your search by benefits, company size, remote opportunities, and more. Then, sign up for our newsletter and we'll deliver advice on landing the job right to you.
Below you'll find 41 awesome free resume templates you can choose from. You may notice that they're lower-key than many options you see elsewhere—with fewer graphics, charts, and sections. That's because we've selected the options that stand up best against applicant tracking systems (ATS), the computer programs that parse resume content before a human ever reads it. Resumes with too much fancy formatting often get scrambled going through the ATS and never make it to recruiters (or read like gibberish if they do). But these options are tailored to pass right through and help you land at the top of the stack. Scroll down to see which option is best for you!
How to Choose—and Use—a Resume Template
ATSs don't always "read" as well as a person would and can't handle a lot of formatting on a resume. Certain design elements like columns, text boxes, headers, footers, images, graphs, and graphics can cause an ATS to read out of order or drop things entirely.
You want to keep these limitations in mind while choosing and using a template, because not all templates you'll find online follow best practices. Even the best ones, including some in this list, slip up here and there. A few common changes you'll have to make to templates are: moving all text out of text boxes, headers, and footers and into the body of a document; changing any creative section headings to traditional ones; and removing any graphic elements or replacing them with text.
Not all embellishments are out of bounds, however. Bold and italicized text is OK, and underlined words are fine in headings and hyperlinks. Color won't impact the ATS, either, and dark blues, greens, and reds are popular since people can also read them easily. (Read more about using resume templates—and making sure you still get through the ATS—here.)
Now check out the templates:
Basic Templates
Here are a few traditional templates with straightforward, chronological formatting and classic section headings. They're tried and true templates that won't run into any trouble with an ATS.
File Format: Google Doc
Our downloadable template uses blue for the section headers, adding a slight pop to an otherwise simple sample, and is totally customizable.

File Format: DOCX
HLoom offers templates that work to the letter for ATSs. Some incorporate color and bullet points, but they do away with even horizontal bar dividers. The "fundamental" resume is a straightforward chronological resume with space for experience, education, and skills. We recommend changing the heading "Professional Profile" to "Summary." And there's no need to include your street address these days—city and state are enough.
File Format: PDF, DOCX
Rezi guides you through filling out their traditional template step-by-step, asking you what level of career and industry you're in to make sure you're using the right sections for you. For example, one option is for students who may want to put projects, activities, and coursework front and center (until they gain more experience). Make sure you delete the contact info icons and stay away from the "Rezi Alternative Format" option, which is not ATS-friendly.
File Format: DOCX
This template is geared toward job seekers who want to call out the specific job they're looking for by putting the title front and center to maximize salient keywords. It can be downloaded with headers that come in five different color options, including forest green and aquatic blue.
File Format: DOCX
Jobscan's focus is on helping people get past an ATS and, as a result, their templates stick closely to ATS-friendly formatting. The "Classic Format Resume - Chronological" is exactly what it sounds like: a basic, classic resume with a focus on your experience in reverse chronological order. The template also comes in a functional format as well as a hybrid format, which is very popular among applicants.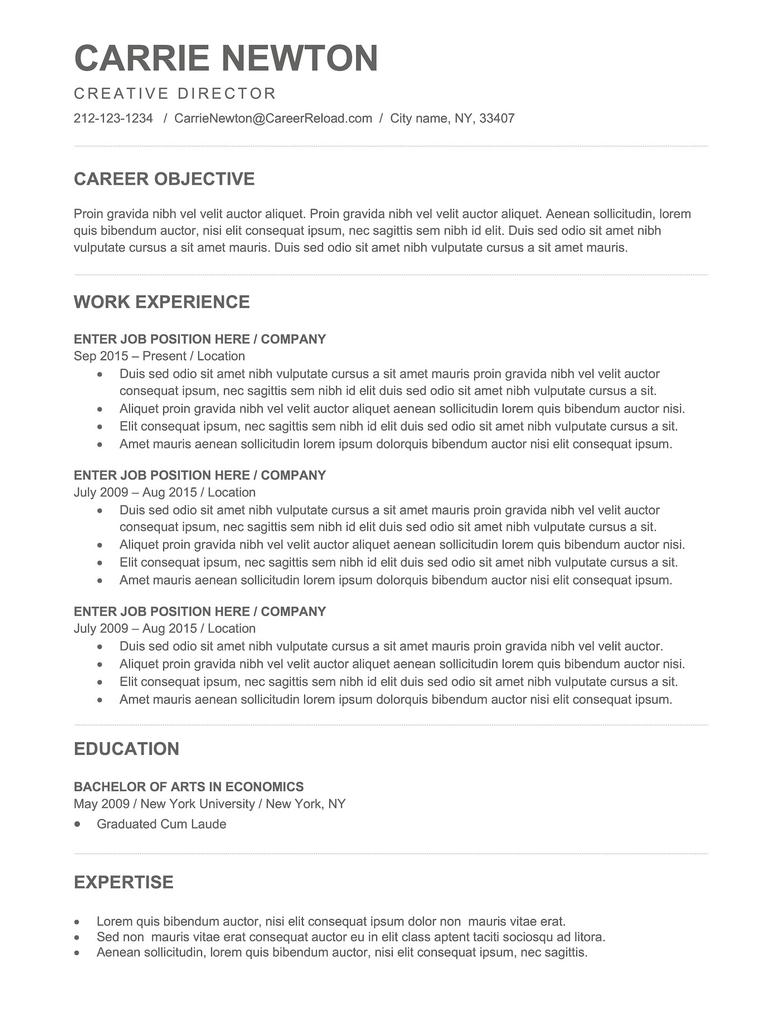 File Format: DOCX
This template is a solid, traditional choice. Just delete the objective section or make it a summary instead, and change the "Expertise" label to "Skills." (To download this one, scroll to the green hyperlink that reads, "Resume Template Carrie ([number] downloads).")
File Format: DOCX
This simple resume from Microsoft Word is straightforward but adds a few more design elements in the form of horizontal bars to break up the text (though they can also be removed if you prefer).
Templates With a Pop of Color
These resume templates are still pretty basic, but they use color to make key elements stand out and liven up your resume a bit.
File Format: DOCX
This chronological template has plenty of space to include a strong resume summary at the top and reiterate your most relevant skills at the bottom.
File Format: DOCX
This simple ATS-friendly template downloads as a Microsoft Word file and has space for a title and summary. Its use of color gives it a bit more zing than some of the more bare-bones options.
File Format: DOCX
Here's another Career Reload template that takes advantage of ATS-friendly design elements to give you something a little more unique. But make sure to swap out the "Career Objective" for a "Summary" section (or just get rid of it entirely).
File Format: DOCX
This ATS-friendly resume template adds some color to help your name, headings, and the places you've worked and studied stand out. Note that you should remove the references section—you don't need to list these on your resume.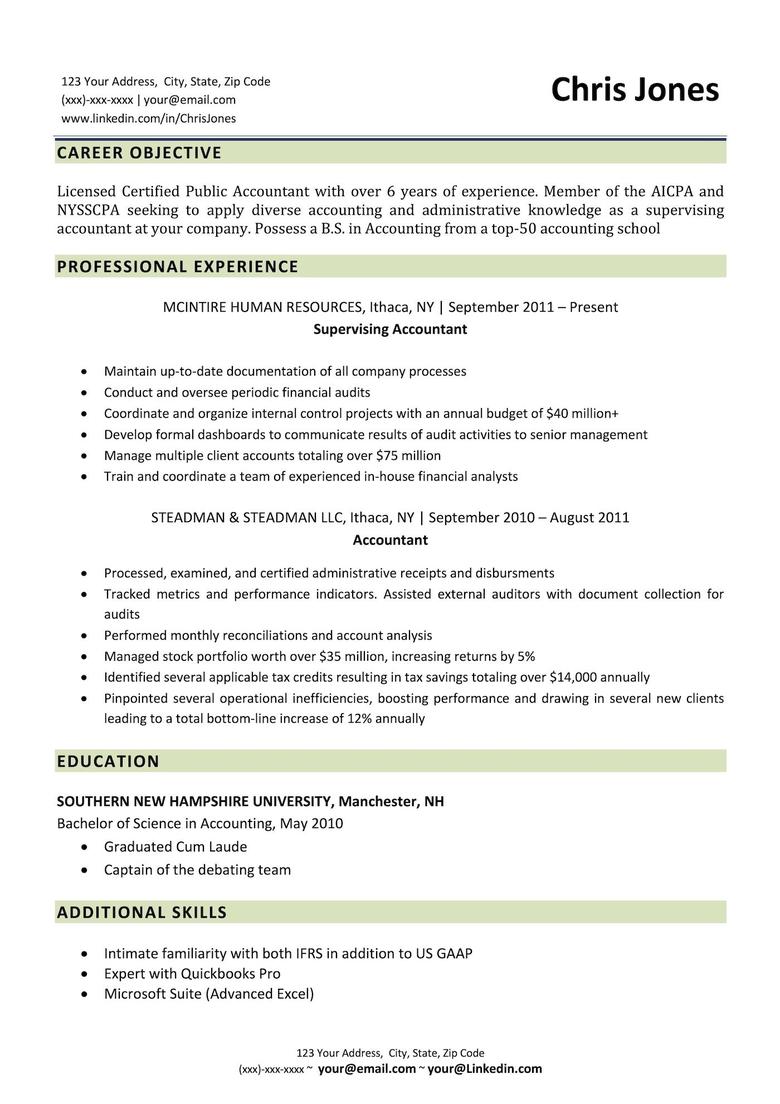 File Format: DOCX
The "elegant" template from Resume Template injects colored bars to highlight sections but maintains the traditional bulleted format. Note that you can delete the footer of the document since that information is already at the top.
Minimalist Templates
If you want a sleek, distraction-free resume that lets your skills and experience speak for themselves, check out these spare, no-frills templates.
File Format: DOCX
This entirely unembellished template keeps things as simple as possible but still has room for all of your most relevant details.
File Format: PDF, Microsoft Word
This is another option with a step-by-step walkthrough that's good for someone who wants a completely utilitarian resume. Once completed, the resume can be downloaded as a PDF or Word file (the latter being a safer bet to get through an ATS unless the job posting specifically mentions you can use a PDF). Note: You should definitely delete the date of birth section.
File File Format: DOCX
This site's template for applicant tracking systems is the lowest of low-frills—but that may be perfectly fine if you're seeking a no-risk option that still includes everything you need.
File Format: DOCX
This template is another highly minimalist option that places section headers on the left and details on the right, creating a good amount of white space. (Note that these columns can be read from left to right, so they're perfectly ATS friendly.)
Eye-Catching Templates
These templates are perfect for people who want their resumes to stand out from the pack—but still get read by a computer.
File Format: PDF, Google Doc, TXT
Every Cultivated Culture template is fully customizable—so you can eliminate any elements that aren't ATS-friendly. We recommend the Austin Belcak template as a starting point. Just be sure to replace the graph-based skills section with a traditional bulleted list.
File Format: PDF, Google Doc, TXT
This is another Cultivated Culture template that will get through the ATS with just one change: Delete the "Interests" section to eliminate the columns.
File Format: PDF, DOCX, DOC, HTML
If you want columns, this template includes them in a way that can still be read by an ATS. Just be sure to move your name and contact info out of the text box it's currently in (where it might get missed or garbled by the ATS) and into the body of the resume. You can customize your resume directly in your web browser and download it as a PDF, Word, or HTML file. Not all of Super Resume's templates are ATS friendly (some include graphics and columns), but you can also check out "Resume Template 5" and "Resume Template 6" for more options.
File Format: PSD, PDF, Word
This template places the most emphasis on the personal summary at the top and keeps the job experience straightforward in the body. It's ideal for specialized fields in which getting to know the applicant as a person is key (in this case, chefs and restaurant employees who may interact closely with customers and clients, but it can be adapted to any field).
This template keeps things short, elegant, and easy to read. The colored graphic at the top adds a nice design element to stand out, especially against a straightforward layout that places your most recent job experience at the top and education and skills below. Just be sure to delete the icons next to the contact information and move it to the body of the resume.
File Format: DOCX, PSD, AI
Don't be fooled by the erasable icons—this template may have a modern look but it keeps things simple and compact. Keep in mind that some ATSs will read your resume from left to right, ignoring columns, so we recommend including only the job title or only the year in the left column and moving the other piece of information to the right to be on the safe side.
Templates That Emphasize Skills
If you're early in your career, switching career paths, or in a highly technical field, you may want to spotlight your relevant skills over your past work experience. These templates do just that.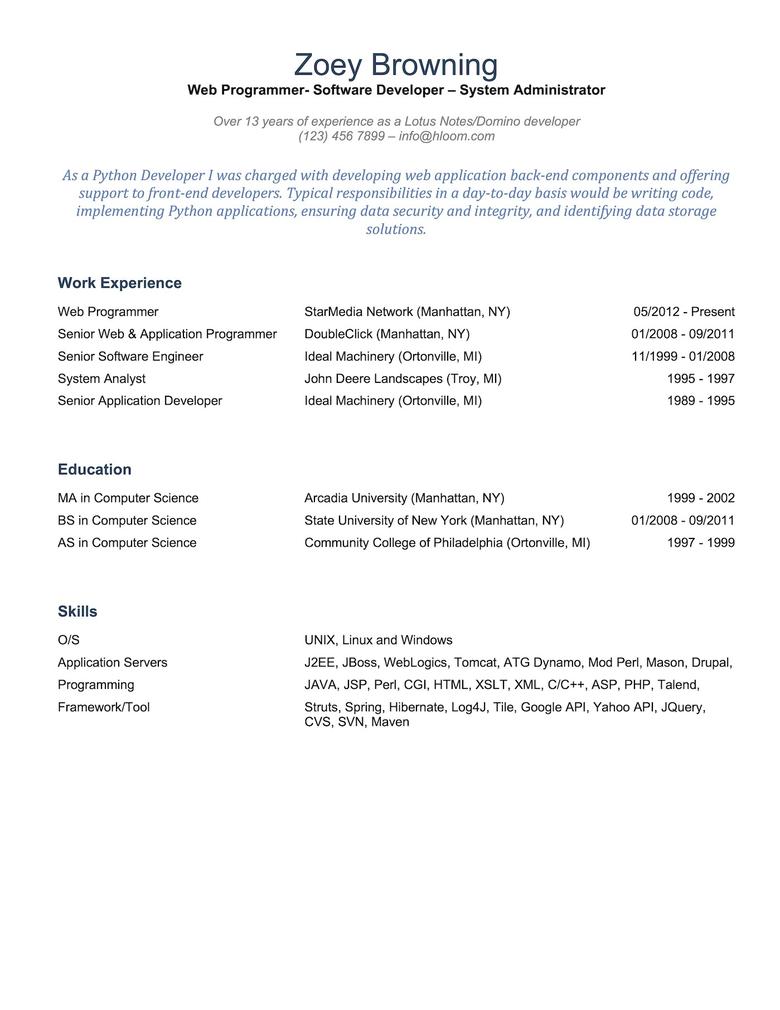 File Format: DOCX
This template compresses your work experience so you have more room to showcase your skills. And don't let the name fool you—this resume can be adapted for any industry.
File Format: DOCX
This option prioritizes job seekers' skills, placing that section at the top of the resume. If you're making a big career change, you can keep the objective section; otherwise delete it or replace it with a summary statement.
File Format: DOCX
Ignore the template name: This is a resume, not a CV. But like most functional resumes, this ATS-friendly template puts all the focus on accomplishments. (Note that you should replace that objective statement with a summary statement and you don't need to include references on your resume.)
File Format: DOCX
This template highlights applicants' academic histories as well as skills and abilities, making it a good match for a graduate student or anyone in academia. This could also be expanded into a full CV by adding your publications, presentations, conferences, and awards. As always, ditch the resume objective or replace it with a summary!
File Format: DOCX
Word's computer programmer resume maximizes space for computer skills (which you may want to rename "Technical Skills"), education, and experience, which are key for software engineering applicants to include. But you could easily tweak this template to work well in other fields.
File Format: DOCX
This template emphasizes both skills and experiences, but places key skills most prominently at the top—with room further down to put them in context and expand on your related accomplishments.
File Format: DOCX
If you're applying for a new job within your current company, the resume you create may emphasize different things. Word's internal transfer resume highlights accomplishments and skills while placing general information (like education) at the bottom. There is some formatting that might trip up an ATS—but if you remove the main resume text from the text box and place it in the body with "match destination format" selected, you should be good to go. Then you can restore the colors if you'd like.
Templates for Experienced Job Seekers
These templates are ideal for people with longer work histories.
File Format: DOCX
This combination resume is ideal if you want your prospective employer to see your skills before your past experience—for example, if you're trying to pivot your career path or want to highlight certain aspects of a long career.
File Format: DOCX
Jobscan created this resume for people who aren't ready for management just yet but are well past entry-level. This hybrid template places an emphasis on hard skills, but still has room to put those skills in context—perfect for applicant tracking systems.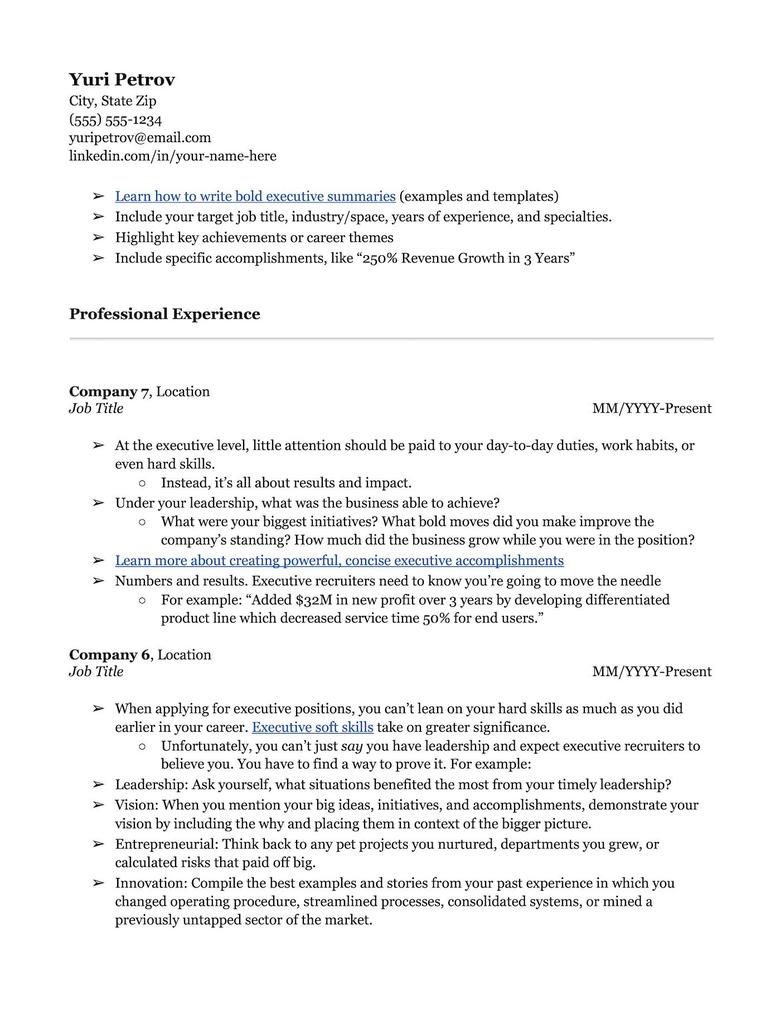 File Format: DOCX
Rising to the top of the ranks? Jobscan's Executive Resume Template 3 puts an emphasis on results while allowing more space up top to quickly highlight your biggest achievements. This template is more than one page to account for a more extensive work history.
File Format: DOCX
This chronological template is good for people with more work experience and it gives space for job seekers to fill in both a position summary and bullet points. You can use this if you want to emphasize key achievements or special projects from your past jobs. Just make sure to delete the "Find My Profession" image from the template.
File Format: DOCX
This ATS resume template highlights industry knowledge, interpersonal skills, the ability to delegate, and leadership qualities. The summary and skills at the top let you put the most important pieces of a longer work history front and center—for when it's time for a human to look at your resume.
Templates for Entry Level Job Seekers
If you're just starting out in your career, you might want a template that showcases your education and relevant skills over your past work experience.
File Format: DOCX
Like many recent grad resume templates, this option places collegiate experience at the top—honors, clubs, coursework—to give an idea of applicants' interests and commitments. The right-aligned section headings in "Template 2" change things up a bit while still being fully readable by an ATS, but Jobscan's other recent grad templates are strong choices as well.
File Format: DOCX
This template is a very simple starter resume that highlights recent grads' education, skills, abilities, and experience. Just remember to swap out that objective for a resume summary.
File Format: DOCX
This template is geared toward undergraduate students seeking investment banking job opportunities (but it can easily be tweaked for other industries). In just one page, it includes space to list your education, study abroad and internship experiences, undergraduate leadership positions, and skills and interests (both personal and professional).
Adobe Templates
These more stylized templates require the Adobe suite to edit, so they're not for everyone. Just make sure you save your final resume as a PDF so the ATS can still read your resume.
File Format: AI
Need a little more space? This two-page template injects a more personality with golden accent colors but is still professional–even if you need to go on for longer. You can make this option even better (for both humans and robots) by nixing the line graphs in the "Skills" and "Language" sections, and sticking to text instead. Since the ATS might read your resume straight across (from left to right, ignoring columns) you should adjust what text you put in the left column so that the text still makes sense if read this way.
File Format: PSD
Despite a two-column format in the education section (which you can turn into one), the graphs on page two (which you can replace with text), and a photo (which you should remove), this template is a strong choice if you want to stand out without being too flashy. The blue font adds an extra design element but everything else is straightforward and modern.
File Format: AI
This option requires you to have an Adobe account—but it's free if you're already set up.. The bold color pattern ensures that you'll stand out, even with very traditional formatting that places a brief personal summary at the top, experience and education in the middle rows, and skills at the bottom. The Adobe Spark logo in the bottom right corner can be removed.
File Format: AI
As always, delete the photo box and stick to text. This option comes with a cover letter and a second page that you can use if needed. The numbers to the left of the job titles can be removed and the line graphs on the second page can be replaced with text.