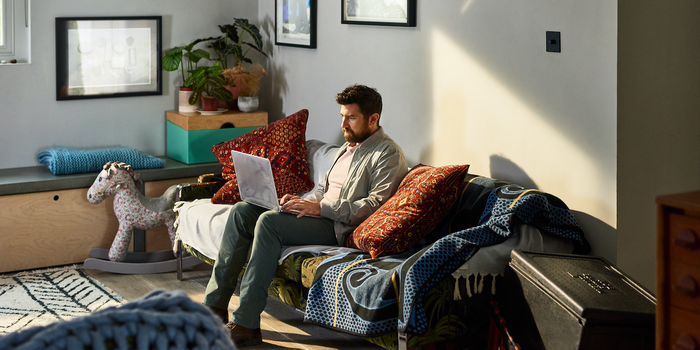 Camden Boyd knew it all sounded too good to be true—but he really wanted that job as a work-from-home customer service representative, making $25 an hour.
Boyd, 19, was invited to interview for the position via chat on Google Hangouts. During that exchange, he was asked for his mailing address so the company could send him a check to "pay for required work materials through their preferred supplier," he says. "Since they said they wanted me to purchase a new work computer and monitors, this wasn't too hard to believe."
But things got stranger from there. A few days later, Boyd received a check for $2,250 via FedEx. The confusing part was that the check wasn't even from the customer service company that hired him but from a landscaping company Boyd had never heard of.
Once Boyd received the check, the hiring manager asked him to confirm the amount it was made out for and urged Boyd to cash the check immediately at a bank ATM. "He strongly emphasized not cashing it via mobile deposit or in person with the bank teller," Boyd says.
Boyd ignored the hiring manager's advice and took the check straight to a bank teller, who confirmed his suspicions that the whole thing was a scam. The person "hiring" him didn't work for the company and certainly didn't have the authority to employ anyone on its behalf; he was pretending to represent the company to trick Boyd into cashing a fraudulent check.
"I was devastated," Boyd says. "To get a $25 an hour job was huge, but there wasn't really a job."
Boyd's experience is part of a growing problem. The Better Business Bureau (BBB) had already deemed employment scams the riskiest type of scam in 2018 and 2019. The onset of the coronavirus pandemic and the huge spike in unemployment that followed "has created a 'perfect storm' for scammers," the BBB wrote in an April 2020 report, finding that the risk of job scams was continuing to trend upward.
What Are Job Scams?
Job scams are essentially fake job postings. Sometimes the scammer is trying to get access to your bank account or to steal a bank's money, and other times they're after your personal information.
"Employment scammers will typically conduct online interviews, provide employment forms that collect personally identifiable information, and ask the target to perform job duties before the scam is discovered," says Sandra Guile, BBB spokesperson. The BBB's survey of 10,670 U.S. and Canadian consumers reporting employment scams found that students and individuals ages 25 to 34 are more susceptible and likely to be victimized, while those ages 45 to 54 and 65+ report higher median dollar losses.
"These scams are also often part-time, flexible jobs that fit within the growing gig economy," Guile says. Unfortunately, it is very easy to set up a job scam for work-for-home jobs, says Mark Silverman, CEO of Amava, a member website that connects people with legitimate work-from-home jobs and volunteer opportunities. The increasing number of job scams has led his website to offer classes on how to spot a fake online job posting.
To protect yourself from job scams, you should know what some of the most common types of scams are, what warning signs to look for, what to do—and avoid—when job searching, and what steps to take if you think you've been a victim of a scam. (And if you're looking for a new job, you can find thousands of open roles right here on The Muse—and none of them are scams.)
What Are Some Common Types of Job Scams?
Here are four common types of employment scams you should look out for:
1. Reshipper or Package Processor
In the BBB's April 2020 survey, 65% of respondents reported that their "job offer" was related to becoming a "warehouse redistribution coordinator" or a similar job that involved the reshipment of packages, often of items purchased with stolen credit cards. "The thieves use your address to ship the hot stuff—computers, phones, iPads—and they pay you to reship it, usually overseas," Silverman says. "You may actually be helping thieves traffic in stolen merchandise." It's not uncommon for these scammers to impersonate well-known retailers like Amazon and Walmart.
2. Product Assembler
Any job that requires you to put products together at home to be shipped is probably a scam, Silverman says. They'll ask you to pay for parts and products up front and they won't reimburse you until the products are shipped. Most likely, you'll get stuck with the inventory.
3. Mystery Shopper
Getting paid to shop sounds enticing and some mystery shopper jobs are legitimate. You go to a store or restaurant and report back about your experience and you're paid for your time and reimbursed for what you spend. But beware of scammers making a small deposit in your bank account to "get you started" as a shopper and then asking you to wire the money back to them, allowing them to gain information about you and your bank account, Silverman says. Another popular scam is asking the shopper to pay a non-refundable fee up front to "register" as a mystery shopper.
4. Envelope Stuffer
Stuffing envelopes from home sounds like an easy job. However, scammers might ask you to pay for materials that either never arrive or that you aren't able to use. In some cases, they'll ask you to buy a mailing list in addition to materials and then say they'll pay you based on the consumer response they get to the mailing, Silverman says. "There is no way for the home mailer to validate the results or challenge whatever payment for the work that was done," he says.
What Warning Signs Should You Look Out For?
There are many red flags to look for when you're searching online job listings. Here are the most common:
The job posting claims that you will make thousands of dollars each week working from home. "If a job ad mentions it's an easy job or alludes to you earning a lot of money but not having to work hard, that is definitely a clear sign," says Charlette Beasley of Fit Small Business, a digital resource for small business owners, who's advised job seekers on how to avoid scams and helped business owners ensure their own ads didn't resemble fraudulent ones.
You notice typos, misspellings, poor grammar, and other errors. Be on the lookout for grammatical errors, oddly worded phrases, and website links that don't go back to the company on the job posting. "Little errors in these details are easy to overlook but could be clues that you're being phished for information," says cybersecurity expert Ryan O'Ramsay Barrett, founder and CEO of ORAM Corporate Advisors, a firm that provides IT services—including cybersecurity—to small businesses.
You're asked to send a resume but there's no specific job posting. For instance, an ad that states, "We have a lot of jobs, send us your resume and we will match you with jobs," strongly suggests they are looking for personal identifying information including phone numbers, email addresses, and home addresses, Silverman says.
You're asked to pay for training, an application fee, or background check, or required to purchase items upfront. "Anyone who asks for money to apply for a job is providing a huge warning sign," Silverman says. While they may be legitimate businesses, they are often pyramid schemes that ask you to make a significant investment into the business that you may not earn back, he says.
The email address isn't quite right. Any company using an email provider like Yahoo! or Gmail instead of their own company email is probably not legitimate. Also take notice of whether the company name is spelled correctly in the email; it's not uncommon for scammers to use an email or domain that's one or two letters off in the hopes that you won't look closely enough and assume it's authentic.
Be careful if the hiring manager contacts you via text only. "A legitimate job opportunity will come through via email as opposed to text," Silverman says. If it does come via text, "It usually means that someone got your data, including your phone number, from someplace." Signs that it's not legitimate include the text coming from an unknown number and the way the hiring manager addresses you. For instance, do they call you William but you typically go by Bill? Does the message sound oddly formal? "Also, if you don't have any recollection of applying to the entity they claim to represent or you have a funny feeling about it, you're probably right," Silverman says. If you're interested in pursuing the opportunity, do some research on the recruiter, Beasley says. Can you find them on LinkedIn, and do they work for the company they claim to work for? You can also call the company's HR department and confirm that text interviews are a legitimate part of their process, she says.
Be wary of ads that mention brand names like Amazon, Walmart, or Target but don't include a specific location for the job. And if you can't find the same job on their website, it is probably not a job for that company, Silverman says.
What Can You Do to Avoid Being the Victim of a Scam?
There are a few simple ways to avoid becoming a victim of a scheme.
Don't...
...use your primary email address when applying. Create an email with the word "jobs" at the end of it. That address looks legitimate and then, if it's a scam, they don't have access to your primary account. "If you limit the amount of information you provide, you limit your exposure," Silverman says.
...give out your bank information, social security number, or credit card number. This information is only required once you are hired and you only submit it through a tax form, Silverman says. Before sending this information to any hiring manager, you need to confirm they are an employee with the authority to hire.
...send them money or cash a check they send you. "They are essentially stealing money from the bank and you will end up owing the bank money," says Beasley, who's seen job seekers lose money falling for similar scams.
Do...
...verify the person you are speaking with works for the company and the job you're applying for exists. "If you can't verify the person by calling the main number of the company, you have to assume they are not legitimate," Barrett says.
...make sure you are dealing with a real company. Check to see if they have a website. If they do, how long ago was it created? You can look this up here. If they say they've been in business three years but the website was created a week ago, that is a huge red flag, Beasley says.
...find the job posting on the company website. "Most companies have a 'jobs and careers' page on their website so there should be a posting there for the same position," Barrett says. Some companies will even post an alert on their jobs page that they've received reports that individuals claiming to represent the company have sent fraudulent job offers to unwitting candidates.
What Should You Do if You Spot—or Have Already Fallen for—a Job Scam?
If you suspect you're dealing with a job scam, no matter how far in you've gotten, follow these tips:
Stop what you're doing. Don't cash that check or mail in a payment and halt any correspondence.
Notify your bank if you already cashed a check and then realized it's a scam, Beasley says. "As long as they determine you weren't intentionally trying to engage in illegal activity, they won't take legal action against you," she says. Keep in mind that you'll have to return the money. "If you already spent it or sent a portion to the scammer, the bank may give you the option [of] using a payment plan to repay it," she says. Be sure to report the scam to law enforcement, she adds.
Report it to the Better Business Bureau and Federal Trade Commission. When you report the incident, include the name of the company and person you communicated with and the email address and web domain they were using. If you have any screenshots of the website or your communications, send those as well.
Contact the job board if that's where you encountered the scam. Most sites have a mechanism for reporting these types of issues.
Job scams are on the rise. The best way to protect yourself is to be cautious when applying for jobs online—especially ones that sound too good to be true.