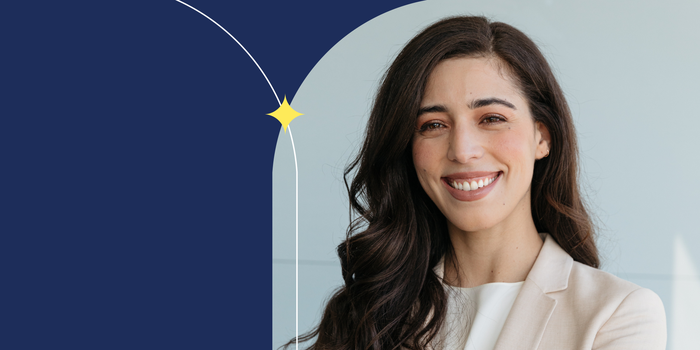 After graduating from UCLA with a degree in communications, Maria Grosso knew that she wanted to have a career that allowed her to make an impact. And she's done just that while working in marketing—first at an agency and now at the cryptocurrency exchange platform Coinbase.
"I challenged myself to find a job that would feel meaningful—one that I would feel energized by, and passionate about," Grosso says. "That brought me to my first role at a Latino marketing agency, which allowed me to fuse my cultural background with my career."
While at the agency, Grosso helped launch a sports and entertainment practice before moving on to a larger organization. Through it all—and in her current role as a sports marketing senior manager—she says, "I have remained steadfast in my pursuit of authentic sports and cultural partnerships."
Here, Grosso talks about what inspired her to join Coinbase, how she markets crypto to NBA and WNBA fans, and why her work is so rewarding.
What led to your job at Coinbase, and how did you know it would be a good fit?
After several years on the agency side, and then most recently in-house at a telecommunications company, I was curious about expanding my experience with a role in tech. When I started interviewing at Coinbase, I was immediately impressed by their recruitment process. During the presentation I made to a panel of interviewers, they were really thorough, which made me feel confident in their ability to assess if I was a good match for them, and vice versa. I also had experience working with a few of their existing brand marketing partners—some of the best in the business—and I was thrilled at the prospect of continuing to work with them.
Why did you pivot from telecommunications to crypto? Why was the prospect of working for a crypto company exciting to you?
Digging into crypto reignited my love for learning. I listened to tons of podcasts and articles to help me further understand the possibilities crypto can unlock in sports and beyond, and that was, and continues to be, exciting and motivating. At the onset of my crypto journey, I was living in New York City, and you could find me walking all around Central Park, listening to an entire three-hour podcast featuring a16z's Chris Dixon, or at my dining room table well past midnight reading about web3 use cases. Coinbase's mission of increasing economic freedom is also an especially inspiring north star.
What are you responsible for in your role?
I am responsible for Coinbase's high-priority strategic partnerships with the NBA and WNBA. I get to work closely with the leagues and our internal and external partners to connect Coinbase with their audiences through content, activations, and media. Keeping Coinbase top of mind among fans, driving sign-ups, and bringing fans into the crypto economy through our partnerships drives my day-to-day.
What is a Coinbase marketing campaign or activation that you're most proud of? What impact did it have on the business?
Shortly after Coinbase's NBA and WNBA partnerships launched, we started working with WNBA stars Jewell Loyd and Sue Bird from the Seattle Storm. We produced a fun and educational content series for social media to help their fans understand key web3 terminology, basics, and benefits. The best part was the positive sentiment from their followers. Education is fundamental to growing the crypto economy, and it's particularly rewarding when we get to work with our sports partners to do this in a way that resonates with their fans.
What has been the biggest challenge marketing crypto during a down cycle? How did it impact your work?
We've emerged as one of the most trusted companies in the space during this down cycle. It's actually made my job easier because our partners trust us and they are happy to be in business with us. When it comes to ideation and activations, constraints breed creativity. Sometimes you need a box to work within and that's where the best ideas are born.
How do you like to spend your time outside of work? What activities help you recharge?
For the last six months, I've been training for my first marathon and I've come to enjoy my Saturday morning long run routine. Otherwise, I recharge through traveling, reading, doing yoga, going to a concert or a game or spending quality time with friends and family.
If you could travel in time to watch any game or sporting event in person, which would you choose and why?
Definitely Argentina's World Cup win last year. My parents were born and raised there, and, as a lifelong soccer player, it would have been a dream come true to experience Messi and La Scaloneta's magic in person!