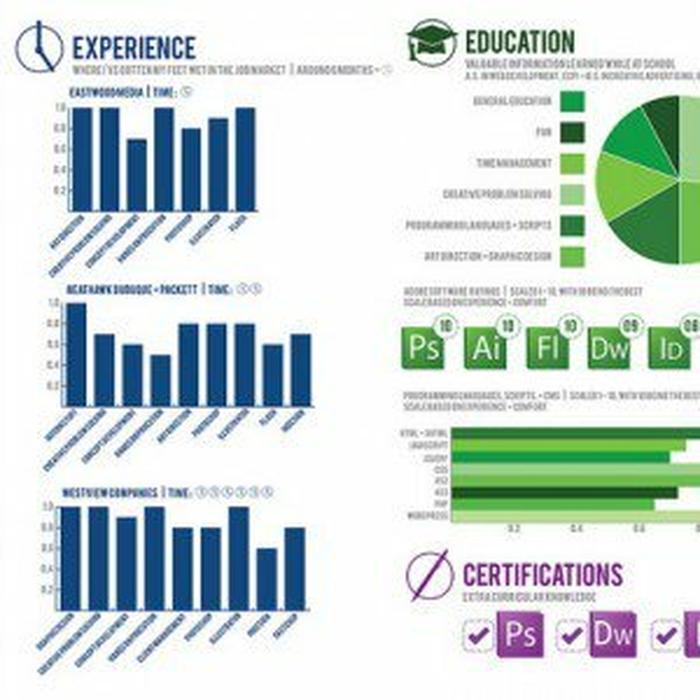 As any job hunter knows all too well, there's a lot of competition out there. In today's job market, employers are inundated with dozens—even hundreds—of resumes for almost any position they post.
And as a result, job seekers have started getting creative, ditching the traditional white linen paper and trying trends like artistically designed resumes or video submissions to help their applications stand out from the pack.
But before you jump on the bandwagon, consider this: Not all these resume fads will make the impression you want them to. "I don't like gimmicks," says Beth Sightler, the assistant director of a Vermont-based non-profit organization. And her sentiment was one shared by several recruiters and hiring managers I spoke with. Here's a closer look at some of the current resume trends—and what to think about before giving them a try.
The Functional Resume
Job seekers are told to focus on their skills and accomplishments in their application, and the increasingly popular functional (or skills-based) resume takes this advice to the extreme. This format differs from a traditional resume in that the information is organized to focus on your skill set and abilities, rather than your work history or education.
A functional resume can be a good option if you don't have a lot of experience or if you have gaps in employment, as it directs the hiring manager's attention to your skills. The problem, though, is that it doesn't provide any context to the information you're sharing. Because your work experience is listed separately (and generally limited to your title and dates of employment), potential employers don't get a sense of how your skills relate to your work experience. What's more, recruiters will usually view functional resumes with a skeptical eye, because they know that applicants often use the format to hide flaws.
In general, these sorts of resumes should be used sparingly. Check out this guide to skills-based resumes and the types of candidates who should use them. If you don't fall in those categories, skip this trend and stick with a traditional format.
Video Resumes
You've probably heard that video resumes are a great way to give recruiters a real-life idea of your personality and "meet" you face to face. And yes, doing so can be extremely valuable, particularly if you're applying for a highly public-facing role (as an actor or on-air reporter, for example).
But just as the benefits are great, so are the potential drawbacks. First, in order for a video resume to work for you, it has to be brilliant—including the concept, writing, and production value. A typo on a paper resume will bring into question your attention to detail, but a less-than-perfect video resume will sink your prospects of employment even faster.
Secondly, employers often balk at video resumes from a purely practical standpoint. Consider that companies often install firewalls or block YouTube to prevent employees from watching videos in the office, or the fact that videos are large and take a long time to download. Videos created on a Mac may not play on a PC, or vice versa, or the recruiter may not have the software needed to view it.
That said, these are obstacles you can overcome. If you create a video, treat the production of it as though it were an actual job interview—your performance and presentation can and will be judged. Dress professionally and select a setting that's clean and organized. Write a script, practice it, record it using a high quality camera, and don't settle for anything but the best lighting and audio quality. And redo it as many times as you need to in order to ensure that your final product is absolutely perfect.
Finally, be certain that it works (on several computers) before sending it out. There's no better way to make a bad impression than sending a video resume that won't play.
Multimedia or Infographic Resumes
The recruiting world is split on the use of resumes that step outside the traditional black-ink-on-white-paper format. On one hand, multi-media resumes (like this one using SlideShare) or infographic resumes (like these) can showcase your creative skills, your experience and accomplishments, and your personality all at once. Lisa Andrew, owner of Red Sapphire Consulting, still remembers an origami resume she received from an applicant 12 years ago. The applicant included "instructions on how to configure her resume. I followed the directions, which were 100% accurate, and it turned the resume into one of those folded paper games from the 80s. Each square of the fold had the pieces of her resume. She was hired."
According to Sightler, however, these kinds of resumes can also lead a recruiter to question how seriously you're taking the opportunity. "The business of hiring is hard, and you don't always feel like taking a risk," she says. "You want someone credible and serious."
My advice: Take some time to think about how a creative resume will be received, either by the hiring manager or the industry to which you're applying. If you're a designer or artist, this can be a fantastic—even necessary—way for you to showcase your talents. Or, if you're applying to a cutting-edge startup, it can show a hiring manager that you understand what type of person she's looking for.
On the other hand, if you're applying for a job as an accountant, or moving into an industry that's more conservative, thinking too far outside the box may not be your best bet.
Tailoring Your Resume
Recruiters agree: The one trend that's here to stay (and that they love) is tailoring your resume for each position that you apply for. Your resume should be a living document, one that can be molded depending on the needs on each individual employer and position.
In each resume you send out, highlight the accomplishments and skills that are most relevant to the job at hand. This means that you may end up not including all your experience on your resume—but that's OK, because you'll know that the recruiter is only considering the experiences and skills that matter to them.
Yes, this means more work for you and makes the business of applying for jobs more difficult. But hiring managers are looking specifically for this kind of attention to detail and personalization. If it results in a job interview, it's worth the extra effort, isn't it?
When it comes to any resume trend, the bottom line is this: Don't follow blindly—put some thought into what you're presenting. Think about the best way to highlight your skills for the position, and don't hide a lack of experience behind a cool, outside-of-the-box format. "Stay away from the gimmicks," advises Andrew. "Usually, it's apparent when the candidate put more time and effort into the look of his or her resume rather than the content."
A solid resume is one that shows you understand not only the job that you're applying for, but also how your skills and experience can benefit the employer. If you can do that, your resume will be effective, regardless of the format.
Photo courtesy of carter t.