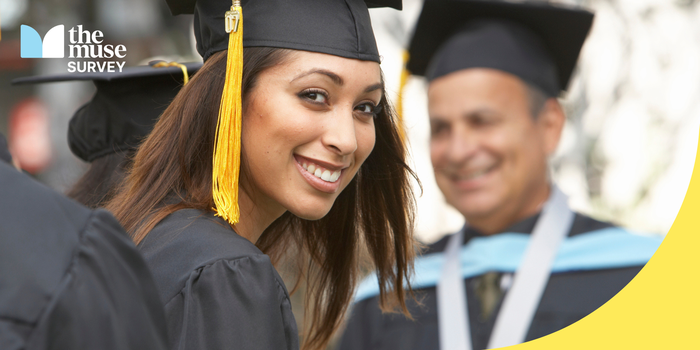 The American work climate is changing rapidly—as I write this, the U.S. Bureau of Labor and Statistics announced that employment rose by 528,000 jobs in July, defying expectations after some high-profile companies enacted hiring freezes in anticipation of a possible recession. At The Muse, we've been wondering: How are new grads doing right now? You OK?
In May, we surveyed nearly 900 new grads (defined as someone graduating with an academic degree in 2022) and the results, made possible by Neha Pandey, a senior data analyst at The Muse, offer a timely look into their mindset.
First, a brief look at who these people are:
57% of respondents have a bachelor's degree or higher.
36% cite high school as their highest degree.
Graduates are clear-eyed about entry-level wages.
41% of respondents say they expect to earn between $10,000 and $40,000 a year in their first job after graduation.
27% of respondents say they aim to earn between $40,001 and $90,000 with their newly minted degree.
An ambitious 11% of respondents, likely highly educated and/or in high-demand fields, expect to earn more than $200,000 a year.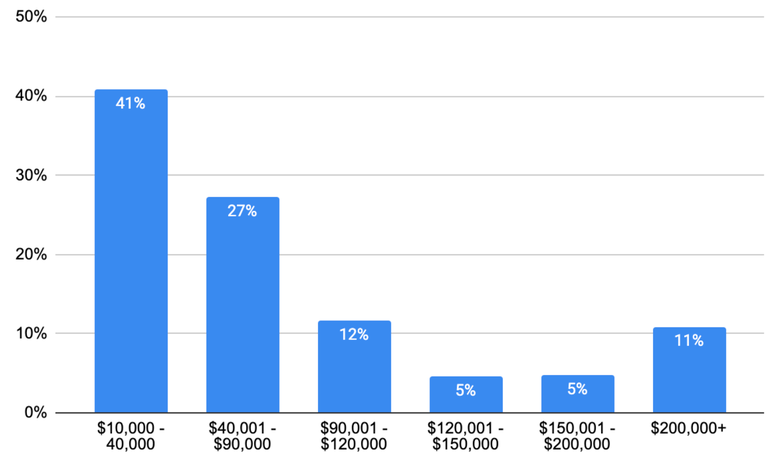 With more education, new graduates expect more pay.
Among those with a high school degree or less, more than half of respondents expect to earn $40,000 or less annually.
Of those with a bachelor's degree, most expect $120,000 or less.
Among those with a master's degree, most expect $150,000 or less.
And of those with a doctorate, 56% expect to earn $200,000 or more.
Young workers may want to be in the office with their peers.
When asked what percentage above market rate would you need to work from the office five days a week, 23% of new graduates say they would do so with no increase in salary, indicating that they see it as a chance to build relationships and find community.
About half say they would need to be paid 20% or more above market rate to come into the office five days a week.
Those expecting a lower salary are more willing to work on-site.
As salary expectations increase, people need more compensation to work on-site. This may also indicate that as people advance in their education and/or career, their life stage can create a desire for more flexibility—including where they do their work.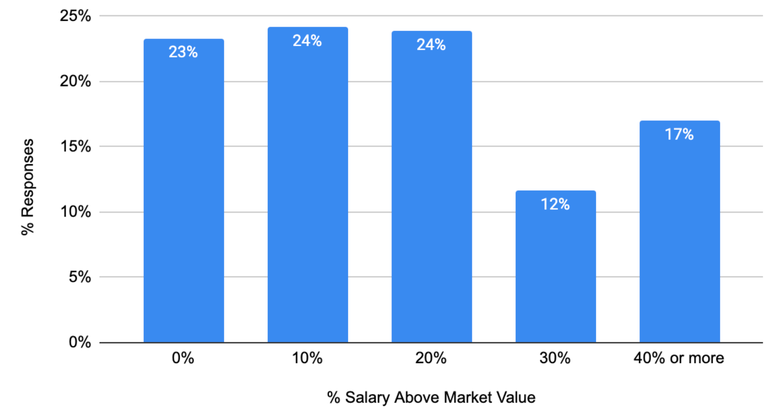 Learning and growth opportunities are top priority when choosing a post-grad job.
25% of respondents cite learning and growth opportunities as their number one priority.
Work-life balance comes in a close second, at 24%.
Interestingly, compensation is top priority for only 9% of respondents.
Data and analytics is the top field for new grads who took our survey.
18.2% of respondents say they're going into data and analytics, the most popular field out of nearly 40 options.
Education comes in second, with 17% followed by project management at 16.2%.
18% of respondents chose not to respond to this question—perhaps because 40 options is a tad too many.
Regardless of whether you're a new graduate or not, be sure to check out all open roles on The Muse by clicking here.
Neha Pandey is a senior data analyst at The Muse. Previously, she has worked at Fortune 500 companies, reduced fraud at eBay, and improved profitability for banks at Fair Isaac (FICO).