Do you pore over past data to try to make predictions about your fantasy football team or plan your household or project budgets? Do you look for patterns in numbers and use that knowledge to make choices about when to book a flight or how to help your team hit goals?
If you're fascinated by data and numbers, you might enjoy using them to help companies succeed through a career in data science.
The thing is, you're a total beginner in data science. You've heard the term tossed around, and maybe you have some friends who work in the field. You also know that it's a pretty in-demand job at the moment, and that even if you're not passionate about breaking into a data science role, there are some data science skills worth having in your pocket (and on your resume).
Online classes can be a great way to quickly (and on your own time) learn about the good stuff, from Python or SQL to basic data analysis and machine learning. That said, you may need to invest to get the real deal.
Below, we've outlined some of the highest rated and most popular courses you can take within the realm of data science—whether you're looking for a casual overview or a serious deep dive. Check out these online data science classes—ordered from the free and short to the more comprehensive courses (and if you're looking to go even further, you might consider a data science bootcamp).
Read More: Data Science Is a High-Paying, Fast-Growing Field—Here's What You Need to Know About Entering It
If you're looking to start at the very beginning, this is a good point of entry. The class covers the general information you need to know—what data science and machine learning are, what a job in data science looks like on a day-to-day basis, and how the coding language Python fits into that picture.
Cost: Free to audit
Length: 12 lectures (2 hours, 30 minutes)

Want a general overview of SQL (another important coding language used extensively in data science) before getting in too deep? Codecademy's free course is a great way to start learning the basics.
Cost: Free
Length: 8 hours

Yes, linear algebra is actually super important in data science. If you don't want to go all the way back to school, this course should do the trick in just a day or two.
Cost: Free (with trial)
Length: 44 videos (6 hours, 51 minutes)

You can complete this fairly comprehensive beginner course in less than six hours—covering topics like AI, machine learning, and computer science, and learning how they all come together. But depending on how and when you choose to pay (Udemy has frequent sales), the price might get pretty steep—though the site does offer a seven-day free trial.
Cost: Free (with trial) or $84.99
Length: 62 lectures (5 hours, 33 minutes)
This is the perfect starting point for learning about data science in a comprehensive format. Taught by Coursera's cofounder (yes, really), this course will dig deep into machine learning—what it is, how it works, and how you can apply it in a data science job.
Cost: Free to audit
Length: 33 hours over 3 weeks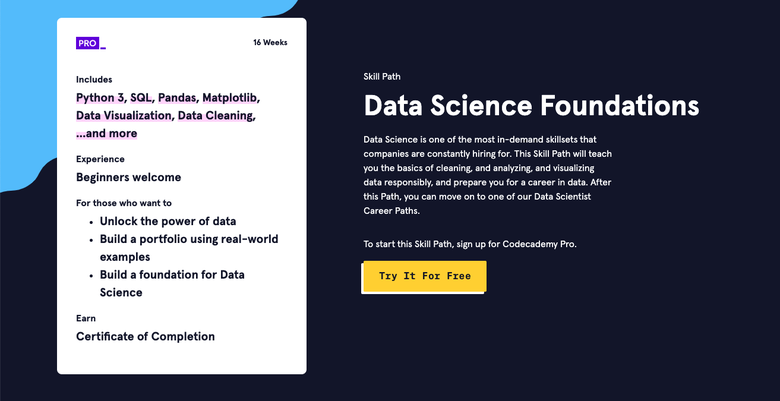 Codecademy's paths are awesome for a number of reasons. One, they go in depth into a specific field in a structured way, giving you all the tools you need. Two, they're incredibly practical, helping you apply everything you learn to real-world situations and hands-on projects. Plus, after you finish this course, you can move onto one of their more specialized data science career paths: Data Scientist: Analytics Specialist or Data Scientist: Machine Learning Specialist.
Cost: $19.99 a month (after free trial)
Length: 15 lessons, 16 weeks
This specialization, created by Johns Hopkins University, is comprised of 10 courses and is meant to cover the whole gamut. It focuses not only on data analysis, but also on the soft skills needed to be a data scientist—like making inferences and asking the right questions.
Cost: Free to audit
Length: 10 courses over three to 11 months

In addition to covering all the technical basics—including Python, SQL, and Github—Udacity's "nanodegree program" lets you work alongside experts and other students to ensure you're on the right track and get your questions answered. But be sure it's for you before enrolling—this one is pretty pricey.
Cost: $1,017 up front or $399 per month
Length: 10 hours a week for three months
Regina Borsellino contributed writing, reporting, and/or advice to this article.