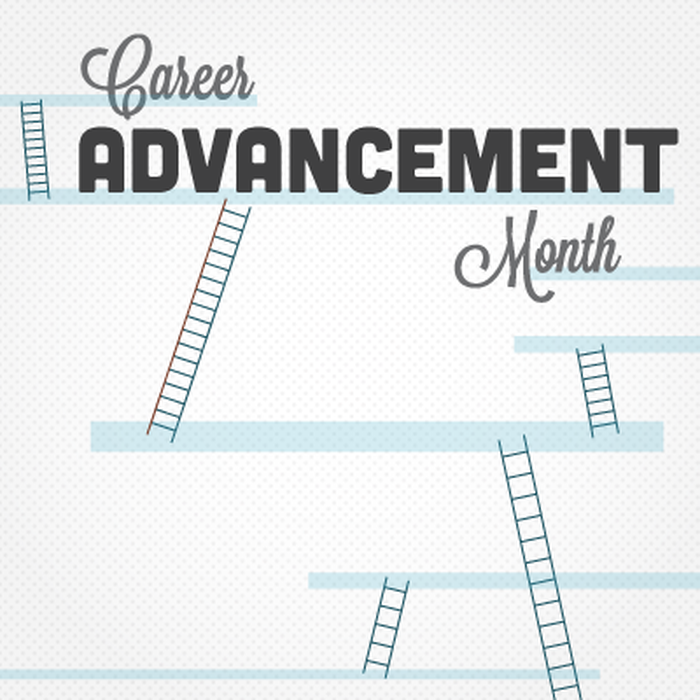 Our mission at The Daily Muse is to help you succeed in your career: from figuring out what you want to do and finding that dream job to kicking some serious ass once you get there.
That last part of the equation is what we focused on in August. For our second annual Career Advancement Month, we brought you tons of articles and resources specifically designed to help you move up in your company, score that promotion, get a raise, and take your career to the next level.
Want to make sure you checked out all of our great features and articles? Here's a recap of everything we did this month!
Features
It's back to school time! This month, we opened the doors to Muse University, a brand-new way to think about professional development.
Want to be better at your job? Our Professional Development Guides (for four different fields) give you the tips and resources you need to get ahead.
Gunning for that promotion? Check out a recording of our latest webinar: 5 Reasons You're Not Getting Promoted (and What You Can Do About It).
We've put together a round-up of fantastic classes, webinars, and tutorials that'll help you learn new skills, from management to programming.
Articles & Advice
Maybe you're not ready for a promotion just yet, but if you want one someday, here's what you should be doing to set yourself up for success.
Not quite sure how to pick out your most promotable employees? Here are a few ways to identify the best of the best among your team.
If you're anything like this professional, you know you should ask for a raise at your review, but you're feeling scared. Get over your nerves with this smart advice (and sample script!).
This Social Media Associate wanted to be a Copywriter at her company, but was told she could never make the change. Well, let's just say: Never say never.
Last week, this professional shared how she launched a blog and personal brand to help her make an internal move. Her next step? Internal networking.
Moving into management isn't just about being the best at what you do now—it requires a whole new set of skills.
Looking for some new skills—or just some new pals—at work? Try these stress-free ways to get more involved at your office.
Because a little more career wisdom sprinkled in your Twitter feed is always a good thing.
Attending a conference isn't as easy as just showing up! We've gathered some of the best advice on the web for getting the most out of these events.
Before you move up into management, your boss first has to recognize your potential. Prove yourself with these helpful strategies.
How do you get to the next level in your career without a formal organizational ladder to climb? Try one of these strategies.
Think using your network is only helpful when you're job-hunting? Think again.
Tensions can run high when you and a co-worker are both hoping for a great new gig. Try these tips to ensure the competition doesn't ruin your relationship.
Are you not asking for the promotion you want because you don't think you could get it? Gain the confidence you need to get ahead with these tactics.
Nobody wants to work an unexciting job, but sometimes it's necessary on the way to the top. Here's how to make the most of your time there.
You're a top performer, and you've got the numbers and praise to back it up. So, why aren't you getting that promotion you so desperately want and deserve?