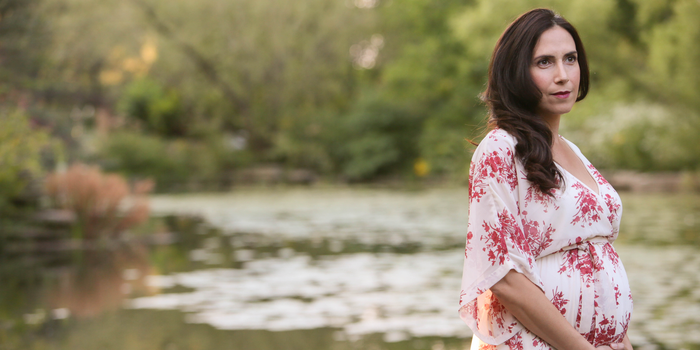 It's 7 AM on a Thursday morning in February 2020 when I walk into the fertility clinic. I have exactly one hour before I'm supposed to be at work or I'll need to call my boss for the third time this week and tell her I'll be late. "Please don't be backed up. Please, please," I quietly pray to myself as I check in at the front desk and simultaneously scan the waiting room, taking a rough count of the number of patients already waiting. I take a seat and wait for my name to be called.
Although I try to distract myself, checking social media and email, my eyes keep glancing at the digital clock on my phone, anxiety building as time passes. "I'll have just enough time to take the 'L' downtown if they call me back in the next 10 minutes," I think to myself. Thankfully, my clinic makes appointments for what's referred to in the fertility world as 'morning monitoring' in an attempt to take the guesswork out of wait times, though sometimes they still run late. Most other clinics take patients on a rolling basis. If you've ever been through fertility treatment, you know what I'm talking about, this morning rush to get a blood draw and ultrasound to measure your hormones and follicles, respectively, so that the doctor can review the results and adjust your medication dosage accordingly.
Infertility is one of the most stressful things I've ever been through, compounded by a diagnosis of ovarian cancer when fertility doctors found a tumor on my right ovary. A unilateral oophorectomy saved my life, but made conceiving even harder. The stress of failing to conceive month after month alone is enough to strain even the strongest of relationships. Then there's the financial stress: Many insurance companies, like mine, don't include coverage for Assisted Reproductive Technology (ART).
Most stressful of all, though, is the juggling act. Balancing work and personal obligations while also finding time to seek ongoing medical treatment is a challenge. Anyone with a high-pressure, demanding career or a set work schedule can likely relate. It ultimately took a global pandemic—and a stark departure from traditional workplace norms and mindsets—to make it feel possible.
"I felt like a broken record, constantly asking for special accommodations."
I started my fertility journey six years ago in 2016, the same year I started my position with the federal government—in a highly regulated workplace with set hours. Every time I wanted to pursue fertility treatment, I had to write a memo to the director of my office asking for special accommodations, like telework, exemption from mandatory work travel, or permission to take sick leave for doctor's appointments without advance notice. Fertility cycles are often unpredictable. They don't typically go as planned, either getting delayed from the start or extended longer than expected. Sometimes you need additional monitoring. And so I often had to re-request accommodations for different dates or take last-minute sick leave. It was beyond stressful.
I hit a low point one morning when I found myself locked in a bathroom stall at work with a syringe full of Ovidrel in my hand while colleagues floated in and out and carried on conversations just beyond the beige metal door, leaving me with little privacy. This is known as the 'trigger shot' during an in vitro fertilization cycle, which must be administered exactly 36 hours before an egg retrieval. In fairness, I could have asked to use the lactation room or perhaps someone's office with a door that locked, but by then I felt like a broken record, constantly asking for special accommodations, and worried about the negative reputation I might be getting at work. As I stood hovering over the toilet, pinching stomach fat between my thumb and forefinger to inject myself with the medication, someone let out a long-winded fart. It was then and there that I considered quitting my position for good.
Two things saved me from resigning that day and many others. First, despite the hoops I had to jump through, management always responded with professionalism and sometimes even empathy, depending on the supervisor, when learning about my medical needs. Second, I discovered other women at work who were also going through—or had recently been through—fertility treatments. In particular, I remember one heartfelt conversation I had with a colleague after we both confessed our struggles to get pregnant. Suddenly, I felt visible at work. Someone understood my pain, stress, and inability to juggle it all. Even though I knew the statistics—according to the Centers for Disease Control and Prevention, approximately one in five women ages 15 to 49 years old suffer from infertility—it's typically not a topic people discuss openly, and even less so in the workplace.
Those small moments of grace kept me going, but I was hardly thriving. My peers were obtaining promotions while I was struggling to keep my head above water.
"For the first time in six years, I felt like I could breathe."
When the pandemic hit, everything at work changed. As the world contended with tragedy, office culture finally shifted—in many ways for the better.
My office adapted by offering workplace flexibilities it had never before considered on such a large scale, including full-time remote work and flexible work schedules. We were allowed to choose our own work hours as long as we took into consideration meetings or other work obligations. Having control over my own schedule allowed me to work in time chunks and do personal things in between, like run to the fertility clinic for morning monitoring, take the necessary breaks needed to administer injectable medications, or lay down in the middle of the day if I didn't feel good. No questions asked, no need to take sick leave, and no need to request special accommodations.
The rationale for the ultra flexible schedule was to help employees who were parents better manage work and kids at home due to school and daycare closures during the global health crisis. But the benefit of those policies reached beyond working parents to all employees, including me, someone who was desperately trying to become a parent.
For the first time in six years, I felt like I could breathe. Suddenly, there was space for every aspect of my life. It was then that I realized how dehumanizing my previous work culture felt. Its rigid framework left me grasping to meet work expectations during treatment cycles and forced me to share my circumstances with management to avoid consequences. I felt vulnerable and exposed knowing my secret was out there and ashamed each time the treatment failed. I tried to imagine my colleagues telling me every time they had unprotected sex in an effort to conceive and the idea seemed ridiculous. No one would share such intimate details of their life. And yet every time I went to the fertility clinic for an intrauterine insemination or for an egg retrieval to make embryos, I had to alert my supervisor at work, who in turn alerted all of management.
The drastic changes to all those rules, spurred by the pandemic, allowed me the freedom to build my family with dignity and without sacrificing my career. At the start of 2021, after 10 cycles of fertility treatment, we transferred the embryo that resulted in the birth of our daughter. Throughout my pregnancy, which was considered high risk, I needed regular monitoring. My new flexible work schedule easily accommodated those appointments too without compromising the quality of my work or time "at the office." I applied for a more senior position just as I went on maternity leave and was offered the promotion in the fall of 2021. My initial transition back to work after maternity leave has also been smoother since I can telework several times a week from my home office while my mother watches my daughter in the nursery down the hall.
"I would urge decision-makers to think twice."
In March 2022, my workplace ended their policy of extended working hours and began requiring employees to come into the office more often. It's not the only employer rolling back flexible pandemic policies and requiring more in-person attendance, if not insisting on a full return. I would urge decision-makers to think twice, especially given the growing number of employees joining the Great Resignation.
I wish leadership would take what we learned about employee well-being and success during this admittedly forced experiment and create a better office culture cognizant of those lessons. Here's one: Workplace flexibilities allow people to perform just as well or even better at work, manage their lives more easily, and sometimes even achieve their dreams, like mine, of parenthood.