So the funeral's over and all you want to do is fly as far away as possible or stay in bed, but you need a paycheck so you can afford life. It's hard enough to go back to the office after a week at the beach, so it can't be surprising that returning to work after a death can be a rough ride.
On top of the fact that you might get very few vacation days and little or no bereavement leave, job expectations have risen, boundaries between work and home life have blurred more than ever (Slack chats from the bedroom, anyone?), and it's hard to be functional, effective, and anything but miserable and stressed at work (times infinity) when you're grieving a loss. You may also be expected to be physically present every day if you work somewhere like a grocery store, hospital, or school.
Be realistic about your options and capacity to work. Maybe you can shift to flextime; maybe you can take some paid leave (or unpaid leave if that's possible for you). Your boss or supervisor will likely not bring this issue up with you because, sadly, in our culture, we're often looked at as having unlimited capacity. But your capacity will be less, or it will look and feel different. That's normal.
You also might lose yourself in work you love (or hate) and in a job you love (or hate, or love/hate) in a way you haven't before. You also might expect this to happen and find that it doesn't. You won't know until you know.
The bottom line: You will bring your grief to work with you, and some days it'll be easier to focus than others. This remains the truth for a long time. And even if you aren't dealing with an immediate loss, you could probably stand to have your professional life work a little better for your evolving needs.
Consider your work needs (knowing they might shift).
Most employers aren't prepared to manage grief—not just the initial stages when an employee returns to the office but also the stress and anxiety and diminished productivity that can come of it when it's not well supported. In reality, it's on the mourners to relearn how to perform, interact, and care about the reports and quotas and KPIs that simply no longer qualify as emergencies.
With that in mind, think through some things that might serve you well, knowing that these may change over time. Keep coming back to this list, and see if you'd like to ask your supervisor or HR about the following:
Do you need to work from home?
Is it possible to ease back in—for example, to start out part time for a couple of weeks or take a few take three-day weekends? (When my dad died, I requested a couple of two-week periods of unpaid leave to take a few months after his death; the time period I thought I'd need to give myself some care and also deal with estate matters.)
Would you like a flex work schedule so that you can do grief counseling or other important sessions that can't take place outside of business hours?
Are you in a performative job like education? If so, can you ask for a period of time during which you can reduce your course load and/or office hours and take on more committee or background work? Your job may be quite different, but if you don't ask for what you need (which means identifying what you need or trying to), then nobody else will give it to you.
Would you benefit from a period of time that isn't officially considered in performance targets and/or employee evaluations?
Find your point person.
It can be helpful to have some attention deflected during the first several months after your return to work. We spend so much time at our jobs that it's worth making the setting as comfortable as possible.
Unless you want to share your story and needs with your entire group of colleagues (exhausting), I suggest identifying a point person you can give updates to. It doesn't have to be your BFF. It just needs to be someone—maybe a supervisor or coworker—who's type A-ish and compassionate and who people can go to when they want to ask literally anything about you for a period of time, including what might be helpful to send your way, how involved you may be able to be on a certain project, and what your scheduling availability is. They can help with:
Sending short emails informing people about your situation (with details approved by you) and how they can specifically offer help.
Upon your return, sharing your favorite treats or food and asking colleagues to take turns leaving a small token of care on your desk (no note or visit required).
Letting people know that you're not in the mindset to talk about your loss at the moment and to please steer clear from asking questions. (Tip: You can tell them a simple "Nice to see you" is easier than "How are you doing?")
Asking coworkers not to fall silent or play the sad trombone as soon as you walk into the room, to avoid looks of pity, or to completely ignore your loss—whatever you need (or really don't need).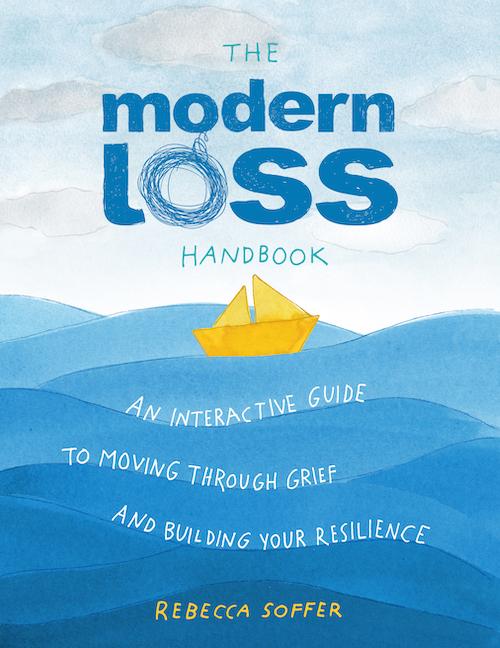 Understand how grief can affect productivity.
You may have spent years fine-tuning habits that help you get your work done. But you might not be able to pick those right back up after a loss. Remember:
Grief brain is real. You will probably have concentration and memory issues. Schedule and take breaks.
You may feel kind of useless at work for a while. Sometimes, just going through the motions is enough of a step.
Your peak productivity hours might feel like they've changed. If that happens, try to adjust your schedule (take breaks at different times, consider arriving and leaving early, etc.).
Avoid making rash decisions.
A few days after you come back to work, you may have a strong desire to stride into the office, Jerry Maguire–style, and loudly announce your resignation, then head out with the company fire-tailed Peruvian beauty fish in a Ziploc bag.
As good as that might feel in the actual moment, many therapists strongly suggest allowing yourself to wait six months to a year before making any significant life changes that are informed by your new worldview. Grief can be the catalyst for meaningful shifts, including career changes. But if you're seriously considering a big move, please consult a therapist before ditching your paycheck and flying to Bali.
Try these bonus tips from the Modern Loss community.
Here are a few extra tips from members of the Modern Loss community to help you get through going back to work. Of course, this is a lot harder if you're a freelancer or in another role where you work with multiple projects or clients. If this is you, be honest with clients and realistic with setting expectations and committing to deadlines.
For you alone:
Change your routine just enough so that it doesn't feel like everything is exactly the same as it was pre-loss.
Take all the breaks available to you. Does your employer have a "wellness room" or one dedicated to pumping or nursing? Anything that has a lock where you can be alone? Calendar some daily blocks (multiple, if needed) when you can sit for some quiet time, even if you don't think you need it. It'll be easier to get through the rest of the day.
If you feel absentminded and nervous about missing a big deadline, meeting, or just completing your daily to-do list, use every scheduling and reminder tool in your kit—write sticky notes, set alarms, add calendar reminders, tell a friend to check in, etc.
Carve out space to just breathe. Memories may stage sneak attacks that feel like a punch in the gut. Come undone when you need to, know when and how you need to step away, and do whatever you need to center yourself.
Think about how you can create a bridge period between your work schedule and the next part of your day. Can you listen to a calming song while you walk home or watch a funny video in your home office before descending into the dinner-time chaos?
With others at work:

Suggest outdoor or walking meetings. They feel better than sitting in a conference room.
Ask colleagues you enjoy to invite you out for lunch or coffee once a week. You can always decline but will know another invitation is coming.
Speak openly with colleagues from time to time, when you're ready. It will encourage people not to walk on eggshells around you.
Figure out your response to "I'm sorry for your loss," because you will hear it a lot. (Hint: A simple "thank you" suffices.)
Request time off or flex/WFH time during milestone dates. You know exactly when those are, so plan well in advance, and you can always change your mind.
Give a heads-up to your manager or your trusted person if you do decide to work on one of those trigger days so they can support you (or at least stay the hell out of your way).