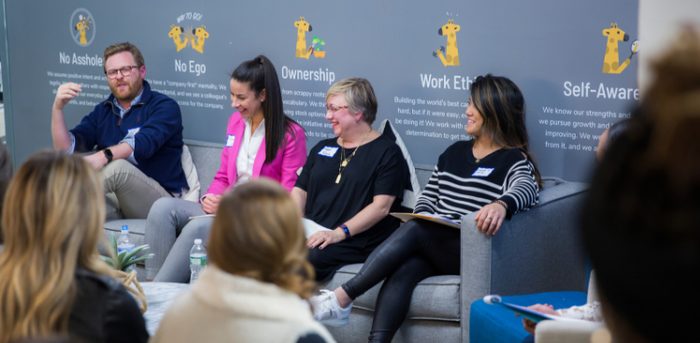 Embarking on the search for a new job can inspire a lot of complex feelings. One minute you're excited about the possibility of finding your next role at the company of your dreams. The next, you're completely overwhelmed by the whole process and wondering how you'll ever get everything done.
We get it! From updating your resume and writing cover letters, to networking and branding yourself online, it's easy to feel like you're setting out to do the impossible.
The good news is: Whether you're looking for your first job, thinking about making a major career change, or just hoping to try something different, there's a light at the end of the job search tunnel—and we're here to help you every step of the way.
We teamed up with recruiters from some of our favorite companies hiring on The Muse - Peloton, WW, Etsy, and Taboola - to find out what they actually look for in potential candidates. They joined us for a panel-style workshop here at our headquarters in NYC to share their expert insights on how to tackle each phase of the job search and start off on the right foot.
If you didn't get a chance to attend the event but are looking for guidance on how to land a great new gig—you're in luck! We created this awesome step-by-step checklist with some of our favorite job search advice and articles that you can use as a reference to keep making strides in finding your dream career. Get your copy below.
Thank you to our workshop panelists Will Blaze (Manager, Technical Recruiting at Peloton), Betsey Corey (Manager, On Campus Recruitment at WW), Angela Mekosh (Manager, Talent Acquisition, Americas at Taboola), Laudine Vallarta (Global Head of Talent Acquisition at Etsy), and Lillian Landrum (Director of Talent Acquisition at The Muse).