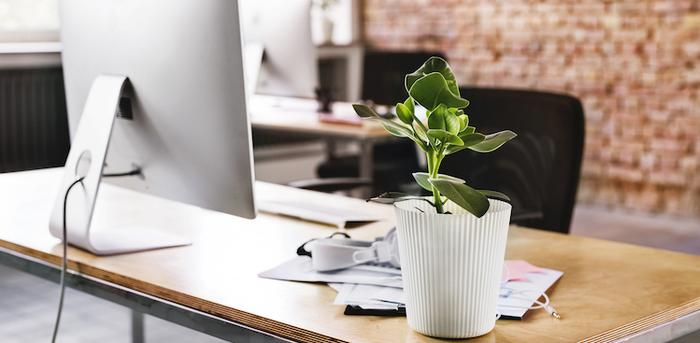 Whether you've been an environmentalist forever or were recently inspired by the surge of climate activism worldwide, climate change is likely on your mind. You may have even adopted ways to reduce your personal carbon footprint at home. But imagine if you could help your whole department—or even your entire company—make some changes that could affect the environment for the better.
The impact you can have with any initiative will vary depending on your industry and the specifics of your company. The key is to identify partners in other departments and someone in senior management to support you—and that may be easier than you think.
The first step is to survey your company. Does it have a Chief Sustainability Officer or other high-level executive focused on delivering sustainability improvements? Does it publish sustainability or corporate social responsibility reports? Does it follow the standards of the Global Reporting Initiative or the Sustainability Accounting Standards Board? Is it a member of an industry group, like the Sustainable Apparel Coalition or the Sustainable Food Trade Association? Is there an employee resource group dedicated to the issue? If the answer to any of the above is "yes," chances are good you'll find a higher-up to support you.
If not, you may have to work a little harder to convince your company to adopt your initiative—but it can be done. "The most important thing is to focus on something that will directly help the business because that will help you make the case to senior leadership that this is more than just a disconnected charitable effort," says Alison Taylor, managing director for sustainability management at sustainability consultancy BSR. Benefits could include cutting costs, an improved image within the industry, or having a workforce that is more empowered and engaged.
Looking for ideas for where to start? Try one of these concrete ways to help make your office greener.
1. Eliminate Single-Use Items, Especially Plastics
A company-wide ban on single-use plastic bottles and utensils may seem hard to accomplish, but you could start smaller by encouraging the use of water pitchers and glassware at meetings and consider incentivizing employees to bring reusable water bottles for their personal consumption.
But it doesn't end with plastics: Talk with your IT department about switching your printer defaults to double-sided paper. And if your company has a communal kitchen, suggest purchasing some (not-too-expensive) reusable dishes for folks to use instead of paper plates.
2. Cut Energy Usage
Merely powering down your computer at night can make a big impact. Or suggest purchasing power strips to share among co-workers who sit near each other. By shutting them off at the end of the day, you can eliminate phantom charges (and cut down on the electric bill in the process).
You could also aim bigger. Take a client of WeSpire, a platform that allows companies to build and support employees' environmental and social impact initiatives. A campaign the company had about the energy costs of data storage led to a breakthrough, thanks to an engaged employee.
"One of the employees in the Egypt office had an idea about how the retention policy associated with some data might be creating too many copies," recalls WeSpire CEO Susan Hunt Stevens. Changing that policy resulted in about $1 million saved in energy costs, in addition to reducing greenhouse gas emissions from lower energy usage, she says.
3. Reduce Meat Consumption
Livestock accounts for between 14.5% and 18% of human-induced greenhouse gas emissions, and 42% of agricultural emissions in the United States come from animal agriculture.
But we're not suggesting you ask your office cafeteria to go full-on vegetarian. Instead, work with the company to offer one meat-free day per week. No cafeteria? Then suggest other initiatives such as encouraging employees to pack brown-bag vegetarian lunches on certain days or having an office-wide vegetarian potluck.
4. Travel Less, Carpool More
According to data from the International Council on Clean Transportation, commercial air travel produced 918 million metric tons of carbon dioxide emissions in 2018—a 32% increase over the last five years.
One way to reduce your company's contribution to this fast-growing number is to travel less for meetings. When you present this initiative, make sure to highlight how easy is it to collaborate across offices—and time zones—with tele-meeting programs like Zoom and GoToMeeting.
Also, consider promoting carpool efforts and supporting public transit, bicycle sharing, and other transportation options. To do this, you could create a spreadsheet that employees can fill out with information about where they live to help determine who can buddy up. Or make a contest out of commuting and offer monthly prizes for the employee who uses public transportation the most.
5. Go Green, Literally
Something as small as putting a plant on everyone's desk will not only improve the environment, but also employees' happiness and productivity levels. "It creates oxygen, keeps people calm, and reminds them they're on a green team," says Hunt Stevens. Take it a step further by organizing a tree-planting day and talking to the building's operations department about adding more trees on the corporate grounds.