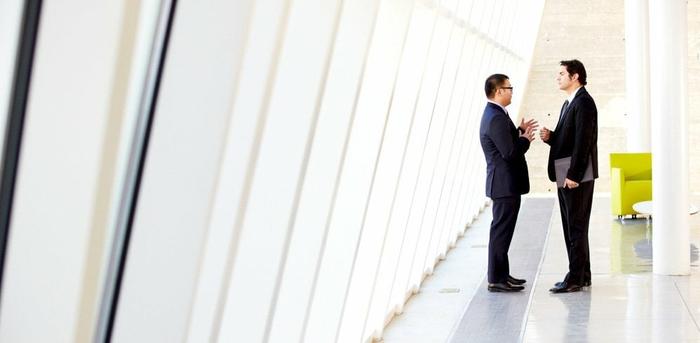 My first job out of college was an inside sales associate position, in which I was tasked with cold-calling busy professionals all day and kindly explaining to them why they should spend their company's money on a service they truly didn't need.
To say I was unqualified was a gross understatement (and should have been evident in my interview, when I casually mentioned I enjoyed ordering food online because I'm scared of the phone).
For those who don't know, sales is a sink or swim position. You either hit your quota and keep your job, or you don't. For me, not even the Coast Guard could have kept me afloat in my first couple months on the job. I sucked. While the cohort I was hired with excelled, I floundered. I couldn't keep someone on the phone for more than 15 seconds.
Knowing the end was near, I asked (well, begged) our top performing sales guy for help. I probably looked pathetic enough that he said okay. And it was then that he explained to me a secret to business that totally changed my career (not to mention saved my job).
First off, remember that there two kinds of people in business: people who want something from you and people you want something from. Typically, there are a lot more people who want something from you, which is why we have gotten so good at detecting "an ask" coming from a mile away. We are prepared to quickly say no to most things that come our way. Can I have a minute of your time? (No.) Can I tell you about a new product I'm hawking? (No.) Can you give me some advice? (You get the picture.) We see these questions and mentally prepare ourselves to say no, because at the end of the day, our time is valuable, and we don't have much of it for things we probably don't need.
So, knowing that people are champing at the bit to say "no," how do we get people to say "yes?"
It turns out that the secret to getting what you want (most of the time) is one small word: help.
There is a human condition that makes us naturally want to feel like we are helping people—you know, doing something good. Recent studies even show that we may be born with an urge to help. After all, don't you feel better about yourself when you know you've just helped someone?
Knowing this, the trick then is to make sure people know they are helping you and giving them a chance to do something easy that will make them feel good.
For example: When I made cold calls, I would start by saying, "Hi, I was hoping to speak to the office manager..." Typically, I didn't make it past this point before people hung up or said they were too busy. So, I changed my approach and starting saying: "Hi, I was hoping you might be able to help me..."
Before I could even continue, the response was typically, "Of course, what can I do for you?" And an introduction to the office manager would soon follow. One small change, and all of the sudden people were eager to do something for me. My success rate on cold calls went from 2-3% to nearly 50%. And I (thankfully) kept my job.
So, does this work beyond helping a dude succeed at getting someone on the phone to be slightly nicer to him? Can it really help you?
It sure can! Try it the next time you need something from someone. For example, if you want to connect with someone who's really busy, send an email that says, "Hi, I'm really hoping you may be able to help me. I know how busy you are, but would you have five minutes to chat? It would be really helpful for me to learn a little more about X." Or, let's say you have a business contact who you haven't talked to in a long time. Reaching out cold and asking for something could be off-putting, especially if he is really busy. Instead, trying opening with the fact that you need his help, and it would mean a lot. Really, the possibilities are endless.
It's a small shift—but one that will have a huge payout.