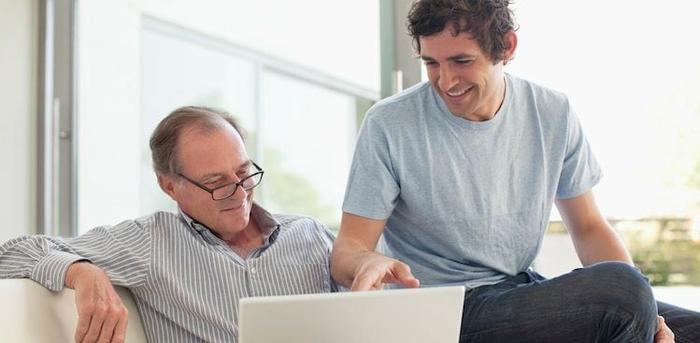 Thanksgiving can be a wonderful time to reflect on what you're grateful for in your life, whether that's having a job you love, being surrounded by caring friends, or getting to experience life in a big city.
But for many people, the holidays can also trigger a great deal of stress. Simply anticipating a barrage of questions from parents and extended family about your career, future plans, and love life could spoil anyone's turkey dinner.
Over the holidays, family tensions can come to a head, and you may find yourself the unwilling recipient of unsolicited career advice from everyone from your grandmother to your cousin's random friend who tagged along for the food (and claims he knows so many people in your industry he can hook you up with).
While your family may be well-meaning, their lectures about what you should be doing with your life and career can understandably get under your skin. How can you sort the pearls of wisdom from the bad suggestions and manage the situation to avoid disagreements at the dinner table?
Here are a few example situations to help you figure out when you should listen to career advice from your family—and when to smile, nod, and have a second helping of mashed potatoes instead.
Situation #1

The Unpopular Career Change
You've pivoted your professional path away from a lifelong interest in medicine and into management consulting instead, and your second cousin Bob—who you haven't seen since you were 10 years old—insists that medicine is the better option for you and that you should reconsider your decision.
How to React
While you may be peeved that your family seems unaccepting of your choices, pay attention to the source. If a family member hasn't seen you in many years, he may have little context about the person you are today, including your interests, talents, and experiences. He may be trying to be helpful, but ultimately his advice is based on outdated, inaccurate information about you, and therefore, it's okay to disregard his guidance.
Politely say, "Thanks for your thoughts," and fill him in on your new job and why it excites you.
Situation #2

The "Move Home" Campaign
Your mom is going on and on about all the new job opportunities in your hometown, and oh, how you'd save so much money on rent by living at home again!
Even though you moved away from home a few years ago, she's so excited, and you either want to avoid breaking her heart and making her feel sad or are getting very annoyed and are about to snap at her, which would create awkward, unwanted drama.
How to React
When a family member is giving you advice, listen to the intention and emotion behind it. While at face value, it may seem like your mother is trying to push her agenda on you, it could be her way of expressing that she misses you or that she's lonely after being left with an empty nest.
Most people give unsolicited advice to be heard and to feel helpful, so it's important to validate and acknowledge what your family member has said using "I" statements, rather than accusatory statements like "You're always lecturing me."
You might say "I understand it's been a big change with me being away. How about we look at some dates for you to come visit me in the city?" This will help you move the conversation forward and take a proactive step to improve your relationship.
Situation #3

The Dismissed Side Gig
You've been hustling hard to get side projects off the ground, including a personal travel blog that you've been thinking about starting for years. You're gushing with excitement and crushed when your aunt is dismissive (and quite rude) about your pursuits. She says you should probably spend your time thinking about finding a real job.
How to React
When others express negativity, your first response may be to become defensive (they're being negative about your awesome idea, after all!).
But getting defensive will get you nowhere. Plus, most of the time, negativity is a result of another person's insecurity. Instead of getting upset, come from a place of curiosity and ask that person why she has those feelings toward your goal. You'll often discover it's because she once abandoned a dream of her own.


A few other things to keep in mind:
Prepare for What to Expect: Call ahead and ask your family who will be in attendance at Thanksgiving dinner so you can anticipate the types of personalities that will be present and what questions might arise.

If You Want Advice, Ask for It: Take advantage of the holiday gathering to tap into the decades of professional experience gathered in one room. Your family can be a trusted source and may not be afraid to give you unfiltered career advice. If you want their opinions, state that clearly by saying "I'm looking for feedback on this…" "What do you think about this..." or "What would you do if you were in this situation?"

Check Your Emotional Barometer: If you're in a bad mood, it's likely that you won't be open to feedback no matter the source or content. Keep tabs on your emotional state as you're engaging in conversations around the dinner table. If you're upset over an earlier conversation you had with your ex-best friend from high school about evening plans, make sure you're not carrying that negative emotion over into conversations with your family.
Remember, Thanksgiving is all about being grateful for what you have. Accept that, as much as you'd like to, you can't control the way that your family acts; you can only change your reaction to them.
Going into the holiday with an attitude of fun and humor will help you shrug off misdirected advice from family and help you enjoy and appreciate the moment.