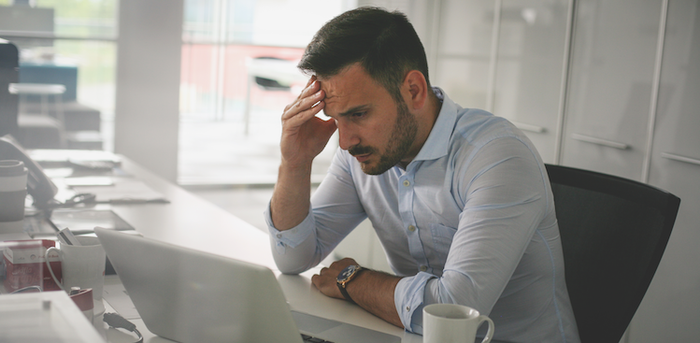 By the end of this year, I'll be divorced. I didn't expect it, I didn't want it, and I sure wasn't prepared to deal with it. As a business owner, I knew I needed to keep it together at work—but I really struggled. I couldn't eat or drink, nor could I focus on contacting clients or finishing projects. In the end, I missed about two months of work, and I'm still trying to make up for it today.
Divorce is hard, whether you're expecting it or not. And maintaining a high level of work performance through the long and often devastating process is even more difficult.
But it doesn't have to be an uphill slog the entire time. There are steps you can take to help yourself get through a tough personal time without your professional life falling apart. This guide can help.
Take a Few Days Off
When you're first confronted with the reality of an impending divorce, whether it was you or your partner who initiated the split, the trauma can be difficult to handle. Erica "EB" Baumer, co-owner of Sage Career and Life Consultants, suggests immediately using some vacation days to refocus.
"This is a grieving process," Baumer says. "If you have some vacation time, don't be afraid to strategically use it. I wouldn't take a month off. Just take a few days off here and there to get grounded."
You need to get through the initial few days and come to terms with what's happening. You'll have the time to sit and ponder the thousand questions you'll be asking yourself, without interference from calls or emails.
Make those days all about you—feel all the emotions you need to feel, and then find ways to self-soothe. If you normally work out, try to get to the gym. Take short walks outside. Try yoga. Listen to music that makes you feel good. Try to avoid junk food.
If you can't take any time off, try to work remotely. When you get back to the office, you'll have that much more mental stability to focus and stay at a high performance level.
Divorces do tend to drag on, though, so keep an eye on yourself throughout the process—if you find you're suddenly struggling and unable to focus or think through your daily projects, it might be time to pop in a vacation day. Just keep track of how much time off you have left and be sure to save a day for your actual court date, as well. They're always during the week.
Focus on Work, if You Can
Once the initial dust has settled, head back into the office and try to focus on (or distract yourself with) your work.
For Jason Roe, an automation specialist who divorced when he was 29, that meant reaffirming that his job was his and his alone. "I pushed myself to remember that she can take away the relationship, she can take things from our shared possessions, but what she cannot take from me is my career," Roe said. Your job "may be the only thing you feel like you have full control over during a tumultuous time."
It's a fine line, though; diving into work can wear you out more than you already are from the divorce. Make sure to build in self-care (see below)—otherwise you could burn out and set yourself even further behind.
Of course, some people just aren't the throw-yourself-into-work type. In that situation, what eventually worked for me was trying to think of my job as a return to normalcy. It's a way to feel, at least temporarily, like nothing has changed. Remember that in your career, people are counting on you. Focusing on that might remind you that, even though you're probably feeling unwanted, you're still needed.
Dan Blair, a family therapist and the owner of Blair Counseling and Mediation, suggests taking short breaks throughout the day as well. Try setting a routine, like working for 20 minutes then taking five to regroup. Use the break time to release any emotions you may be feeling, even if that means hiding in a bathroom stall for a few minutes. Then head back to your desk and get back to work.
Talk to Your Boss
Blair notes that it's important to talk to your boss and perhaps a colleague about what's happened, so someone at the office is aware your performance may suffer a bit and can help you stay accountable. "If your supervisor can be trusted, let him or her know," he says.
It doesn't have to be a drawn-out conversation. First, Baumer says, make sure you do it in person—written things can be shared, and you won't want that. Then strip the situation of all the details. It's as simple as scheduling a quick meeting and telling your boss that you're going through a divorce. Let them know you may need some time off for court dates and meetings with lawyers, and come into the conversation with suggestions for how you'll make up any work you miss on those days. You can also ask if they know of any resources you might be able to utilize, such as an Employee Assistance Program.
Baumer notes that your boss can act as a touchpoint to make sure you're doing all right and to let you know if your work is suffering. To avoid getting to that point, though, try scheduling a meeting every couple of weeks to check in. (You can use this email template to ask your boss for regular one-on-ones.)
Practice Self-Care
Baumer and Blair both caution that deep emotions like those involved in a divorce take a long time to work through, and you'll continue to feel waves of pain for quite a while.
In difficult moments at work, try going for a walk to get a change of scenery, or focusing on your breathing. You could even try keeping a positive quote or an item with a positive emotional connection on your desk. And although it may seem impossible to look past the day you're struggling to get through, it's important to think about the long term.
Baumer and Blair both suggest creating a regimen of self-care for yourself. Plan out your schedule a month in advance. For example, on Mondays and Wednesdays before work, you'll go to the gym and exercise, and on Friday evenings, you'll take a relaxing bath. Build in some structure to incorporate things that make you feel good in some way, and try as hard as possible to stick to it.
That rhythm will help you get back in the right mindset for work; it becomes routine, and you'll have a clearer head because you've been taking care of your mind and body.
Make a Bigger Change
Your divorce might even push you in a new direction professionally. Blair, for example, was blindsided by his divorce. But once he got past the initial shock, he doubled down on his counseling career and channeled his emotions into a new angle for his business—preventing and mediating divorces. The traumatic experience ultimately helped him focus on work in a new way and use his experience to help others.
Emotionally trying times can have a huge impact on your life. But they don't need to drastically affect your work performance in the moment, or your career in the long run.
And sometimes divorce can even have a lasting impact on your career in a good way—whether it leads to a better relationship with your boss, a promotion because you worked hard to distract yourself, or even a bigger change that helps you gain stability or pursue a new interest.