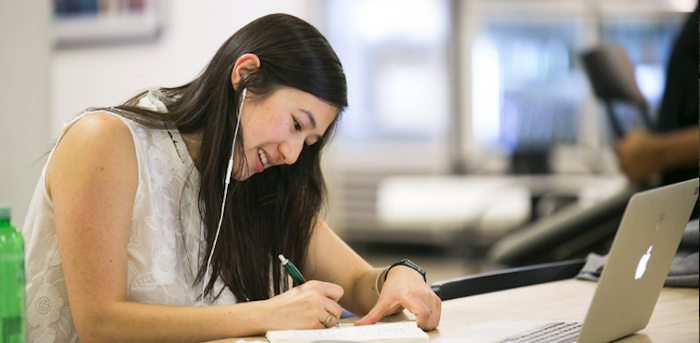 Many of us start at our first job out of college thinking it will set us up for the rest of our career. And stepping off that path seems like a huge risk. When you're on a straight and narrow career path, it's easy to panic if you want to make a change.
The good news is that these kinds of pivots can make you a better professional. And even in industries like consulting and banking, it's becoming quite common to grow your expertise across industries.
With a positive approach and an open mind, you can take big strides in the right direction—even if that direction seems way off your original course. Here's some hard-earned wisdom on how to make a pivot, no matter your industry or experience level.


Lean Into a Growth Mindset
If there's one thing you need in order to embrace change, it's a growth mindset. Approaching the challenges of breaking into a new career path with a focus on learning (rather than perfecting) new skills makes it a lot easier to make headway.
Also, remember that everyone starts somewhere, and switching specialties doesn't mean you're setting yourself back. Serena Chan, a partner at IBM Canada, will tell you the opposite is true. She started her career in financial services in the 1990s before drawing on her passion for solving complex problems as a consultant. Since that first change, Serena has built up breadth and depth with over 18 different professional certifications and countless projects across many different industries.
"Throughout my career, I've always tried to stretch myself," Serena says. "If you feel that the work is easy and you're not be challenged, it's a sign that you're not learning something new." Serena recognizes any hints of boredom with her job as an opportunity to take on something new and expand her professional arena.
Likewise, German Sanchez Cousco, Scrum Master at IBM's blockchain program in Madrid, Spain, shifted gears to his dream job by developing new skills. German built a nine-year career in consulting, first, as an analyst, and second, as a senior consultant project lead. Despite his strong skills as a consultant, German really wanted to learn about blockchain technology.
He took advantage of IBM's Digital Badges—courses that allow you to learn new skills and earn corresponding badges to verify them—to further his understanding of blockchain. With his newly acquired knowledge, German was able to make the switch to blockchain when an opportunity presented itself.
Tip: Look for a certification program or online training that can empower you to work across different industries.


Build Your Network
The deeper your network, the easier it is to find opportunities beyond your immediate field. Think about who might be a good resource for you in your personal and professional circles. Is there a supportive colleague who shifted careers to the industry you're looking to enter? Or a friend from college who works in a role you're interested in? Make a long list.
Once you've got your list, it's time to do some research. Prior to reaching out to people, learn about their backgrounds on LinkedIn, personal websites, and company profiles. When asking for people's time and advice, showing that you've put in the effort to prepare beforehand goes a long way.
And don't forget about your social networks. Alumni groups, online associations, and even Facebook forums are a great way to get your foot in the door. Take those virtual connections a step further by meeting over coffee.
Opening up to your network is the key to linking your interests with opportunities out in the world. There are layers of communities you can tap into from your next-door-neighbors to old college professors and former colleagues. The more people you reach out to, the more likely you are to connect with someone in the industry you're trying to break into—so don't count anyone out.
Tip: Set a goal to reach out to one professional you admire a week. Over a phone call or coffee, talk about your aspirations and ask for their advice on how to move forward.


Choose a Company That Helps You Grow
When you're making a career change, think big about your dream job, but don't assume that you'll have to leave everything behind. If you can find a company, team, and manager that will help you evolve, you could stay at the organization for the long haul even while changing your career path multiple times.
When German decided he was ready to make the change to blockchain, instead of hiding his interest in a job change, he was transparent with people about it. "IBM is a very huge company with a very big and open network. You can connect with everyone" says German. That candor made the difference: German's manager tapped his network and found out IBM was starting its first blockchain project in Spain. German's been working on the project ever since.
German's manager helped him find a new role, even though it meant he was losing a valued team member. By shifting directions within an organization that supports personal and professional growth, you can carve out your own path while building continuity.
But, if your employer isn't psyched about supporting your professional growth, that's all the more reason to pick a new path. As you weigh your options, prioritize roles that give you exposure to different experiences, a ton of professional development, and multiple promotion tracks. After all, we're always growing—we want to work for an organization that recognizes our change as an asset.
Tip: While interviewing for a position, ask upfront about how the hiring company supports horizontal collaboration and growth.


By pivoting on your career, you bring a level of dynamism to your work. No skill or expertise is ever lost in the shuffle. So remember: Everything you've learned will help you along the way, even if you're working in a very new context.