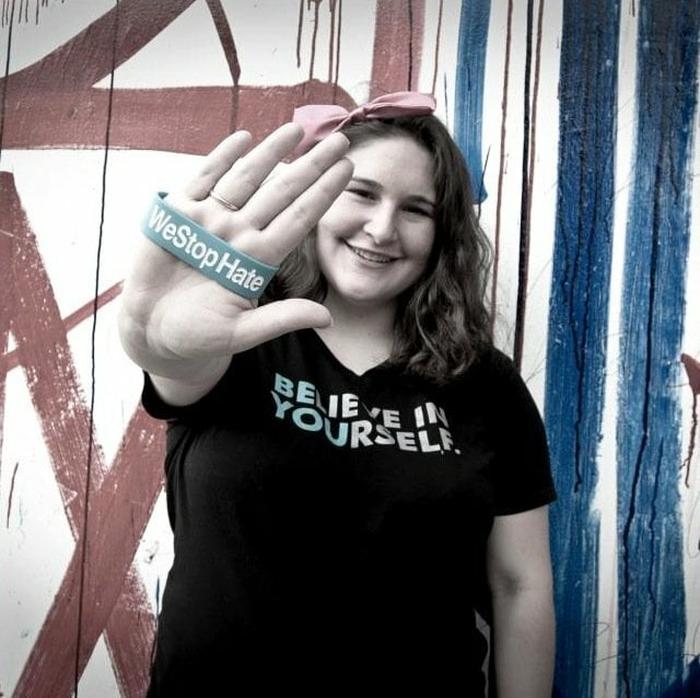 Emily-Anne Rigal was recently ranked as one of Newsweek's 150 Most Fearless Women in the World. She's received the Presidential Volunteer Service Award from President Obama. And Lady Gaga has called the 19-year old her hero.
So, what is the college student doing that's making such a splash?
Rigal is the founder of We Stop Hate, nonprofit dedicated to ending bullying by raising teens' self-esteem. Through posts on YouTube and other social media channels, the site gives bullying victims from all corners of the world a chance to open up about their experiences in a judgment-free zone.
In honor of National Bullying Prevention Month, we spoke with Rigal about her efforts fighting back against bullying and starting an organization at age 16.
What was your motivation to found We Stop Hate?
When I was in elementary school, I was bullied so badly that I had to switch schools. At my new school, I developed a new group of friends who became an amazing source of encouragement. The happier and more supported I felt, the more I wanted to help others feel that same way. So I started posting videos on YouTube to stand up for other kids who were bullied to give all of us a voice and provide a source of support.
You started the organization when you were just in high school—which couldn't have been easy! What were the greatest obstacles you faced?
The biggest challenge that I faced was not having a road map of what to do next and having to figure it all out along the way. The two things I knew when I started We Stop Hate was that I loved YouTube as a medium and that I had a real passion for spreading this message, since it was so personal to me.
I remember thinking, "Can I start this organization? I'm only 16!" Now, seeing what has happened and what the organization has grown into has been amazing.
We all know bullying doesn't necessarily stop after finishing school. What advice do you have for professionals who may be dealing with bullying in the workplace?
First, you have to realize that bullies have their own issues, insecurities, and agendas. What they say is not what matters, it's how you interpret and react to the situation. Having a small group of co-workers who are supportive and can help you keep focused on the work is important.
What is your top tip for people who are having a tough time at work to boost their confidence back up?
Do esteemable acts! Whether it's complimenting someone or making a small gesture that can boost another person's confidence, it will in return change how you are feeling about yourself for the better!
How can others help you on your mission with We Stop Hate?
I am really excited for the next phase of We Stop Hate, in which we are taking We Stop Hate into schools and starting Anti-Bullying Clubs so that kids can have that in-person support.
We also just kicked off a partnership with The Body Shop Foundation whereby proceeds from the sale of the company's Dragon Fruit Lip Butter will go to three nonprofit organizations—one of which being We Stop Hate. The organization with the most votes gets the largest amount of proceeds, so we have our fingers crossed! To vote, visit The Body Shop on Facebook.