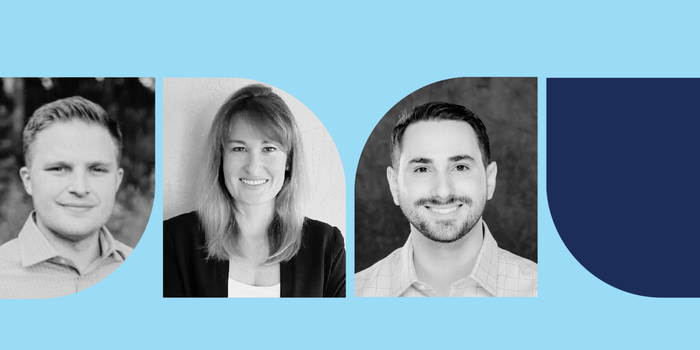 Whether or not we realize it, there are aspects of cybersecurity we all perform. Every time we use a website or enter a password, we are working to make sure our information goes uncompromised. For tech professionals, cybersecurity is especially relevant, and there are countless opportunities for those who want to work in the industry. In fact, even those without a tech background are able to break in once they learn the right skills.
Jonalea Gaalema, an IT controls analyst II at Vanguard, is a perfect example of someone who was able to make a pivot. Before pursuing a career in cybersecurity, she earned her MBA and was a realtor and operations manager. But the more time she spent in the working world, the more intrigued she was by the tech industry. She was researching her options when she saw a life-changing Facebook post.
"I was in a Facebook group related to finance and I came across a reply to someone else's message about how to break into tech," Gaalema says. "The note went on to recommend CompTIA's A+, Network+, and Security+ certifications. I had no idea what those were, but I liked that someone had laid out that path."
She decided to take a CompTIA course to gauge her aptitude and interest—and as it turned out, she had a real proficiency for it. Gaalema went on to complete A+, Network+, Security+, and Secure Infrastructure Specialist (CSIS) certifications. With every exam she passed, she thought, "Okay, I can do this. There's a place for me here." She landed her first cybersecurity role in 2022, and is already on a path to success in her new career.
Juan Castillo was searching for that same sense of belonging after he graduated from Fresno State with a degree in computer information systems. "Coming out of school, I was trying to figure out the best career path," he says. "I also wanted to distinguish myself from other applicants, but I felt like I didn't have the right tools yet."
Castillo had always been interested in IT, so he decided to pursue an A+ certification. What drew him to CompTIA was the focused curriculum, reputation, and approachability. "CompTIA is one of the best bodies of certification paths, especially in the IT realm," he says. "They really do all of their due diligence to understand each system end to end."
Castillo also found CompTIA's site and course materials easy to navigate, and appreciated the model of self-accelerated study. "I loved that CompTIA has roadmaps for learning," he says. "Their method of teaching kept me really engaged and made me feel like I held the reins to my education. The A+ certification taught me what I needed to succeed in everyday life within the IT industry."
For someone looking to cut their teeth in the industry, the A+ certification was the perfect fit for Castillo. The course tested his existing knowledge of IT while also giving him a foundation on which to build his career. The A+ certification also helped him realize how his skill set could translate into a cybersecurity role. In fact, since completing the course, he has also earned a Security+ certification and today works at O'Neill Vintners and Distillers as a cybersecurity specialist.
As for the real-world value of CompTIA's certifications, many hiring managers and recruiters look out for them. For instance, Zach Brand, a senior director and hiring manager at Virteva, a managed services provider, says he's specifically sought out CompTIA graduates because they have a proven track record.
"We've seen that people with the A+ certification are top performers," he says. "They are able to resolve more tickets, they're faster on calls, and they're just more well-rounded from a technology perspective."
Brand attributes this to CompTIA's focus on fundamentals, as well as the vendor-agnostic approach. "CompTIA teaches foundational concepts, rather than the specifics of a certain product or system. These are skills you can use whether you're working on Microsoft, or Amazon Web Services (AWS), or Google Cloud," he says. "Plus, if someone is willing to put in the time and make the sacrifices to study for the exams, take them, and pass them, they're usually ambitious and invested in their career."
Gaalema, Castillo, and Brand all agree that there is a lot to love about working in cybersecurity. "In this field, you never stop learning. New information and technologies surface all the time," Gaalema says. Castillo echoes this sentiment, adding, "You get to work with people who are changing the environment of security."
CompTIA is constantly updating its lesson plans to keep up with changes in the industry, so anyone who passes the course exams can be confident they're coming away with what they need to kick off, pivot, or move up in their tech career.
"Through the courses, you learn and grow very quickly," Galeema says. "And whatever your background is, it's still an asset in IT. There are so many different avenues you can take—and whichever you choose, CompTIA can help you get there."