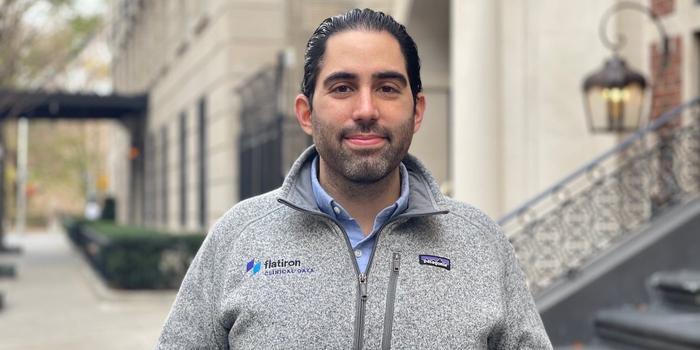 As a college student, Stephen Zamora had a goal of going to medical school. But when the time came to actually apply, he realized that path wasn't the right one anymore. Instead, he chose to dedicate his career to advancing cancer research—an issue that's highly personal for him.
"With cancer prominent in my family, I knew I wanted to be part of the solution, and research has the ability to drastically improve patient outcomes," says Zamora, a clinical data manager at Flatiron Health, a healthtech company focused on accelerating cancer research and improving patient care and outcomes. "Flatiron Health is at the forefront of using big data to solve some of cancer's biggest problems."
Zamora, who joined the company in 2016 as a clinical data analyst, now leads his own team to organize and interpret real-world clinical oncology data at scale. He is also the co-chair of the company's Latinx employee resource group.
Here, Zamora talks about his perspective of Flatiron Health's commitment to diversity and inclusion, what he loves most about the company's culture, and why it's important to take risks in your career.
Tell us about your career journey, and what led you to your job at Flatiron Health.
I received my degree in biochemistry with the intention of going to medical school. I did research in neurology in undergrad, but after driving my grandfather to the clinic for radiation for prostate cancer, I was inspired to pursue cancer research. I moved to New York City to prepare to take the MCAT. To pad my medical school application with more research experience, I got a job at Memorial Sloan Kettering Cancer Center and was introduced to the impact of data at aggregated and patient levels. Then I heard about the incredible things Flatiron was accomplishing by combining technology, clinical science, and data science against cancer.
What are you responsible for in your role?
I interpret and organize clinical oncology data. Each cancer differs in the way it presents, progresses, and responds to treatment. On top of that, the way it is documented in the patient's medical record may differ depending on whether the patient is being treated by a community oncologist or in an academic hospital. This is one of the biggest pain points with real-world evidence, and my job is to understand all these nuances to develop a data model that best answers research questions.
What does a normal day in your job look like?
Most of my day gets taken up in meetings, so it is important to find and protect blocks of time to get work done and to respond to urgent messages. My first meeting is usually a 15-minute team stand-up to discuss the progress of our most important work, our plan for the day, and any problems or blockers. My remaining meetings usually focus on ways to scale or create efficiencies when normalizing unstructured data, and support clients' understanding of real-world evidence. The rest of my time is usually working with our research clinicians to investigate how certain cancers are documented by providers in the real world, with engineers and quantitative scientists to develop data-quality checks, and with product managers to scope new projects.
What are you working on right now that excites or inspires you?
One of the things I love most about Flatiron is the opportunity to learn something new every day. Our extensive network means we often have data for even the rarest cancers. Currently, I am working on a cancer type we haven't worked with before. Patients with this type of cancer often have documentation from multiple clinicians, which makes it difficult to follow their history. It has been an adventure trying to create processes for following the data to understand how this disease is documented and treated in the real world and, more importantly, develop an approach to capture that data at scale.
Tell us about the company's employee resource groups (ERGs) and your involvement in the Latinx ERG.
Flatiron's ERGs are employee led, funded by the company, and supported by executive sponsors. They help create a safe space for employees to bring their entire selves to work, fostering a sense of community and belonging. Initially, I sought out people with similar backgrounds and shared experiences. I was quick to realize that the Latinx community is not a homogenous group, but a group with many norms, traditions, and beliefs. Wanting to understand more about other Latinx cultures emboldened me to help start this ERG, and more importantly, helped me recognize my own Latino identity.
In addition to ERGs, in what ways is Flatiron Health working to foster an inclusive work environment?
Flatiron takes a multifaceted approach to D&I. For example, the company recently rolled out a race, equity, and inclusion training for all employees to provide foundational knowledge and shared language for further discussions about institutionalized racism, privilege, allyship, and belonging, and encourage personal accountability in this space. We are all working to better understand and avoid potential biases in performance and promotion processes. We also conduct an annual analysis to advance equitable pay. One of our new pilot executive sponsorship programs aims to equip Black and Latinx employees with new tools, insights, and visibility to accelerate their leadership skills, promotion readiness, and career progression.
What do you like best about Flatiron Health's company culture? What makes it a unique place to work?
I am in awe of Flatiron's ability to elevate and recognize the individual contributor no matter their role, experience, or background. It's a rarity to see a team composed of clinicians, engineers, quantitative scientists, and many others, working concurrently toward the same goal to learn from the experience of every cancer patient. The cross-functional nature of our work ensures every employee has a seat at the table and forces us to leave our egos at the door. Every employee is a vital piece of this puzzle, an important feature of mission-driven companies, and Flatiron celebrates and recognizes our diverse skill sets and backgrounds.
What advice would you give someone who wants to pursue a similar career path?
Before I joined Flatiron, I created a solid foundation and understanding of oncology and what patient data looks like in an electronic health record system. This expertise helped greatly with the ability to take unstructured clinical data in the charts and build a data model that is both usable and scalable, which aligns greatly with Flatiron's clinical data role. Although my role is not technical in nature, I realized that I could be more efficient if I presented to Flatiron with more technical knowledge. Whether it is a better understanding of how to query our patients using SQL or being able to create visualizations with R, those tools have helped me better understand and refine the data sets I help create and are invaluable in any data science role.
What's the best career advice you've ever received?
Some of the best advice I have ever received is to recognize that "comfort and greatness rarely coexist." Whether you are searching for a new job or trying to progress in the one you have, the willingness to put yourself out there and take risks can lead to extraordinary opportunities. I was happy with my life in academia, which was predictable. I took a leap joining a startup, which was risky for me at the time—and I have never looked back.