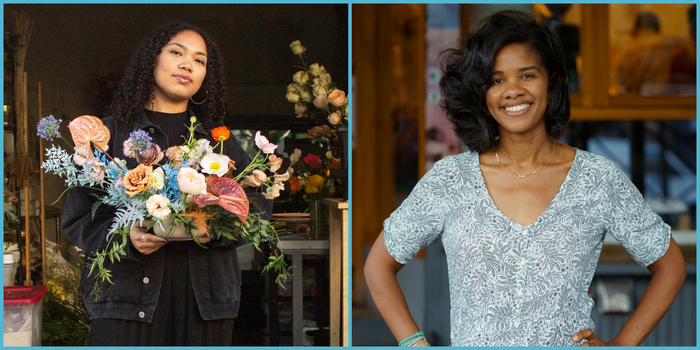 A Harlem-based spa. A floral shop in Los Angeles. And an ice cream shop with Michelin-star talent. What could these businesses possibly have in common? They're all founded, owned, and operated by Black women.
According to a recent data analysis by the Harvard Business Review, 17% of Black women are starting or running their own business—compared to 10% of white women and 15% of white men. That's unsurprising when you think about it. What is shocking about HBR's data analysis is the gap between Black women who set out to be entrepreneurs and the 3% who end up running a "mature" business—or well-established in its industry. HBR cited lack of access to capital (61% of Black women business owners self-fund their startup) while also being disproportionately burdened with debt as possible explanations.
Here, we interviewed LaJuana Smith-Huebner, owner of The SPAaaht in Harlem, New York; Mallory Browne, founder of Mallory with the Flowers in LA; and Petrushka Bazin Larsen, co-owner of the multi-location Sugar Hill Creamery, about their ongoing success in business.
These three founders agree that their company's website, powered by Squarespace, is a critical tool for brand awareness. "The creation of my website gave me an automatic system that allowed me to remove many tasks from my daily to-do list," La Juana says. "Use them, it will make life easier."
Below, these entrepreneurial powerhouses unpack the most important lessons they've learned as small business owners—and how Squarespace's intuitive technology helps them get it all done.
1. Be clear on who you are and own it.
Sugar Hill Creamery got its start after a layoff. In 2017, Nick Larsen had just signed on as general manager at a Michelin-starred restaurant when, only a few months later, the restaurant closed altogether. His wife, Petrushka Bazen Larsen, formerly a VP of programs and education at the Brooklyn Children's Museum, realized during a weekend away together: "We don't have ice cream in our neighborhood. Maybe this should be our thing?"
On Sugar Hill Creamery's opening day, a line down the block went on for four hours. "We ran out of ice cream, and all the backups," Petrushka says. "It was clear that our neighborhood was ready for us." Today, Petrushka and Nick have expanded to three locations and run a seven-figure business.
Petrushka says that when starting out, it's important to be clear on what you want. "You cannot accomplish a goal if you don't have a vision of how you want to be in the world," she explains. Her Squarespace website helps clarify that vision for potential customers. Read Sugar Hill Creamery's About section, and you'll see that they're a "love affair between community and food." Pop over to Programs and you can sign up for a New Mom's Group, a popular gathering for new mothers over a cup of ice cream (blueberry cheesecake is their most popular flavor).
2. Showcase your hard-earned skills.
Toward the end of 2017, Mallory Browne just wanted something creative to do outside of her day job. She'd head to Ralph's or Trader Joe's after work, pick up a bunch of flowers, and make them at home—sometimes while watching a YouTube tutorial. She later challenged herself to make one arrangement every day for 30 days. Along the way, "I didn't expect to love it as much as I did," she says. For Mallory, building a Squarespace website was a way for her to beautifully showcase the skills she'd worked so hard to gain. Then, "I was finally able to take that leap and trust it," she says about launching Mallory with the Flowers as a business.
She chose Squarespace to launch Mallory with the Flowers online because, simply, "I love Squarespace," she says. "Squarespace just looks so clean and cool. I was able to build it all on my own and also use Squarespace for my online shop, which is such an important tool for me. It actually helped me quit my [day] job because I was able to have that online job."
3. Focus on what you can do today.
After working for years at five-star spas all over New York City, La Juana Smith-Huebner started The SPAaaht in Harlem because she wanted to see more opportunities for self-care in her own neighborhood. She opened her doors in November 2015 and treated her first paying client a month later. Then, two years into running the business, just as she was planning to leave her day job to run SPAaaht full-time, a nearby fire threatened to upend it all.
Knowing that SPAaaht was located along people's commute to the subway, she focused on "sidewalk marketing," sometimes even bringing massage chairs onto the street, to make sure people knew she was there.
Five years later, "I'm still here," La Juana says proudly. "There's many days that you want to give up but then I think, "You know what? I'm only going to do what I can do right now, today." That, and don't be so hard on yourself, she adds.
4. Build community, and find mentorship.
Uplifting the neighborhood is a focus for all three of these female entrepreneurs. La Juana often chats with the older people around Harlem, and "they'll say, 'This neighborhood's changed so much; I've lived here for 50 years and raised my family and I don't recognize anything anymore," she says. "It's very important that they know SPAaaht is for them."
And while her clients are top priority, La Juana also spoke about needing a different kind of community: mentorship. "Being an entrepreneur can be very lonely," she says. "You can feel like you're out here all by yourself and if you have a business mentor, it can take some of the edge off. That's something I didn't get until recently. Once I found a mentor, I was like, Oh my goodness, where were you four years ago?"
5. Delegate, delegate, delegate.
Mallory knows first-hand that life as a solopreneur can only last for so long. "When you start out, you think, OK, I'm going to work for myself for a while," she says. Now, she says she feels proud and honored to be able to hire people. Namely, she employs her best friend, who, after helping Mallory with the Flowers more casually, eventually told Mallory, "I think I want to work with you more than I want to be at my office." Today, Mallory's friend and first full-time employee handles administrative tasks, including invoicing and emails. "It's cool to be able to be part of other people's journeys too," Mallory says.

Because Sugar Hill Creamery's Shop page is so easy for Petrushka to use, she often edits on her phone. "I can add copy, change flavors, and even manage online orders from my phone," she says. This allows her to focus on other areas of her business that need attention, and think big picture. "It's important to engage our imaginations and to not limit ourselves based on what other people have told us is possible. And instead, have the biggest dreams possible."