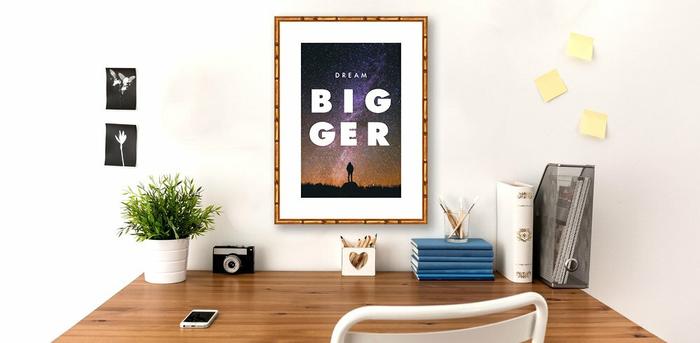 This year, I gave myself a little Christmas present—an inspiring new workspace for an inspiring new year. I spent some time over the holidays DIYing a new home office, and when I returned to work, I tidied up the clutter and got a lovely new plant to brighten up my desk. In the end, I had two places that made me feel ready and excited to hunker down and focus, to achieve all I set out to achieve this year, to basically take over the world with awesomeness.
Well, almost.
See, no inspiring office is complete without even more inspiring artwork—and not only did I have none of that, I had already used up my budget.
If you, like me, are looking for an affordable way to add an extra oomph of inspiration to your workspace, then we're both in luck. Our brilliant designer at The Muse has created nine beautiful posters that you can print out and hang up to add the final touch to your office—completely free! We've made these 11x17", but feel free to resize or crop to fit your wall or make it easy to print.
Oh, and if you do have a little wiggle room in your budget, consider heading over to Framebridge, where you can upload your art, choose a frame you love, and wait while the experts there print it, frame it, and ship it to you. (Muse readers get 15% off their first purchase with code THEMUSE!)
Geometric Quotes
Do the wise words of incredibly successful people help motivate you more than anything else? Do you have quotes scribbled on sticky notes around your workspace, or a Pinterest board filled with inspiring words that you pop over to when you need a jolt? Then these minimalist posters with three of our favorite quotes were designed for you.
Pick your favorite, or hang up all three as a set so you can look to the one you need at any given moment.
Frame your posters like this with Framebridge's Mercer Slim!
Photo Inspiration
Sometimes, it's the beauty of the world that inspires you to work harder toward making your mark on it. These posters combine expansive imagery from the photographers over at Unsplash and Superfamous with phrases that will motivate you to keep pushing your own boundaries. Make sure to print these out on a high-quality printer so every detail shines through.
Frame your posters like this with Framebridge's Mandalay!
Bold Statements
These no-frills posters don't beat around the bush. If you want to walk into the office every day to a bold reminder of what you're working toward (and how much you need to hustle to get there), then quick—print out one of these, hang it up, and get right back to work achieving your dreams.


Frame your posters like this with Framebridge's Irvine Slim!