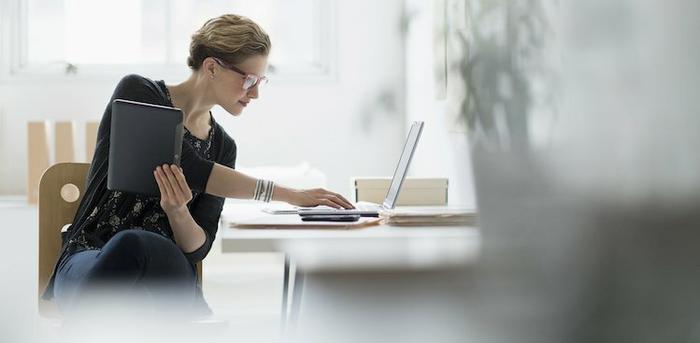 Even as a massive fan of mobile everything, I still spend most of my day working on my good ol' laptop—for trolling the web, writing, keeping up on social media. And, while it has been my most important tool for years, I'm always looking for ways to use my time more efficiently.
So, here are the best resources I've found—from apps to browser extensions to websites—to improve on the nine things you do almost daily while sitting at your desk.
1. If You Want to Make Your Home Screen More Exciting
Instead of a stock sunset, or worse, the operating system's boring logo, turn your display into something that's actually useful.
Why not try displaying a retro clock, your favorite webpage (great for following the news when you don't have time to check it), or weather info and forecasts, complete with animations to match.
2. If You Want to Clean Up Your Desktop
Admit it—your desktop often turns into the "junk drawer" of your computer, both a temporary storage space and a place for things you might want to use soon (and maybe never do). I can't even count the amount of screenshots I take that just stay there, forever.
If you just can't seem to get it organized, try a desktop wallpaper organizer to put all your files in their proper place. It's a custom desktop image for your computer that helps you neatly arrange your files. They come in all kinds of styles, so you can ick your favorite and at least it'll look like you've got it all together.
3. If You Want to Get What You Want Faster
Stop clicking through menu after menu to perform the same actions over and over again, and instead, harness the power of keyboard shortcuts.
For Macs, you can create shortcuts for any app's menu commands through the system preferences. And, for Windows, you can make shortcuts to open any app in a flash.
4. If You Want to Make Your Internet Browsing More Efficient
You probably spend a lot of your computer time on the internet. Whether you're working (or not), you can make your web time more effective and even more generous, thanks to these tab extensions.
Limitless Chrome extension helps you focus on what's important with a smart notepad for reminders, quick access to the sites you need most, and reminders about where you're spending your time online—plus, gorgeous photo backgrounds and inspirational quotes.
Or, instead of helping yourself, help the world with Tab for a Cause. Each time you open a new tab with this extension, between 1/10 and 1/3 cents is donated to a charity you choose. Hooray for (almost) guilt-free surfing!
5. If You Want to Stay on Track
The beauty of computers is their limitless capabilities. But, this also means they're full of limitless distractions (talk about rabbit holes).
When you need to keep on task, try Pocket for reading without ads or links to draw you away from the text. Or, use Calmly Writer for writing without fonts, formatting, and other word processing fluff that will get you off track. Or, to be hyper effective during your "off time" too, install Social Fixer in your browser to keep your Facebook feed focused.
6. If You Want to Keep All Your Messages in One Place
If you don't want to be swiping through your phone all day, or you want to be able to respond to important texts while working, try bringing your messaging apps together on your desktop.
Franz consolidates services like Slack, HipChat, WhatsApp, Facebook Messenger, Google Hangouts, and Skype (and is adding new ones all the time) into one place. You can even have multiple accounts for the same app so you can easily keep your personal and your work messages separate, but still send speedy replies.
7. If You Want to Make Your Battery Last Longer
Who couldn't use more power (and less stress looking for outlets) when you're away from your desk? With a battery manager for your laptop, you can get the maximum output from your machine.
Windows now has a built-in Battery Saver setting to automatically control push notifications and screen brightness, while Energy Saver has similar functions for Macs.
And, to get more advanced control of your power, download BatteryCare for Windows or FruitJuice for Mac. Both provide useful stats to keep an eye on your power, including my favorite FruitJuice feature of alerts to encourage you to optimize your battery life.
8. If You Want to Merge All Your Clouds
Gone are the days of USB sticks for storing and sharing files. The cloud has streamlined that for us—but now you're stuck wrangling multiple storage accounts and wondering where the heck you put that file you need now.
Try a service like Otixo to access all your cloud storage in one place. You can connect to every source, from Amazon Cloud to Dropbox to Google Drive to OneDrive, and others, all in one convenient place. And, you can search them all at once, plus conveniently drag and drop to instantly move files between services.
9. If You Want to Stay Safe and Secure
I know I don't need to tell you about security basics. (Hint: Use long and complex passwords and different ones for different sites.) But I also know that beefing up online safety beyond that can be really boring to talk about.
Authy, the two-factor authentication app, makes it easy to have safer sign-ins for your most-used services like Gmail, Lastpass, Facebook, and Amazon. And it syncs easily so you can secure all your devices.


These apps and tweaks to improve your life are almost all free or take just minutes to set up. So, make the effort today so you can save yourself tons of time in the future.