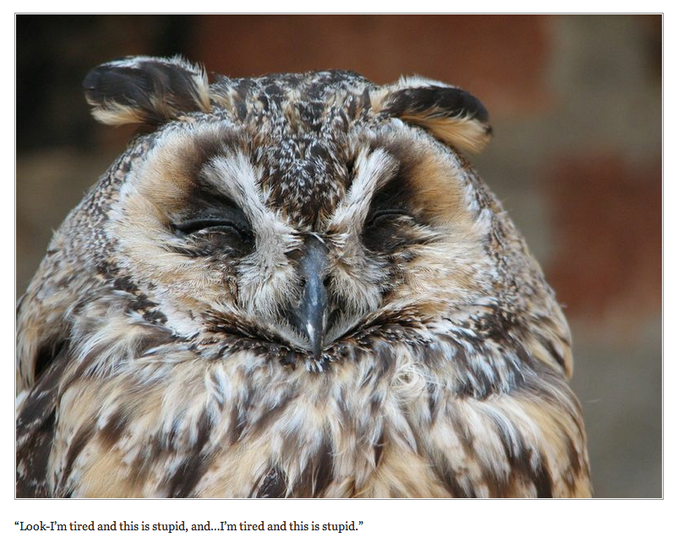 Having a bad day is rough enough, but things can get downright miserable when you're stuck at your desk with limited mood-boosting resources at your disposable. (The M&M jar will only cut it for so long.)
Have no fear—we've rounded up some of the best places on the web to cure whatever ails you. Click for some quick pick-me-ups!
1. When You Need That Warm-and-Fuzzy Feeling
Cute Roulette: Just keep clicking "Next Cuteness" for adorable animal after adorable animal.
2. When Everyone Else in Your Office is in a Bad Mood, Too
Two of Us or The Nicest Place on the Internet: Find a smile or a hug from a friendly stranger on the web.
3. When You Feel Like Everyone's Out to Get You
GOOD: Read about some really awesome people in the world.
4. When You Can't Think of Anything Good in the World
1,000 Awesome Things: Remember how great all of the little things are (bonus points if you go enjoy one of these things in real life—after work, of course).
5. When You Partied Too Hard Last Night
Hungover Owls: Just know that these owls understand what you're going through.
6. When You Want to be Anywhere But Here
Traveling Inspiration: Flip through photos of beautiful destinations around the world.
7. When You Just Need a Laugh
The Oatmeal: Some great ones to start with are Minor Differences and Working From Home.
8. When All of the Above Apply
Buzzfeed: Just follow this 13-step plan to get you through a rough day.
What sites do you use to get through a rough day?