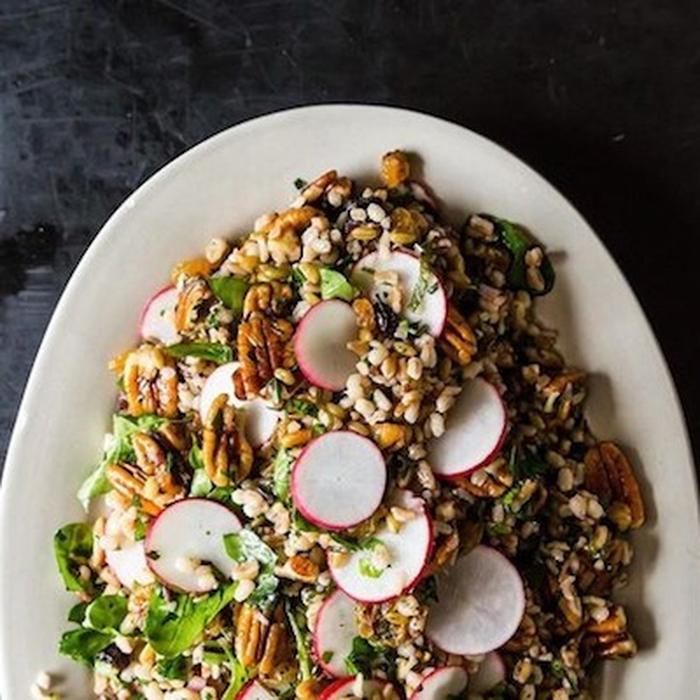 Sandwiched between champion-making breakfast and family-bonding dinner, lunch is like the middle child that never quite gets enough attention. But we'd argue that lunch is just as important as the day's other meals—if not more.
Sure, breakfast can power you for the first few hours of the day, but you need lunch to get you through an afternoon's worth of work, a game with your softball league, and the round of drinks that inevitably follows. No amount of mixed greens from the nearest chopped salad place can keep you going for that long.
Ready to refuel properly and give lunch the attention it deserves? These quick lunches have you covered: They can be made ahead, served at room temperature (no queuing up for the office microwave), and eaten with just a fork—or even better, no utensils at all.
1. One Pot Kale and Quinoa Pilaf
This hearty pilaf breathes new life into a familiar classic. Both the quinoa and the hearty strips of kale crunch lightly between your teeth, and the lemon juice and zest keep the quinoa from being bland. Fresh goat cheese barely coats the warm pilaf, giving it a creamy, tangy finish, and toasted pine nuts lend some crunch. Plus, we love how easy it is: You just layer the quinoa and the kale and cook it all in one pot.
2. Pan Bagnat: Le French Tuna Salad Sandwich
Pan Bagnat, literally "bathed bread," is a great solution to the brown bag lunch dilemma, and this version is pitch-perfect. A decidedly Niçoise tuna salad is pressed between two garlic- and oil-slicked halves of a baguette and left in the fridge overnight, which allows all of the juices to soak into the bread. We chose to include both of the optional ingredients in this recipe—crisp green beans and briny artichoke hearts—and were glad we did. The resulting sandwich was a glorious riot of colors, flavors, and textures.
3. Radish and Pecan Grain Salad
With a base of mixed grains that are threaded with pecans, raisins, and dried cranberries, then brightened with bits of arugula, radishes, and a wash of sherry vinegar and walnut oil, this is the kind of salad that sounds heavy and starchy, but that is so light yet filling you'll want to eat it every day.
4. The World's Easiest Falafel and Tzatziki
One bite into a pita stuffed with falafel, tzatziki, and a few shakes of hot sauce, and ordering take-out from a food truck will seem unnecessary. This recipe sounds complicated, but with the help of a food processor, making the herbed chickpea mixture and the garlic-scented tzatziki can be done in a snap with minimal chopping and washing dishes. And, the falafel patties are easily formed and don't fall apart in the frying pan.
5. Greek Lamb with Orzo
This dish may have a straightforward preparation, but don't let it fool you—it's full of depth and character. Just cook up a pot of saucy, fragrant lamb, boil up the pasta, and you'll be left with a filling and flavorful dish that makes enough for a week's worth of lunches (and then some) in under an hour. As a bonus, you only have to dirty two pots! That's a win-win in our book.