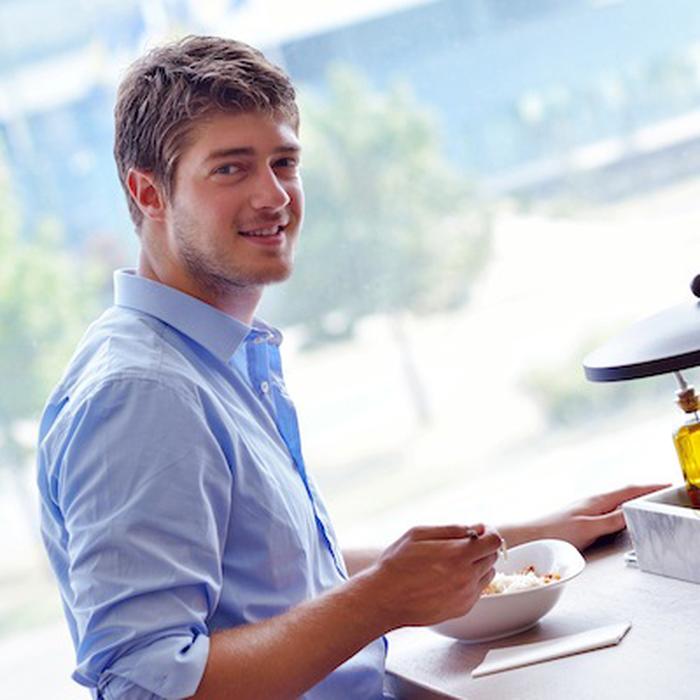 Whether you're traveling alone on business, taking a lunch break by yourself, or simply seeking a bit of solitude, there's no reason why a party of one can't still be a party.
In this second installment to our dining alone series (our first explored New York City), we're pointing the way to London eateries where the food is not to be missed and where you won't feel the slightest bit awkward going at it as a lone wolf.
When it comes to dining, London has by and large dispensed with the days of stuffy British formality. Bland, stodgy food has given way to contemporary global cuisine, and the litany of etiquette rules for formal group meals has become a quaint relic as casual counter seats and communal tables pull in scores of solo diners.
So, while you still may want to eat "continental style" (fork in left hand, knife in right) in order to blend in with the Brits, you shouldn't feel strange flying solo in some of the city's best restaurants. At these popular spots, arriving alone can even be an advantage, as you'll be able to snag a seat more quickly. So don't let any lingering taboos put you off dining solo. Just do as the Brits do: Keep calm and carry on.
This diminutive Soho tapas bar has an egalitarian, no-reservations policy that favors solo diners. Waits for one of the 23 counter stools can be epic, but parties of one can slide in more quickly. Plus, the small-plates portions of ultra-fresh, authentic Spanish tapas (think tortilla and chorizo) are absolutely perfect para uno (for one). As an added bonus, the buzzing open kitchen provides plenty of entertainment.
The counter seats at this tasty rustic Italian spot are unquestionably the best in the house, as they give a full view of the chefs whipping up handcrafted dishes in the open kitchen. In fact, it's almost distracting to have someone alongside you, so relish the opportunity to savor that plate of spaghetti with mussels and tomato without having to divide your attention between culinary artistry and polite conversation.
The London outpost of this famous Milanese bakery pulls in chaotic crowds clamoring for the heavenly sweets and savory pizza and sandwiches. Given the long communal tables and counter seating, solo diners have loads of seating options, and it's perfect for a hearty breakfast or lunch break. And just imagine: You won't have to split that scrumptious cannoli with anyone else.
The stunning interior of this sleek Japanese spot makes you feel like you're dining in a futuristic forest. But you won't feel alone beneath the towering bamboo at the counter as you rub shoulders with business execs and in-the-know foodies. The exquisite fare of hot and cold "small eats," charcoal grill dishes, and—of course—sushi, can easily be tailored to a solo appetite.
High-boy communal tables and a no-reservations policy make this Pacific Rim fusion spot über solo-diner friendly. Grab a seat alongside cool Marylebone locals and savvy hipsters who've discovered the addictive appeal of the complex, creative flavor combinations. Your mouth will be so deliciously occupied with bites like samosas stuffed with spiced coconut, turmeric, lamb, and peas with tamarind yogurt that you'll be glad you don't have to take a break for small talk.
For more on these delightful restaurants, check out our Passport to Solo Dining in London. Additional restaurant ideas, as well as everything else to make your stay in London fantastic, can be found in our comprehensive guide to London online or via eBook.