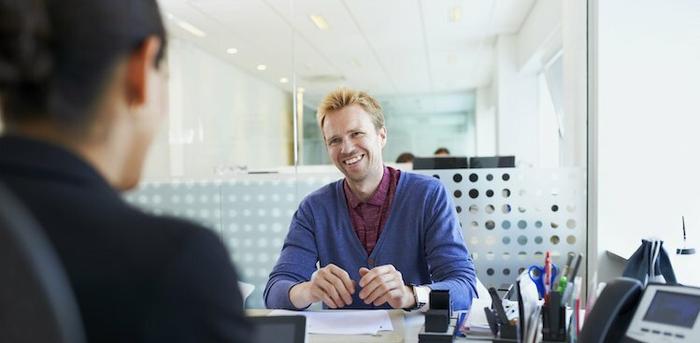 There are few things quite as anxiety-inducing as a performance review. I mean, there's something about sitting in a small, empty, windowless room, being grilled by six of your stone-faced superiors about what you have and haven't achieved in the last year that really gets your pulse racing, right?
I know, I know—that's not how it goes. But that's definitely the vision that rushes through my head the second a performance review gets put on my calendar. Seriously, while I've been receiving reviews for the better part of a decade now, they still induce mild panic attacks every single time.
And while I'll probably feel the same way until retirement, I've also learned a few techniques over the years for pulling it together and panicking slightly less. If you're prone to performance review anxiety, too, try these strategies for keeping calm.
1. Get the Scoop (and Get Prepared)
If you're anything like me, you probably panic most when you don't know what to expect in a given scenario. A performance review, for example, could be anything from signing a piece of paper to a back-and-forth conversation with your boss to a grueling hours-long meeting that closely resembles execution by firing squad (OK, I'll stop).
And while you could probably deal with any of these things, a review is much more manageable when you go in knowing what to expect. Your mind can focus less on panicking about the unknown and more on preparing your talking points, your self-evaluation, or any other stats or documents you might need to provide.
So, once your review is inked on the calendar, send a simple email to your boss asking for the details on how it will go. "Can you tell me a little bit about the format of my review? Is there anything I should bring or prepare?" works perfectly. Then, actually put some time on your calendar to get ready.
2. Remember That Feedback Is a Good Thing
No joke, I had one review that went like this: "Well, Adrian, you had a great year! That's pretty much all I've got for you." My boss then told me about an upcoming project, and I was out the door in 10 minutes flat.
Best review ever, right?
Not exactly. By giving me a non-review, my boss may have eased my temporary panic—but in the long run, he was depriving me of advice that would really help me grow. He had decades of experience in the communications world, and hearing his insight about what he thought I did well, where he saw me growing in the company and industry, and what new skills and experiences he thought I should gain would have been invaluable.
The point is: Feedback—especially constructive criticism—is a good thing. And your review is a great time to really get and solicit the feedback and advice that's going to help you get to the next level. By going in with the mindset that you will get constructive feedback—but that it will be a good thing—you'll be able to face the meeting with confidence.
3. Pump Yourself Up
Unless you've truly spent the year pinning recipes and seeking out the best puppy GIF round-up the internet has ever seen, I guarantee your review is not going to be all bad. In fact, I bet you've accomplished a lot this year that you can really be proud of.
So, before your review, make a list of those things—from big projects you've aced to committees you've participated in to clients you've made extra happy. For one, having a list of your accomplishments is a great way to make sure you communicate your value to your boss during your review. But it has an added bonus: It'll remind you of all you've achieved this year and fill you with confidence as you're headed into that meeting.
4. Eliminate Surprises
The most comforting thing a boss has ever said to me before a review is: "Don't worry. There won't be any surprises."
By this, she meant that the feedback she'd be giving me in my review would be a recap of things she'd already told me. Truthfully, great managers won't wait until review season to drop bombs on you—they'll give you regular feedback to help you understand what you're doing well and where you need to improve so you can adjust course as needed throughout the year.
If you have a manager who does this, you can rest assured that you won't be facing many surprises in your review, either (phew). But if your manager is more close-lipped, try to be proactive and solicit feedback throughout the year. Ask your boss for a monthly performance check-in to review your goals and your progress. Let him or her know that you're committed to growing in your role and would like regular feedback in order to do so, and use that time to ask questions like, "Is there anything I could be doing better?" "What would you like to see from me before my next review?" "These are the areas in which I'd like to grow—am I focused on the right goals?"
If you're a feedback-phobe like me, these conversations aren't always easy, either, but I'm telling you: They're a whole lot better than a mystery review.


Performance reviews may never be your favorite meeting of the year—they certainly won't ever be mine. But if you know what to expect, go in with the right mindset, and try to eliminate surprises, you'll find that they're more productive—and enjoyable—than you ever thought possible.