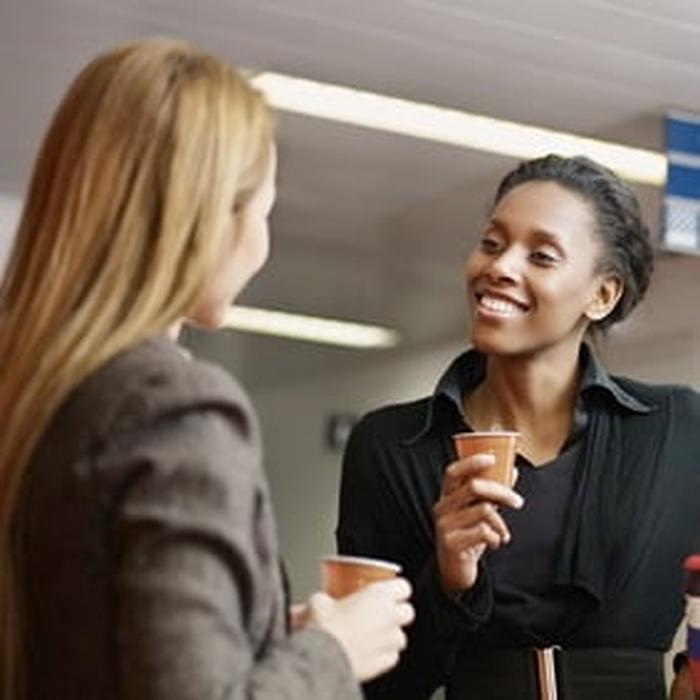 The last designated "networking" event I attended happened to be The Daily Muse's one-year anniversary party, and as I stood there with a friend in a crowded room of strangers, I realized I know almost nothing about what it takes to actually network. As a writer, I'm not wired to be a salesperson of myself, and I often find myself standing around awkwardly, trying to start a conversation with someone (anyone) who's standing there, probably (maybe) thinking the same thing.
But the great thing about going to functions like this is that you can learn pointers from other people—a lot of party people, more skilled than myself, introduced themselves to me with natural icebreakers that weren't weird or disingenuous. Here are some the best conversation starters I've picked up from that event and others, plus a few I've come up with on my own:
1. "I really like your necklace."
I was wearing a big, gaudy necklace to the event (one point for me!). A couple people started conversations by noticing it, and it led to an easy conversation about something (as trivial as it was) that we were both interested in—accessories. I also overhead someone else saying, "I love your dress!" It was true—the woman wearing it had a great dress, which led to an introduction and conversation.
2. "Is it quieter on this side of the room? I can hardly hear over there."
Brilliant. When a woman came up to my friend and me and asked this simple question, it was so easy to fall into a conversation and then ask what she did, talk about what we did, and go on from there—on the quieter side of the room.
3. "May as well chat if we're in line for the bathroom!"
The bathroom line is quite possibly the easiest place to strike up a chat because you have a captive audience—as was I to the woman waiting in front of me. We briefly joked about the line, the music at the party, and then got into why we were both there in the first place.
4. "Do you work for [write for, program for, etc.] The Daily Muse?"
This opener proved to be a bit awkward at times, but hey, you're all at the same party, so it's a reasonable question to ask. What's your affiliation with this particular company?
5. "This chicken is a little dry, huh?"
Commenting about food is always a win. This approach came about at a different party a few weeks earlier, but when a dude said it to me, I was instantly ready to express my similar opinion about the passed apps.
6. "So, was it a pain for you to get here?"
A classic New York (or any major city, really) question, when the mode of transportation and location in the city are always on peoples' minds. There's bound to be a story about it.
7. "Hey, aren't you friends with [fill in random name]?"
See someone who looks vaguely familiar? It doesn't matter if you really think the person is someone you know, just walk up and ask if he or she is friends with someone you know. He or she will tell you "no," and conversation will commence.
8. "Hi, I'm Jessica."
Ha! So simple, yet (for me), so difficult. But plenty of people started conversations with me like this, with one hand outstretched (key), and I didn't think twice about it. So don't overthink it. Next event, have a drink and try it.
9. "It is so hot (or cold) in here."
Hey, maybe it is, maybe it isn't, but the person will either agree or disagree, and pretty soon you're talking about weather patterns, your best umbrella, and then your career goals.
10. "Man, I hate networking."
See someone else standing miserably in the corner? If you sense a fellow party-goer has similar misanthropic tendencies, walk up and start a conversation about your mutual distaste.
While we don't usually classify "socializing" as a thing to practice, for some of us, all it takes is a couple of networking rounds to turn pro-talker. Try some of these intros at your next mixer and let us know what works best.
We'd also love to know: What are your favorite networking ice breakers?