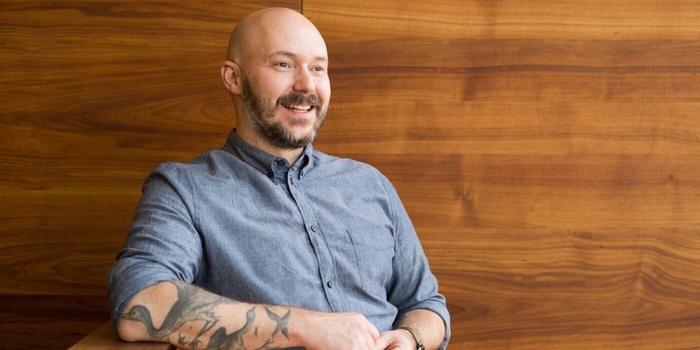 For millions of professionals, the last two years have presented an opportunity to get crystal clear on what they value in a job. (Spoiler alert: It's about so much more than a salary.)
After taking some time off in 2021 to prioritize his own well-being, Michael Farley had a completely different set of expectations when he resumed the job search. "I was very focused on the people I would work with next," Farley says. "I wanted to work someplace where there were people I could see myself partnered with long term, and that they were caring and empathetic while direct and able to speak freely."
That led him to Oscar Health, an insurance company on a mission "to make a healthier life affordable and accessible to all." In his day-to-day as VP of Product Design, Farley is constantly building upon previous iterations of Oscar's products to ensure the best possible customer experience.
Here, he shares what it was like to interview at Oscar Health, how he's prioritizing telling the stories of the people they serve, and why staying curious will keep you at the top of your game.
Tell us about your professional journey, and what inspired you to pursue a career in product design.
My career started in art and design, and then into the startup world at the beginning of the dot-com boom. I was most interested in the creator and maker part of product design, which is still true today. It's so fulfilling to think you solved a problem in a person's life. After the bust, I moved into the agency and consultancy space making products for clients, and then eventually into more strategic and service design. Eventually that original interest in creating something new brought me back into startups, this time with a focus on wellness. I spent a few years working on products and services to address burnout and how people can bring their whole person to both work and life.
What appealed to you about working at Oscar Health?
I had taken a sabbatical in 2021 to focus on my own wellness and think about the next challenge after more than a year in the pandemic. It wasn't clear to me what the next phase would be, but I had a short list of the attributes that were most interesting. The mission here was an easy fit: "Making a healthier life affordable and accessible to all" felt big, audacious, and meaningful.
Two of the items on my wish list were focused on the people I would work with next, that they were people I could see myself partnered with long term, and that they were caring and empathetic while direct and able to speak freely. Every person I spoke with was bought into the mission and values, they showed up prepared and curious, and they went out of their way to have deep conversations about the company, the future, and the challenges ahead.
With the mission in alignment and the people standing out as amazing partners and collaborators, Oscar felt like the right place for the next part of my journey.
What are you responsible for in your role at the company, and what are some unique challenges to your job?
My role is generally related to the product design team and broadly related to alignment on vision and how we solve problems. An easy way to think about my world is people, process, and product vision. The people are critical; I need to make sure our designers are happy and challenged, and that our org design is appropriate for the problems at hand and the growth of the individuals. Our process evolves with new information and opportunities, and we need to make sure we are never dogmatic about our frameworks. Product vision is built through relationships with other parts of the organization, and empowering designers to think beyond a task and to where we need to be. We can't evolve our products to solve bigger problems if we aren't looking to the future.
We are always balancing our vision for the future with the realities of how much time we have and what is prioritized today. It's our responsibility to make sure we articulate the needs of those people we design for, while taking on the immediate needs of running a complex company.
You're fairly new to the team at Oscar Health. Can you tell us about the interview process and candidate experience?
The interview experience at Oscar is full of conversations with people from many parts of the company. They are all well prepared and generous with their time and ideas. The recruiting team was quick to send me a briefing about who I would talk to and what their area of interest was, and LinkedIn pages for each. I was able to prepare thoughtfully before each of the interviews. They asked tough questions, and were genuinely interested in the answers around process, challenges, and ways of overcoming issues, but it was all in a friendly and interested manner.
Tell us about some of the new ideas and perspectives you're bringing to your role and to the team at large.
A key opportunity for us this year is to focus on our storytelling. As a product and design organization, I believe we must be learning from the people we're here to serve, and telling their stories in a way that helps everyone understand their lives. The good and bad all have room in our stories. Once we are immersed in the stories of our people, we can tell the stories of the future and the world that could be. There is a lot of work that goes into this, partnership with product, design, tech, data, providers, and so many more, but designers tend to be talented at distilling a mess of information into compelling story snippets.
Oscar has always been great about using design, brand, and writing to create an experience that is unexpectedly friendly and we'll continue to focus on delightful, useful, and beautiful experiences.
How does the work you're doing at Oscar Health excite and inspire you?
I grew up in Canada, where there's a different approach to healthcare and health insurance. When I first moved to the U.S., I was so confused by my insurance options, and how I would go about getting the care I needed. As I learned more about the system here, it didn't make anything more clear. It seemed obvious to me that at a minimum the experience design could be made to be helpful in educating and adding clarity, but so much seemed unnecessarily complicated. We're pretty open that healthcare in the U.S. isn't working, and our cofounder and CEO wrote about our perspective just recently. When I look at this data, and I hear the stories of our members and providers and the complications they face, I am excited at the amazing potential that exists to make change. Especially when I hear that we've helped someone save money, or get care they had been putting off. That inspires me to keep pushing.
What are your best tips for someone who wants to a job in product design?
Product design has evolved over the years and has become a mashup of many skills that at various points in history have been individual roles. For someone to be successful in product design, it's a good idea to be very strong in one of those areas, and good in the others. There are very few designers I have seen who are exceptional in all areas of product design. Keep yourself educated and up to date with methods and what's happening in the world outside your space. Some of the most innovative thinking comes from designers who are inspired by an experience that is not related to their direct field of work.
How can someone stand out during the interview process?
A designer with storytelling skills who can talk about their work clearly and concisely while keeping focused on the problem at hand is a designer who can capture attention. Whether this is in a portfolio or presentation, in an interview or an email, those quick stories stand out. We're not concerned about seeing giant portfolios that are super polished, though we certainly appreciate them. What's more interesting is seeing a few projects where you show the problems you ran into and how you learned from them. That sense of awareness and curiosity goes a long way in a complex space like healthcare.
What was the biggest challenge you faced in your career, and how did you overcome it?
I've been designing for a long time, so I've had the fortune to see amazing ups and some sad and challenging downs. The dot-com bust and the pandemic stand out to me at two moments where the industry felt out of my control and I wasn't sure what would come next. In both of those cases I leaned on my relationships with colleagues and clients and in both those cases they came through to support me with guidance, introductions, work, and moral support. Designers should keep their relationships going with people they work with, and offer their time and support to people in need. We are a very tight-knit community when someone needs help.
What's the best career advice you've ever received?
The best career advice I have received is to show up and be curious. It was given to me by a very senior executive in a client meeting where I had expressed some concern that I wasn't senior enough to be in the room. He told me "you're here because they want your opinion. You know something they don't, find out what it is." This taught me that it is OK to be in a conversation where you aren't comfortable, ask good questions to figure out what your value is, and then share your thoughts. Be present and patient, and you'll realize the role you play. I was fortunate to be invited into that room, and after some conversation, I was able to participate and help move the conversation forward. And even at this point in my career, when I am not sure if I have value to add, I will ask questions until I figure out if I should leave or stay.