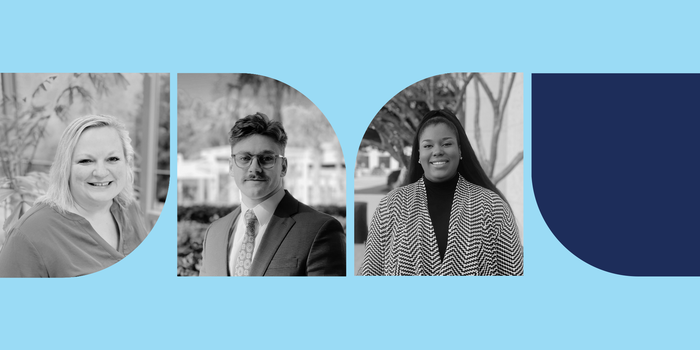 After graduating from college with a major in history, Christopher Pedro never thought about pursuing a finance career—especially since his image of an investment firm was straight out of the movies. So when a recruiter from the money management firm Fisher Investments thought his experience as a door-to-door salesman and an after-school teacher made him a qualified candidate, he was skeptical at first.
Pedro quickly realized the recruiter was right—and that his previous jobs provided him with skills that could translate into the business world. Today, he's an Account Executive at Fisher Investments, where he speaks to prospects who are interested in learning more about the company. What began as an impromptu meeting has become the start of a new life at a company with a culture of support, where "everybody is happy to help each other."
Pedro's background and experience—perhaps unusual at other financial firms—is common at Fisher. The company hires people from all walks of life, be they veterans, former educators, or history majors, to name a few. Fisher sets these employees up for success by providing a welcoming culture and committing to training and development.
"Fisher Investments has a philosophy that we can take the right people and teach them everything they need to be successful here," says Pedro.
Take Scarlett Brown, a 401k Solutions Revenue Operations Systems Analyst in Plano, TX. Before joining the company, she worked in advertising and then for small technology companies that specialized in products such as medical equipment. When Brown realized she was ready for a break from the "organized chaos" of startup culture, she found a fresh start at Fisher because she felt it offered her more structure.
Throughout the candidate experience, Brown says Fisher Investments stressed how valuable her skill set would be at the company. "From upper management down to my team lead, I was sought after," she says. "They let me know that they wanted me for this position and that they would support me. And I have seen that in many ways in my short time here."
During her first two weeks at Fisher, she went through a variety of training exercises and mentorship courses, which provided her with enough background knowledge to successfully pivot from another industry. However, the support didn't stop there.
"Within my first year, I was surprised to see how many people came to me asking, 'What do you want to do? How do you see your career developing with us?'" she says. "Coming from small and mid-sized companies, I'd never heard that before. At Fisher, they actually want you to stay for long periods of time. They commit to that by making sure they communicate with you about what you want to do and then giving you the tools and opportunities."

Like Brown, Marcie Robinson sought a more nurturing work environment. She joined the U.S. Army two weeks after high school and served around the world, completing various tech- and computer-related tasks during her service. She returned to civilian life and earned what she imagined would be a forever job as a Systems Administrator in her hometown of Portland, OR. But when that position was eliminated, she applied for—and got—a position as a Help Desk Associate at Fisher Investments. Since then, she's been promoted twice and is now a Service Desk Team Leader.
Robinson's work in IT utilizes skills she learned in the military and after, when she used the G.I. Bill to get an associate's degree in business. On top of her technical know-how, she also relies on various soft skills—including being self-motivated, hard-working, dedicated, and flexible—which have paved her way to success at Fisher.
Her advice for those looking to make a switch into finance and get hired at Fisher Investments? "Don't disqualify yourself for what you think you don't have," she says. "Depending on what your experience is, Fisher might lean your direction because you have other skills and the ability to upskill when you get here."
Pedro can attest to that as well. "As a salesperson, you have formal trainings and you learn so much information," he says. "And all of our managers and mentors will help. We have one-on-one sessions where anything you have questions about, you can go right to them. They make sure that you understand exactly what you need to know."
While Pedro, Brown, and Robinson followed different paths to reach Fisher Investments, they've all found success at the company despite not majoring or previously working in finance. And if Robinson has it her way, she says, "They'll have to drag me out. My goal is to be a client when I retire."