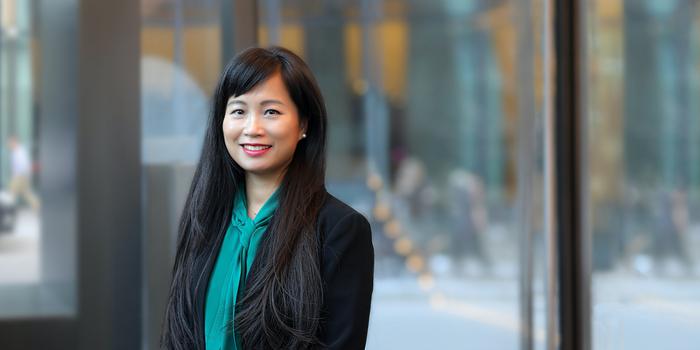 Growing up in a small town in the Anhui province of China, Lei always dreamed of speaking multiple languages, traveling the world, and becoming an attorney. Since then, she has achieved all three—and then decided to make a career pivot from legal work to finance. Today, she's a senior relationship manager at First Republic Bank, working out of the New York office.
Her path to First Republic was not straightforward: corporate law jobs in China and Amsterdam (where she learned to speak Dutch), an MBA from Yale School of Management, and a summer internship and full-time role with Credit Suisse in Zurich all led to her current position in private banking.
"I knew I had found the right career path being a private banker, and with First Republic Bank, I felt I had also finally found the right place where I could stay for many years," Lei says. "I was excited for a new chapter in New York, even if it meant building a new clientele from nothing."
Here, she shares why she loves the entrepreneurial nature of her job, what it takes to succeed in relationship management, and how First Republic supported her after she became a mom.
What inspired you to pursue a career in private banking?
While in business school, I initially pursued an investment banking track. I remember after an exhausting day, my then-boyfriend (now husband) said, "Lei, this isn't you. You should do private banking because you like people, not deals."
Private banking really clicked with me right away. I gain energy from being around people, and understanding their lives, concerns, and finances. I felt energized. That is my 'why' and purpose to get up every day.
What are you responsible for in your role?
I am responsible for acquiring new clients that are a good fit for First Republic, which is a full-fledged private bank with banking, lending, and wealth management capabilities. That includes cultivating relationships and making them happy so they will give us more of their own business as well as refer more people like themselves. It is a virtuous cycle and our growth comes from existing clients and their referrals.
Every relationship manager has their own way to succeed. You define your own strategy. What I believe makes a great client is someone with "human capital" and who also values our relationship.
I am also passionate about mentoring young bankers and relationship managers. As I continue to pursue personal excellence in my career, I would like to become more engaged and involved in mentoring and promoting merit-based diversity, and hopefully someday to become an inspiration for other women and minorities.
What do you like most about working in relationship management?
I love the entrepreneurial nature of the job and being a trusted counselor and advisor that clients can confide in. I have the autonomy to essentially run my own business. And it's so fulfilling and rewarding how I can meet a total stranger and gain their trust enough that they would open up their finances to me, be it to apply for a home loan or a credit facility, or to engage us in managing their hard-earned money.

What hard and soft skills are necessary to succeed in relationship management?
While everyone may have different recipes for their success, I believe that if you do not enjoy dealing with people, then you are probably in the wrong business.

Having a wealth management background definitely gave me a head start for my current role, so for hard skills I would say knowledge about the market, asset management, and financial planning. You don't have to know every detail, but enough to be resourceful to your client.
What are you working on now that excites or inspires you?
As a minority woman and a new immigrant trying to excel in a highly competitive environment, I am proud to be working at one of the most innovative, merit-based, and empowering organizations in banking.

Since joining First Republic, you had your first child. How did the company support you during this time?
My direct manager and mentor, as well as First Republic as an organization, supported me whole-heartedly throughout the journey. We have an amazing corporate benefit plan with a tailored offering for parents. Plus, two of my teammates offered to cover for me during maternity leave, another colleague connected me with other working moms at First Republic

A year has passed since then, and with leadership support, teamwork, and dedication, I was able to grow my book of business, and I had the most amazing year of performance after I became a mom. I know that this would not have been possible elsewhere.
What is the best career advice you've ever received?
I truly believe if you do what you love, success is just a matter of time. So put aside what others think, find your passion, and follow your heart.