A job search offers the chance to discover amazing companies, and The Muse is a great place to scout potential employers—just take a look at this list.
When you read our company profiles, you can find out what it's like to work there before you even apply. Looking for growth opportunities? Don't miss out on learning more about PitchBook Data, which offers mentorship and training programs. Want to make a difference in healthcare or education? Then a job at an organization like GoodRx or iMentor might be the right fit for you.
Take a peek at all the newest companies on The Muse and see what roles they have available right now.
1.
PitchBook Data
At PitchBook, we are always looking forward. We continue to innovate, evolve, and invest in ourselves to bring out the best in everyone. We're deeply collaborative and thrive on the excitement, energy and fun that reverberate throughout the company.
Our extensive learning programs and mentorship opportunities help us create a culture of curiosity that pushes us to always find new solutions and better ways of doing things. The combination of a rapidly evolving industry and our high ambitions means there's going to be some ambiguity along the way, but we excel when we challenge ourselves. We're willing to take risks, fail fast, and do it all over again in the pursuit of excellence.
If you have a good attitude and are willing to roll up your sleeves to get things done, PitchBook is the place for you.
2.
GoodRx
We're committed to growing and empowering a more inclusive community within our company and industry. That's why we hire and cultivate diverse teams of the best and brightest from all backgrounds, experiences, and perspectives. We believe that true innovation happens when everyone has a seat at the table and the tools, resources, and opportunities to excel. Come join and help us create the future of healthcare.
3.
Boxer Property Management
Boxer employees, no matter the role or responsibility, are the driving force behind its success. With a business built upon setting, maintaining, and exceeding exceptionally high standards, our employees deliver success across all of our operations by believing in our mission, our culture, and our pursuit of excellence. With varied business interests, Boxer employs a wide variety of roles requiring different skills, experience, and knowledge. But becoming a Boxer employee is about so much more. It's about enthusiasm, drive, the will to succeed, and relishing and excelling as part of a team. Once a part of that team, the opportunities to grow, to diversify, and to develop are boundless throughout our businesses.
4.
Ansys
We thrive by changing reality. We've created an exciting culture that's brimming with possibilities. Together, we fuel new ideas, build relationships and help each other reach our greatest potentials. As a result, you'll be able to fulfill your professional purpose by doing what you love. The work you do will go far beyond the obvious. You'll help raise the bar across a variety of industries, including: aerospace, automotive, energy, healthcare, high tech, military, and sports. Together, we fuel new ideas, build relationships and help each other realize our greatest potentials. Our employees are critical to our mission. We know that when we understand their diverse needs, they bring their best self to work to full innovation at Ansys. That's why we offer a rich and competitive total rewards package to support our employees in key aspects of their lives.
5.
Mast-Jägermeister US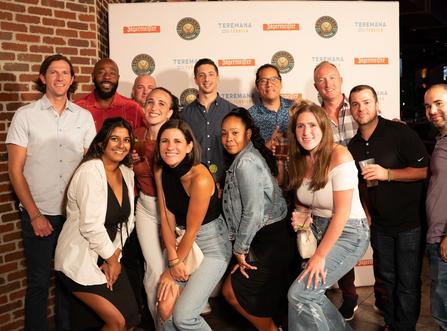 Mast-Jägermeister US is a collaborative and inclusive people first organization. Just like our namesake herbal liqueur, we approach all that we do with authenticity, and we are driven by masterful execution. We are continuously inspired by our global mission, "Best Nights of Your Life", naturally making MJUS a social company. Our "Meisters" are unified by an unparalleled passion and enthusiasm for our two exceptional brands.
6.
Pax8
No matter who you are, Pax8 is a place you can call home.
We know that we are only as great as our people. And we have great people all over the world. No matter where you live and work, you're a part of the Pax8 team.
We actively support employee growth because as their skills evolve, so does our company. Pax8 has been ranked in the Inc. 5000 for five consecutive years as one of the fastest-growing private companies in the U.S., and ranked #1 on the Denver Business Journal's Fast50 as the fastest-growing large business in Denver, Colorado.
Culture is important to us, and at Pax8, it's business, and it IS personal. We are passionate, creative, and humorously offbeat. We work hard, keep it fun, and expect the best.
We Elev8 each other. We Advoc8 for our partners. We Innov8 continuously. We Celebr8 life.
7.
Arrow Electronics
Arrow is the ultimate technological enabler, working directly with partners, suppliers, and manufacturers to understand what's possible and help them create it. They seek to bridge the gap between the possible and the practical. Arrow encourages its employees to live in the world that doesn't quite exist yet—the world of Five Years Out.
8.
UBS
Our employees are the power behind our purpose. Connecting people for a better world starts with us. And, whether we're investing in clients or in communities, creating better outcomes takes dedication and innovative thinking, along with a wide range of skills, experiences, and perspectives. Those attributes describe our people: in every region and business, our employees power our continuous business success and our positive impact on society. It's our job to build – and sustain – an innovative and inclusive workplace that brings out the best in our employees, wherever they are on their career journey. As a founding member of the World Economic Forum's Good Work Framework, we're partnering with like-minded companies on metrics that support high-quality work worldwide.
We're known as a great place to work, whatever the business area, role or life stage. We aim to be a responsible and supportive employer, helping our employees thrive in our collaborative, inclusive culture while balancing work and personal responsibilities in ways that work for them.
9.
iMentor
We are seeking authentic, creative, strategic, and passionate individuals to carry out our mission to match every student in our partner high schools with a personal champion to help them on their college journey; that's 36,000 students since 1999! Central to our values is a commitment to diversity, equity, and inclusion for all our stakeholders, including students, mentors, and staff. iMentor is data-driven and creative. We work hard, we play hard. Our community is centered around joy, committed to our purpose, and driven by a common belief in the power of relationships.
10.
Eaton
Eaton is an intelligent power management company dedicated to improving the quality of life and protecting the environment for people everywhere. We are guided by our commitment to do business right, to operate sustainably and to help our customers manage power - today and well into the future. By capitalizing on the global growth trends of electrification and digitalization, we're accelerating the planet's transition to renewable energy, helping to solve the world's most urgent power management challenges, and doing what's best for our stakeholders and all of society. Founded in 1911, Eaton has been listed on the NYSE for nearly a century. We reported revenues of $20.75 billion in 2022 and serve customers in more than 170 countries.
11.
Airbase
We strive to build & nurture a culture where employees feel energized and connected to the work each day. Our core values are woven through our teams, leading to an overall sense of trust, transparency, and confidence. Being a fully remote culture, we support our employees with modern communication tools and intentional remote practices that keep everyone working collaboratively. As a fast-growing startup, we look to hire employees who are focused and have a strong sense of ownership to help us maintain our commitment to excellence and innovation.
Here at The Muse, we partner with a lot of great companies to bring you insider looks at their offices and awesome job listings. These employers pay us to be featured on the site, but these Muse-worthy brands made this list not just because they want to be included, but because their culture, policies, and employee feedback showed us that they deserve to be.
Think your company should be on a list like this? Learn more and get in touch!