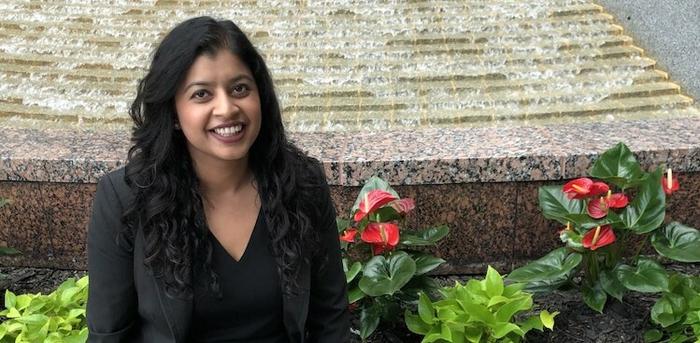 If you've visited the Hilton.com website lately—whether to research a future vacation or book a hotel—then chances are you've seen Divya Smith's work in action. In the short time since she joined Hilton as the Director of Software Engineering for web and mobile, Smith has helped the 101-year-old hospitality brand transform its digital presence. Under her leadership, her technical teams are constantly innovating and coming up with solutions to improve the user experience for globe-trotting guests.
"I get to spend most of my day solving problems with engineers and product leaders, which can range from small feature enhancements to complex issues," she says. "At Hilton, we are constantly evaluating if the new site is meeting—or exceeding—expectations compared to the legacy site. This can be fun, challenging, frustrating, and exciting all at the same time!"
Here, Smith talks about how she hires with diversity in mind, advice for other women who are interested in pursuing engineering careers, and what she loves most about Hilton's company culture.
Tell us about your career journey, and what led you to your job at Hilton.
I started my career as a website developer at Securian, a Minneapolis-based finance company. Later I joined Target through its Technology Leadership Program and led many initiatives including rewrites of several major systems that were supporting stores and digital channels. My final role at Target was leading the Digital Reliability team for Target.com and building a machine learning tool that helped detect anomalies within Target's digital ecosystem. In 2018, I was given an opportunity to lead US Bank's newest mobile app. Last year, we decided as a family to move to Texas where I got the opportunity to be part of Hilton's digital transformation in the Dallas office.
What attracted you to work at Hilton?
Hilton has consistently been rated as one of the top places to work. Also, within the hospitality industry, it has a reputation of truly catering to their customers in all segments, including budget-conscious travelers, business travelers, and luxury-seeking enthusiasts. This mindset drives a sense of inclusivity, which is crucial to a company's success. I was also looking to help lead the digital transformation at a company like Hilton, where possibilities are truly endless. I was presented with the challenge of building strong technical teams within our Dallas office in order to develop exciting new features for our users, which seemed like a great opportunity.
What do you like best about the company culture?
There is such a strong and supportive workplace culture at Hilton. One of the priorities is that Team Members "Thrive at Hilton" and we truly live by that! Thriving for some folks could mean taking time off to learn new skills, spending time with family, or going on an adventurous trip. This really sets the tone for Team Members to support each other both personally and professionally.
What are you responsible for in your role at Hilton?
Currently, I'm leading four technical teams, each of them supporting a product within the digital site. We are working to build a brand-new website using the latest technologies such as React JS, GraphQL, and Couchbase—all while still operating within our legacy environment. Our goal is to build products that are user-friendly, performant, and scalable as we continue to add more users and properties.
What does a normal day in your job look like?
No one day is alike, but usually I'm working with the engineers on any current support issues, having discussions on upcoming features, and articulating any technical enhancements we need to think about for the near future. Another key aspect of my role is aligning with our product leaders on the next set of priorities and features while keeping customer concerns in mind. As we continue to roll out to production, I'm also focused on ensuring we don't introduce any new bugs to the website.
Tell us about the tech innovations you're working on right now.
Currently, my teams are continuing to work on conceptualizing what is most important to a guest when they are booking a hotel with Hilton. We have established a new product that helps guests who are not quite sure where they want to go decide on their next dream destination. Also, we are reimagining a solution that will provide the guest with the right information to have the best experience possible.
Diversity in tech has been an issue for a long time. How do you approach growing your team with diversity in mind?
I agree that diversity has been a challenge within the tech industry. However, I have seen this starting to change over the last decade. As I continue to grow my teams, diversity is top of mind, including tapping into our local talent and partnering with neighboring universities. My approach is to start with a diverse candidate pool, then look for the right skills, mindset, and culture fit within that group.
How does Hilton as a company support an inclusive workplace?
Hilton creates an inclusive culture in many ways. For example, our Team Member Resource Groups create networking and development opportunities. We also partner with organizations and schools to recruit and support diverse talent. It's really up to all of us to help foster an inclusive culture. For example, last year, we doubled the number of full-time Team Members on my team. To create a sense of community and belonging, we took the time to recognize and celebrate everyone's important cultural festivals and holidays.
What is your approach to leadership?
At Hilton, hospitality is in our nature. My approach to leadership starts with understanding the needs of our engineers, as well as technical and product leaders. I begin by collecting ideas from my team to create common goals between technology and product. My team knows that they can reach me through any means of communication, and I'll do my best to help.
What skills are necessary to succeed as an engineer at Hilton?
As we continue to build our systems using new technologies, it is important for engineers to be constantly evaluating ways to improve their code in a scalable and performant manner. When I'm looking to hire engineers, I'm not only looking for the right aptitude, but also the right attitude to drive results. This goes for any role, but with ever-evolving technologies, engineers need to have a constant thirst for knowledge.
What advice do you have for women who want to pursue a similar career path as you?
Identify your passion while focusing on your strengths. For example, you don't have to become a manager to continue to grow professionally. There are senior engineering positions that are very rewarding. During pivotal moments in my career, I made decisions to advance to new positions that would leverage my strengths while providing challenging opportunities to help me grow.
What is the best career advice you've ever received?
Constantly prioritize your work! Don't try to do everything. A mentor once challenged me to figure out my strengths and focus on them. Identifying strengths is harder than it sounds. It's like the first couple years of college where you start to learn about your interests. But also, don't stress about having a passion at work right away. You will figure it out eventually by reflecting on the things you find the most exciting in your day.