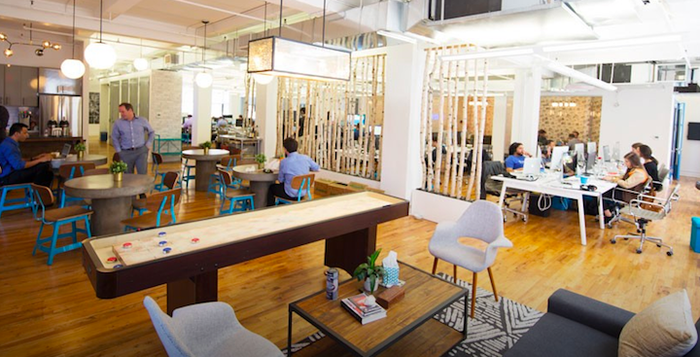 We get it, job searching can be tough. Whether you've been looking for months or are just starting to think about your next step, finding the company with the perfect culture and job opening for you—and in the right location—is no small feat.
That's why we wanted to give you a little boost with 9 companies that are hiring for entry-level positions on the East Coast. Take a peek inside their offices, browse job openings, and see if your perfect "next thing" just landed in your lap.
MM.LaFleur is a vertically-integrated womenswear brand that provides a complete wardrobe and personal styling service for the busy professional woman. The company is revolutionizing the workwear space through a trifecta of offerings—luxury workwear that is both practical and elegant, complimentary personal styling, and content that resonates with the multidimensional woman of purpose. With a mission is to take the work out of dressing for work, MM.LaFleur is built on the core belief that when women succeed in the workplace, the world becomes a better place.
FiscalNote is on a mission to build the world's most powerful platform for analyzing government risk. Every day, the FiscalNote Team transforms the way global organizations build and manage their relationships with all levels of government, enabling them to maximize their impact on legislation and regulation.
Nestio aims to reshape the real estate industry, one listing at a time. The organization offers multifamily residential owners simple solutions to their leasing and marketing needs by proffering programs that improve these processes exponentially. Combining experiences from multiple sides of the market, the company creates top-notch technologies that increase speed and efficiency, eliminate error margins, and ultimately enlarge profitability.
On any given day, 2.5 billion people use Unilever products to look good, feel good, and get more out of life. From nutritionally balanced foods to indulgent ice creams, luxurious shampoos, and everyday household items, the company develops a diverse range of products from more than 400 brands. Whatever the brand, Unilever is deeply committed to creating sustainable products that improve health and wellbeing.
Ceterus empowers small business entrepreneurs with done-for-you accounting and benchmarked reporting. Ceterus' Edge system automates entries into QuickBooks Online and aggregates financial data to provide peer benchmarked reporting. The company pairs technology with people to deliver a one stop solution for entrepreneurs, saving business owners time and money. More than just a tool, Ceterus is a complete bookkeeping solution.
Wayfair believes everyone should live in a home they love. Through technology and innovation, Wayfair makes it possible for shoppers to quickly and easily find exactly what they want from one of the world's largest selections of home furnishings, décor, home improvement, housewares and more.
In the oil and gas industry, success often depends directly on the quality of data companies have access to. That's why Drillinginfo has been providing comprehensive land, leasing, well, and regulatory data to a variety of clients since 1999. With its strong commitment to innovation, Drillinginfo delivers actionable data in user-friendly formats quickly and efficiently.
Success Academy is redefining what's possible in public education. Their mission is to build exceptional world-class schools that prove children from all backgrounds can succeed in college and in life. Success Academy schools are dedicated to academic excellence, character development, and extracurricular achievement with college graduation as an end goal.
Think your company should be on a list like this? Learn more and get in touch!
Here at The Muse, we partner with a lot of great companies to bring you insider looks at their offices and awesome job listings. These employers pay us to be featured on the site, but rest assured that we don't just work with anyone. And when it comes to articles like this, these Muse-worthy brands made this list not because they want to be included, but because their culture, policies, and employee feedback showed us that they deserve to be. Here's to finding the company of your dreams!