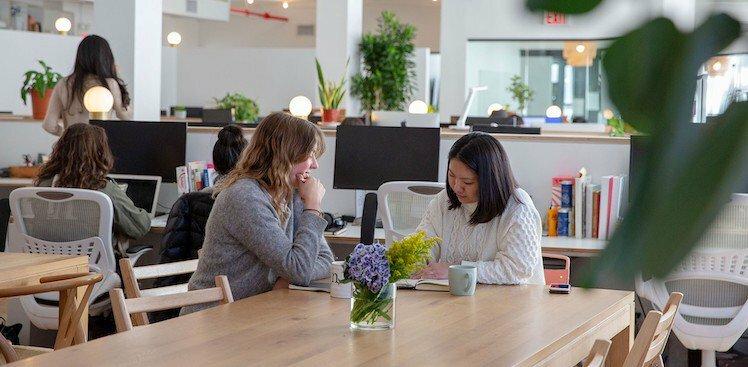 We're launching new, exciting companies (with tons of job openings) on The Muse all the time.
And while you can browse amazing companies and search for jobs any time you want on our site, we want to make sure you don't miss out on a dream job just because something slips under your radar.
So read below to learn about some of our newest partner companies, find your match, and check out job openings today!
Macquarie is a global financial services group providing clients with asset management and finance, banking, advisory and risk, and capital solutions across debt, equity, and commodities. With expertise built over decades in sectors that are shaping the global economy, Macquarie earns trust by delivering outcomes that meet the needs of their clients, shareholders, and communities.
Anvyl is a production hub where brands manage suppliers, oversee production, and track in-depth product data from procurement to delivery of inbound goods. It saves hours a day of manual work, reduces supply chain costs, and provides actionable data on supplier activity throughout sourcing, production, and the product lifecycle.
42 million Americans receive government benefits, such as food stamps, on an EBT (electronic benefit transfer) card. But there's one big problem—it isn't user-friendly. To check your balance, you have to call a hotline or save your grocery receipts. As a result, these poverty-fighting programs aren't nearly as effective as they could be. That's where Propel comes in. Propel builds Fresh EBT, a smartphone app that allows users to see their balance and transaction history in seconds, for free. The app also provides a bunch of other helpful services. With over 2 million monthly active users, it's clear Propel is doing its part to fight poverty.
CreatorIQ's Enterprise Creator Cloud enables intelligent creator discovery, streamlines end-to-end workflow, ensures brand safety, and drives meaningful measurement. It's powerful enough for the world's biggest enterprises and nimble enough for its most innovative. Airbnb, CVS, Dell, Disney, Mattel, Ralph Lauren, Salesforce, Tiffany&Co, and Unilever utilize CreatorIQ's platform to drive real business results and set global measurement standards across their storytelling ecosystems.
Axios is a news and technology company that provides consumers with content worthy of their time and attention. Axios offers a mix of original and smartly narrated coverage of the topics and trends that matter today—and those that will shape the next decade—through newsletters, a news stream, podcasts and Axios' HBO show. Axios puts the trust of its consumers first and strives each day to make news consumption an easy, efficient, and worthy experience. The company calls this Smart Brevity.
KETTLER is a developer, owner, and operator of apartments, condominiums, and mixed use communities throughout the Washington, DC. area. At KETTLER, innovation is always at the forefront and team members are integral in defining who the company is and what it does. KETTLER seeks bold, confident, and diverse individuals who strive to be in a profession in which they can make a difference. The company is looking for talented individuals who want to make the ordinary extraordinary and help build a strong sense of community. Be a part of the inspiration from the ground up—consider joining the team!
Founded by the Latino Pastoral Action Center in 2000, the Family Life Academy Charter Schools (FLACS) have one main mission: to provide a school that creates opportunities for success for all students, no matter their primary language, ethnicity, or socioeconomic status. Employees at FLACS receive professional development and instructional support, build long-lasting work relationships, and are part of a community that empowers, nurtures, and treats its employees as extended family.
Activision has been changing the way people play for the past 40 years—as the leading developer and publisher of video games, the Activision team has created some of the world's biggest, most ground-breaking, and beloved franchises in the industry. Ask anyone who works there about the best part of their job and they'll tell you it's the people. While Activision has world-class brands, infrastructure, and resources, the truth is that great games start with great people.
DIG is a community of chefs, farmers, creatives, activists, and innovators devoted to rebuilding the food system through vegetables. They're creating a new kind of restaurant group that connects people to good food at an affordable price. Since launching in 2011, they've opened 27 restaurants, partnered with 80+ independent farms, and taught thousands of people how to cook (really cook) in DIG kitchens. But their story is just beginning. The next few years will be a period of growth as the company expands their footprint and explores new ways to deliver a better food future for generations to come.


Here at The Muse, we partner with a lot of great companies to bring you insider looks at their offices and awesome job listings. These employers pay us to be featured on the site, but these Muse-worthy brands made this list not just because they want to be included, but because their culture, policies, and employee feedback showed us that they deserve to be.


Think your company should be on a list like this? Learn more and get in touch!